Steven Conliff
From KeyWiki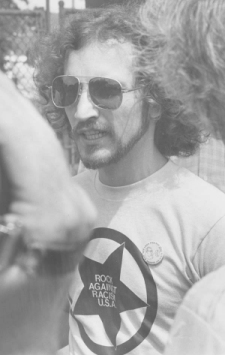 Steven Edwin Conliff (1949 - 2006) was a writer, historian, publisher and social satirist, best known for throwing a 1977 banana cream pie at Ohio Gov. James A. Rhodes to protest the Kent State killings of 1970[1].
Radical writing
In the early 1970s Steven E. Conliff started his first alternative publication, Purple Berries, and met artist Suzan Bird. They married in 1973. Both contributed to the Columbus Free Press (1971-92), YIPster Times (1972-78), Subversive Scholastic (1978-84) and Overthrow (1979-86). One continuing character, the "Leader of the Street People" Zorba the Freak, became legendary.
With Dana Beal and the Yippies (Youth International Party), Steven Conliff put out the anthology Blacklisted News: Secret Histories from Chicago '68 to 1984, foreward by William Kunstler (Bleecker, 1983). Steve Conliff's work also appeared in High Times, News from Indian Country and the Mohican News, and he ran Columbus Entertainment Magazine (1986-88). He served as transatlantic coordinator of Rock Against Racism; ghost-wrote a 1992 campaign biography that helped oust a local despot (Smith: Portrait of a Sheriff); and authored several influential reports condemning Battelle Memorial Institute's involvement in the Fernald uranium-processing facility clean-up. During the first Gulf War, having interviewed their developers, he warned about depleted uranium weapons[2].
Violent views
At the time of the Kent State shootings, Conliff was a supporter of black radical Eldridge Cleaver[3];
By the time I became a college radical and activist in the fall of '73, and a mistaken supporter of Eldridge Cleaver, I firmly believed that the students should have been better organized with well-armed militias and shot back. Hell, I dreamed about getting down to it, as Neil Young advised.
Indian heritage
A Tribal descendant, Conliff presented papers detailing Mohican Indian history on the Stockbridge-Munsee Reservation (2001) and at the New York State Museum in Albany (2004). Has contributed American Indian ethnography to Notable Native Americans (Gale, 1993) and Volume 1 of the Gale Encyclopedia of Native American Tribes (1998)[4].
References