Steve Max
From KeyWiki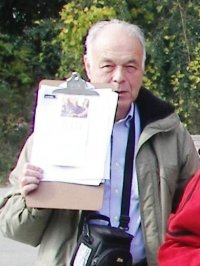 Steve Max
NAM
In 1975 Steve Max was a member of the West Side chapter New American Movement.He wrote an article with Jim Williams "Strikes and Strike Support", for NAM Discussion Bulletin No. 9, March 1975, which was unpublished, but could be ordered, as a pamphlet from the Midwest Academy.[1]
Citizens Action
Former Students for a Democratic Society members Heather Booth and Paul Booth and Steve Max, were all leading activists in Citizens Action.[2]
Socialist Scholars Conference
Jo-Ann Mort, Democratic Socialists of America, James Weinstein, Editor, In These Times, Chris Owens, Chair, Paul Robeson Independent Democrats, Steve Max, Midwest Academy and L. Donelle Gladwin, DSA Youth Section were speakers on the The 92' Presidential Election: What's a Democratic Socialist To Do? panel sponsored by the Democratic Socialists of America at the Tenth Annual Socialist Scholars Conference. The conference was held April 24-26, 1992 at the Borough of Manhattan Community College, New York City.[3]
DSA Organizing Institute
Over fifty people attended the 1993 DSA Organizing Institute, which was held at Drew University in Madison, New Jersey during the weekend of June 25-27. The centerpiece of the weekend was an intensive series of training sessions, led by Steve Max, Deepak Pateriya, and Christine Riddiough, for DSA activists and organizers. These training sessions, which were based on the organizing methods developed by the Midwest Academy, helped build DSA local and national leaders' skills in developing political strategy, recruiting activists into DSA, and working in coalitions.
The Institute's training sessions were framed by two plenary discussions about DSA's mission. On Friday evening, DSA Honorary Chair Barbara Ehrenreich and DSA Vice Chairs Steve Max and Frances Fox Piven discussed the contemporary political climate and the most effective roles for a democratic socialist organization. On Sunday morning, National Political Committee member Jack Clark, DSA Youth Organizer Ginny Coughlin, and DSA National Director Michael Lighty spoke more concretely about how DSA can work to become a highly visible organization projecting a compelling political vision.[4]
Campaign for America's Future
In 1996 Steve Max, Midwest Academy was one of the original 130 founders of Campaign for America's Future.[5]
YDS conference
In August 2004, Young Democratic Socialists, the youth section of Democratic Socialists of America, held a national conference in New York City, "Life After Bush: Youth Activism & the Fight for Our Future". Speakers included;
Stephen Eric Bronner, Rutgers, who led a well-received presentation on democratic socialism.
John Mason, a Patterson University professor and London Tribune columnist, who offered alternatives to the U.S.-led occupation, observing that the bring the troops home now slogan is insufficient, given the dangers of civil war, Islamic fundamentalism and pervasive insecurity in Iraq.
The Future of Radical Democracy speakers included;
DSA vice-chair
Democratic Socialists of America Vice-Chairs in 2009 were;
Elaine Bernard, Edward Clark, Jose LaLuz, Steve Max, Harold Meyerson, Maxine Phillips, Christine Riddiough, Rosemary Ruether, Joseph Schwartz, Ruth Spitz, Motl Zelmanowicz[7].
References