Steve Early
From KeyWiki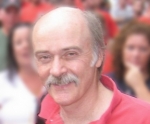 Steve Early retired, in the mid 2000s, after 27 years with the Communications Workers (now CWA-IUE 201). He is now working on a book about '60s radicals who became trade unionists. [1]
Socialist Scholars Conference
Cal Winslow, Michael Harrington Center, Steve Early, CWA, Region #1, Susan Jenicks, Association for Union Democracy, Ted Katsaros, Teamsters Local 282 and Mike Ruscigno, Teamsters Local 138 were speakers on the Revolution in the Teamsters: Lessons for Labor panel sponsored by the Michael Harrington Center at the Tenth Annual Socialist Scholars Conference. The conference was held April 24-26, 1992 at the Borough of Manhattan Community College, New York City[2]
How Class Works
At the How Class Works - 2002 Conference, panels included; 6.2 Recent Strike Experiences
" CWA and the Verizon Strike"
" The 1996 California Drywallers' Strike"
" Resurrecting the Strike as Labor's Primary Weapon"
" Justice for Janitors in Los Angeles"
" The Teamsters and UPS"
"Support Bill Ayers"
In October 2008, several thousand college professors, students and academic staff signed a statement Support Bill Ayers in solidarity with former Weather Underground Organization terrorist Bill Ayers.
In the run up to the U.S. presidential elections, Ayers had come under considerable media scrutiny, sparked by his relationship to presidential candidate Barack Obama.
We write to support our colleague Professor William Ayers, Distinguished Professor of Education and Senior University Scholar at the University of Illinois at Chicago, who is currently under determined and sustained political attack...
We, the undersigned, stand on the side of education as an enterprise devoted to human inquiry, enlightenment, and liberation. We oppose the demonization of Professor William Ayers.
Steve Early, of the NWU/UAW Member signed the statement[4].
Center for Labor Renewal
In 2009 Steve Early was listed as an endorser of the Center for Labor Renewal[5].
Labor Notes
In 2009 Steve Early, Former CWA District 1, administrative assistant to the vice-president, Boston was a member of the Labor Notes policy committee[6].
Democratic Socialists of America
DSA member
In 2009, Steve Early was a member of Boston Democratic Socialists of America.[7]
Debs-Thomas-Bernstein Awards Reception
On June 30, 2009, Boston Democratic Socialists of America presented its annual Debs-Thomas-Bernstein Award to Professor, author, and health care reformer Rashi Fein, along with the winners of a union election at St. Elizabeth's Medical Center in Brighton, accepted by Sonia Marshall, the key organizer of the campaign. Sheila Decter of the Jewish Alliance for Law and Social Action presented the award to Rashi Fein. The event was held at the home of Marcia Peters and David Karaus. Mike Fadel of SEIU Local 1199 (formerly Boston DSA staff person) and the AFSCME-affiliated New England Organizing Project were benefactors of the event.[8][9]
Steve Early and Suzanne Gordon were supporters of the event.
Labor for Palestine
On December 14, 2009 Labor for Palestine released an "Open Letter from U.S. Trade Unionists to AFL-CIO President Richard Trumka: Boycott Apartheid Israel".
Signers of the letter included Steve Early of NWU and UAW.[10]
Campaign for Peace and Democracy
Early is listed as an endorser of the Campaign for Peace and Democracy, as of March 15, 2010.[11]
"Real World Labor"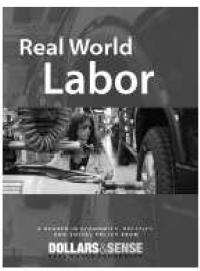 In August 2009 Dollars & Sense, produced an anthology entitled "Real World Labor", edited by Immanuel Ness, Amy Offner and Chris Sturr and the Dollars & Sense Collective.
Contributors included David Bacon, Kim Bobo, Aviva Chomsky, Steve Early, Bill Fletcher, Jr., Staughton Lynd, Arthur MacEwan, John Miller, Frances Fox Piven, Robert Pollin, Jane Slaughter.[12]
New Labor Forum
New Labor Forum is published by Center for Labor, Community, and Policy Studies, Joseph S. Murphy Institute for Worker Education & Labor Studies.
Editorial Board members listed, as of March 2013; were;[13] Elaine Bernard, Ron Blackwell, Barbara Bowen, Kate Bronfenbrenner, Arthur Cheliotes, Mike Davis, Amy Dean, Steve Early, Hector Figueroa, Janice Fine, Bill Fletcher, Jr., Juan Gonzalez, Marie Gottschalk, Gerald Hudson, Lisa Jordan, Tom Juravich, Robin D G Kelley, Jose LaLuz, Nelson Lichtenstein, Manning Marable, Ruth Needleman, Ai-jen Poo, Katie Quan, Adolph Reed, Daisy Rooks, Andrew Ross, Kent Wong.
External links
References