Stephen Fritchman
Jump to navigation
Jump to search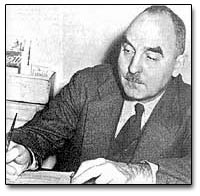 Template:TOCnestleft Rev. Stephen Hole Fritchman (1902 1981)
Early life
Stephen Hole Fritchman was born in Cleveland, Ohio on May 12, 1902 to Quaker parents of German-English descent: Addison and Esther (Hole) Fritchman. In his childhood home the Bible was read every morning before breakfast. His schooling and early professional career aligned him closely with religious and social orthodoxy. After a year at the Wharton School of Finance and Commerce, University of Pennsylvania, he attended Ohio Wesleyan University, receiving his BA degree in 1924. He remained there for a year as an instructor of English Bible.[1]
Church career
From 1925 to 1927 Fritchman was religious news editor of the New York Herald Tribune. In 1928-29 he was associate editor of the Methodist Church School Journal. His first preaching was in Methodist pulpits in New York state. He had received his BD from Union Theological School in 1927 and an MA from New York University in 1929. When he moved to Boston, he was an associate professor of English in the School of Religious Education at Boston University from 1929 to 1932. At the same time he was a student at Harvard Graduate School 1930-1932.
His formal connection with Methodism terminated in 1930 when he began a two year pastorate at the Unitarian Church in Petersham, Mass. He was ordained in 1930 into the Unitarian ministry. After Petersham, he spent six years at the Bangor Unitarian Church in Maine. From there he entered the educational and organizational work of the American Unitarian Association in Boston. He was youth director for the AUA from 1938 to 1947. In 1942 he also became editor of the AUA journal, The Christian Register.
Controversial resignation
He continued in his dual role until an eighteen-month controversy developed over his editorial policies and direction. Opponents accused him of following a Communist line, of supporting Soviet policies in the denominational magazine. After a bitter ecclesiastical fight, he resigned in 1947.[2]
Los Angeles
The following year Frichtman became minister of the First Unitarian Church of Los Angeles, CA, and continued in that position until his retirement in 1969. Under his leadership the church became a "center of resistance to the Cold War" and entered creatively into the conflicts of those years. It vigorously supported liberal causes in the city and state. He himself was active in many organizations concerned with peace and civil liberties.[3]
National Committee to Abolish the House Un-American Activities Committee
As of May 1964, Stephen Fritchman Unitarian Los Angeles California, was listed as a sponsor of the Communist Party USA front, National Committee to Abolish the House Un-American Activities Committee.
Retirement
In his retirement Frichtman continued active in the causes which had enlisted his support all his life. In 1976 at Claremont, CA, he received the Annual Award of the UUA for Distinguished Service to the Cause of Liberal Religion. The Unitarian Universalist Service Committee, which he supported all his life, named its annual award after him in his honor.
His published works include Men of Liberty, "Unitarianism Today," Young People in the Liberal Church, and Heretic: A Partisan Autobiography.[4]
Herbert Aptheker Testimonial Dinner
On April 28, 1966 Stephen Fritchman was a sponsor of the Herbert Aptheker Testimonial Dinner. The dinner was held on the occasion of Herbert Aptheker's 50th birthday, the publication of his 20th book, and the 2nd anniversary of the American Institute for Marxist Studies. It was held in the Sutton Ballroom, The New York Hilton, Avenue of the Americas, 53rd to 54th Street, New York City. Most speakers, organizers and sponsors were known members or supporters of the Communist Party USA.[5]
L A Committee for Defense of the Bill of Rights and Protection of Foreign Born
In 1966, the officers of the Los Angeles Committee for Defense of the Bill of Rights and Protection of Foreign Born were[6];
Rt Rev Walter Mitchell, Charlotta Bass, Reuben Borough, Jacquelin Clack, Hugh DeLacy, Judge Stanley Moffatt, Rev Stephen Fritchman, Hon Robert W. Kenny, Mrs Dorothy Marshall
American Committee for Protection of Foreign Born
In the late 1960s Stephen Fritchman was listed as a Co-Chairman of American Committee for Protection of Foreign Born[7].
NAM
The Fritchman First Unitarian Church in L.A. was where in the 70's, the New American Movement chapter met.[8]
In The Times Founding sponsors
In 1976 founding sponsors of the Institute for Policy Studies/New American Movement linked socialist journal were;
Chicano movement
The 40th Anniversary Commemoration Committee of the Chicano Moratoriums was formed in the summer 2009 by the Chair of the National Chicano Moratorium Committee of August 29, 1970 along with two independent Chicano Movement historians whom although not of the baby boomer generation, have become inspired by the Movimiento.
The organization posted a list of significant "Chicano movement" activists on its website which included Stephen Fritchman.[10]
References