Stephanie Tubbs Jones
Jump to navigation
Jump to search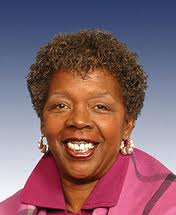 Stephanie Tubbs Jones was a Democratic congresswoman in the U.S. House of Representatives, representing Ohio.
She was a member of the Congressional Black Caucus, and the Congressional Progressive Caucus.[1]
Background
Stephanie Tubbs Jones was born in Cleveland in 1949. She earned a Bachelors Degree in Social Work from Case Western Reserve University and graduated from Case Law School. She was married 27 years to Mervyn Jones, who died in 2003, and has one son.
Prior to being elected to Congress, Jones served as a Cleveland Municipal Judge (1981-1983), a Cuyahoga County Common Pleas Judge (1983-1991), and as Cuyahoga County Prosecutor (1991-1999). She won the Congressional seat held by long-time Cleveland Congressman Louis Stokes, who retired in 1998.
Jones was a member of the House Ways & Means Committee and the Chairwoman of the House Standards of Official Conduct Committee.
Stephanie Tubbs Jones passed away on August 20, 2008 after suffering a brain aneurysm the day before. Marcia Fudge, the former mayor of Warrensville Heights, replaces Tubbs Jones in Congress.[2]
Health Care Access resolution
John Conyers promoted House Concurrent Resolution 99 (H. Con Res. 99) Directing Congress to enact legislation by October 2004 that provides access to comprehensive health care for all Americans. IN THE HOUSE OF REPRESENTATIVES April 4, 2001.
Sponsors:John Conyers (for himself), Jan Schakowsky, John Tierney, Barbara Lee, Donna Christensen, David Bonior, Dennis Kucinich, Earl Hilliard, Maurice Hinchey, Jerry Nadler, Donald Payne Chaka Fattah, Peter DeFazio, John Lewis Tammy Baldwin, Stephanie Tubbs Jones, Barney Frank, Henry Waxman, Cynthia McKinney, Jim Langevin, George Miller Alcee Hastings, Patsy Mink, John Olver , Bennie Thompson, Pete Stark, Julia Carson, and Mike Capuano submitted the following concurrent resolution; which was referred to the Committee on Energy and Commerce;[3]
Resolved by the House of Representatives (the Senate concurring), that the Congress shall enact legislation by October 2004 to guarantee that every person in the United States, regardless of income, age, or employment or health status, has access to health care..
Progressive State of the Union Address, 1999
January 19, 1999, members of the Congressional Progressive Caucus, and Institute for Policy Studies, talked about issues that they are planning to address in the upcoming year, at the Progressive State of the Union Address. Some of the issues they intend to address are poverty in the United States, national defense, the global economy, Medicare, and education. Rep. Conyers stated that the House disregarded the views the majority of the American people when the House impeached the president.
Speakers were Tammy Baldwin [D] Wisconsin, John Cavanagh Co-Director Institute for Policy Studies, John Conyers, [D] Michigan, Peter DeFazio [D] Oregon, Karen Dolan, Coordinator Institute for Policy Studies, Earl Hilliard, [D] Alabama, Maurice Hinchey, [D] New York, Stephanie Tubbs Jones, [D] Ohio, Barbara Lee, [D] California, Jerrold Nadler, [D] New York, Grace Napolitano, [D] California, Major Owens, [D] New York, Bernie Sanders, [I] Vermont, Jan Schakowsky, [D] Illinois.[4]
YCL supporter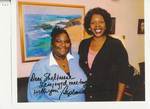 Young Communist League USA activist Sheltreese McCoy was a supporter of the late "progressive" Democratic Party Ohio Congresswoman Stephanie Tubbs Jones-even forgiving her for supporting Hillary Clinton over Barack Obama.[5]
It's rare that national figure has a deep impact on your life but I can say that I have had one, Stephanie Tubbs Jones. She was my congressperson in Ohio, and I looked up to her as you would a president or an astronaut. I wanted to do the good things she did in Ohio, and I wanted to stand up to the corporate interest that plagued the Ghetto I lived in because she did.
when I was a junior in College i went on to intern in Washington and i got to meet her in person, i wrote my final internship thesis on her and her amazing accomplishments and even remember the advice she gave me to "run for Precinct Captain" there are few prouder moments for myself and my mother when the picture I took with her got sent to my mothers house, signed and everything...
I didn't agree with you when you supported Hillary for histories sake, versus supporting the new start up with the twinkle in his eye, but I forgave you…I had to because I could not through your history out with the bath water, and I could not forget that you were by far the most powerful woman I had ever come in contact with.
Supported "single payer"
The movement for universal single-payer healthcare is growing, announced Kentuckians for Single Payer Healthcare in December 2005. Six new co-sponsors added their names to John Conyers' "single payer" bill HR 676: Grace Napolitano (D-Calif.), Stephanie Tubbs Jones (D-Ohio), Corrine Brown (D-Fla.), Xavier Becerra (D-Calif.), Stephen Lynch (D-Mass.) and Michael Capuano (D-Mass.). The total number of co-sponsors was now 57.[6]
Peace Pledge Coalition
In 2007 90 Members of Congress, pledged in an open letter delivered to President Bush: "We will only support appropriating funds for U.S. military operations in Iraq during Fiscal Year 2008 and beyond for the protection and safe redeployment of all our troops out of Iraq before you leave office." The letter was initiated by the Peace Pledge Coalition. The Coalition was led by Tim Carpenter, Progressive Democrats of America, Bob Fertik, Democrats.com Medea Benjamin, CodePink, Bill Fletcher, co-founder of Center for Labor Renewal David Swanson, AfterDowningStreet.org, Democrats.com, Progressive Democrats of America, Kevin Zeese, Voters for Peace, Democracy Rising, Brad Friedman, co-founder of Velvet Revolution, Bill Moyer, Backbone Campaign.
Stephanie Tubbs Jones signed the letter.[7][8]
Trip to Cuba approval
From May 27 to June 1 2007, Rosa DeLauro travelled in Havana, Cuba, with the purpose: "to examine the transition that is occurring in Cuba and the impact of that transition on U.S. policy, as well as to examine agriculture and trade with the island." The cost of the trip, $1,906.50 was paid by the Center for Democracy in the Americas. Her trip was approved by Stephanie Tubbs Jones, Chairwoman of the Committee on Standards of Official Conduct. Also invited on the trip were: Marion Berry, Bob Etheridge, Rodney Alexander, Collin Peterson, Stephanie Herseth, Jack Kingston, Jesse Jackson, Jr., Ray LaHood and Zach Wamp.[9]
Praising CAIR
"On behalf of the United States Congress and the residents of the Eleventh Congressional District, Ohio, I commend the Council on American-Islamic Relations, Ohio for your service to our community. I extend my personal thanks to your members for all of their efforts to improve the needs of Ohio's Muslims in their quest for civil rights. Enjoy your 4th Annual Sharing Ramadan interfaith Community Iftar Banquet. It is my hope and expectation that this organization will continue to thrive and experience ongoingsuccess." - former Rep. Stephanie Tubbs-Jones (D-Ohio) (September 2007). [10]
EMILY's List
Tubbs-Jones was supported by EMILY's List during her campaigning.
External links
References