Spencer Ackerman
From KeyWiki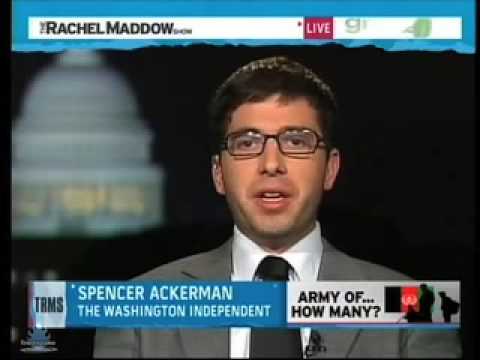 Spencer Ackerman was an editor for the Daily Targum student paper at Rutgers University where he graduated.[1]
He moved to Washington D.C. in 2002, where he became an intern. Later he became an associate editor with The New Republic magazine.[2] Initially, Ackerman supported the Iraq War, but later became disillusioned. This saw him drift further to the left.
In 2004, he consequently started a blog on The New Republic website which he called Iraq'd. This chronicled the dilemma faced by pro-war liberals. He and John B. Judis also wrote an article that initiated the chain of events that led to the Plame affair.
Ackerman, in 2006, was sacked for "insubordination" from TNR according to TNR editor Franklin Foer; although Ackerman describes it as being over "irreconciliable ideological differences". Within a day of his being fired, Ackerman was offered, and accepted a job writing for The American Prospect and Talking Points Memo.[3]
Ackerman, when at the Washington Independent, blogged and reported on national security issues. This he did from the time of the paper's creation in 2008 until 2010, at which point he left for Wired.
He also has a personal blog called Attackerman at FireDogLake .
Ackerman has appeared on CNN, MSNBC, Fox News, Al Jazeera and BloggingHeads.tv.
Some of Ackerman's personal interests include comic books and hardcore punk music.
In 2009, Ackerman worked on the satirical film In the Loop as a consultant.
Background
Ackerman
The American Prospect
In 2009 Spencer Ackerman was listed as a Senior Correspondent of The American Prospect.[2]
JournoList
Spencer Ackerman of Wired, FireDogLake, Washington Independent, Talking Points Memo, The American Prospect was an identified member of JournoList - an email group of approximately 400 "progressive" and socialist journalists, academics and "new media" activists.
JournoList members reportedly coordinated their messages in favor of Barack Obama and the Democrats, and against Sarah Palin and the Republican Party. JournoList was founded in 2007 and was closed down in early 2010.[3]
References