Sheldon Whitehouse
From KeyWiki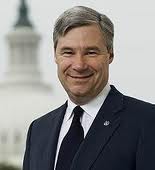 Sheldon Whitehouse is a Democratic member of the United States Senate, representing Rhode Island.
Background
A graduate of Yale University and the University of Virginia School of Law, Sen. Whitehouse served as a policy advisor and counsel to the Governor of Rhode Island and as the state's Director of Business Regulation before being nominated by President Bill Clinton to be Rhode Island's United States Attorney in 1994. He was elected State Attorney General in 1998, a position in which he served from 1999-2003.[1]
Senate committees
Whitehouse serves on the Budget Committee, the Environment and Public Works (EPW) Committee, the Judiciary Committee, the Health, Education, Labor, and Pensions (HELP) Committee and the Special Committee on Aging. He chairs the Judiciary Subcommittee on Crime and Terrorism.[2]
"Caring Across Generations"
In July 2011, Jessica Cutcliffe, of Break The Chain Campaign, a project of the Institute for Policy Studies, was involved in a conference of the Caring Across Generations campaign, in the ballroom of the Washington Hilton. According to Cutliffe "we shouted our words and stood with our hands entwined, linked together by our common vision for transforming the culture of care. The circle marked the end of the Care Congress and the beginning of a movement".
As the more than 700 person crowd divided into "tracks," for the afternoon, the erupting fervor did not dissipate. A highly energized ACTION group proceeded to Capitol Hill to testify on the importance of protecting Medicare and Medicaid and to hear from Senators Al Franken (D-MN) and Sheldon Whitehouse (D-RI) on these issues.[3]
Hi IPS rating
In 2012 "Congressional Report Card for the 99 Percent" , the Institute for Policy Studies examined 40 different legislation actions in the House and Senate—votes and legislation introduced—to ascertain the real allegiances of sitting members of Congress. These include votes to extend the Bush tax cuts for the wealthy, levy a Wall Street speculation tax, invest in infrastructure, and protect workers and student financial aid.
The Report Card also graded politicians for their commitment to reducing inequality and boosting the 99 percent. The report's "Honor Roll" gave an A-plus grade to 5 members of the U.S. Senate, including Senators Sherrod Brown (D-OH), Dick Durbin (D-IL), Al Franken (D-MN), Bernie Sanders (VT-I), and Sheldon Whitehouse (D-RI).[4]
Planned Parenthood
Whitehouse received $1,000 in lobbying funds from Planned Parenthood in 2008.
Cuba trip
A delegation of American lawmakers led by Senator Patrick Leahy arrived in Cuba on Monday, Feb. 18, 2013, in order to gauge the island's economic changes and to lobby on behalf of Alan Gross, an American whose detention has chilled relations between the two countries. The trip was the first to the Communist-run island by high-level US politicians since President Barack Obama's re-election in November.
The delegation also included, Republican senator Jeff Flake, the Democrat senators Sherrod Brown, Debbie Stabenow and Sheldon Whitehouse and the Democratic congressmen James McGovern (Massachusetts) and Chris Van Hollen from Maryland, Gross's home state.Cite error: Closing </ref> missing for <ref> tag
2012 CLW Senate victories
2012 CLW Senate Victories were;
Tammy Baldwin
(D-WI),
Sherrod Brown
(D-OH),
Bob Casey
(D-PA),
Kirsten Gillibrand
(D-NY),
Martin Heinrich
(D-NM),
Heidi Heitkamp
(D-ND)
Mazie Hirono
(D-HI),
Tim Kaine
(D-VA),
Angus King
(I-ME),
Amy Klobuchar
(D-MN),
Claire McCaskill
(D-MO),
Chris Murphy
(D-CT)
Bernie Sanders
(I-VT),
Debbie Stabenow
(D-MI),
Jon Tester
(D-MT),
Elizabeth Warren
(D-MA) and
Sheldon Whitehouse
(D-RI).
[5]
The CLW wrote of Whitehouse when endorsing him in 2012;
One of the brighter lights elected to the Senate five years ago is Senator Sheldon Whitehouse (D) of Rhode Island.
During his first term as Senator, Whitehouse hasn't shied away from promoting progressive issues and has scored a perfect 100% on Council for a Livable World's voting scorecard. Now Senator Whitehouse is facing his first re-election challenge, and his leadership, intelligence and votes deserve your support.
Armed with his legal expertise he has been a leader in the fight in Congress to ban torture interrogations. He has also strongly criticized the Supreme Court's evisceration of campaign finance limits with the decision in the Citizens United case.
Whitehouse was an active supporter of the New START nuclear reductions treaty and advocates an increase in U.S.-Russian cooperation.
He signed a letter circulated by Sen. Jeff Merkley (D) urging President Obama "to begin a sizable and sustained drawdown of troops in Afghanistan" and supports the withdrawal of all U.S. forces from Iraq by the end of this year.
On the Council for a Livable World scorecard, he has scored 95% over his first four years in office.[6]
"Forward on Climate" rally
Sunday, Feb. 17, 2013 the nation's capital hosted what was billed as the largest climate rally in U.S. history.
Thousands of environmentalists, farmers and workers of all kinds gathered in the shadow of the Washington Monument for a "Forward on Climate" demonstration to shout their opposition to the Keystone XL pipeline, fracking, Big Oil, and nuclear power.
The Rev. Lennox Yearwood of the Hip Hop Caucus, who emceed the event, introduced a list of speakers which included: Bill McKibben, president of 350.org; Van Jones, president of Rebuild the Dream; Maria Cordones, founder of Latinovations; Indigenous Peoples representatives including Chief Jacqueline Thomas from the Saik'uz First Nation and Crystal Lameman from the Beaver Lake Cree First Nations; Michael Brune, the Sierra Club's executive director and Democratic U.S. Sen. Sheldon Whitehouse from Rhode Island. Present, too, were celebrities like Evangeline Lilly and Rosario Dawson.
Bold.org, one of the event organizers, predicted that 20,000 people would participate, but Rev. Yearwood announced that the actual number there, 40,000, doubled expectations. Supplementing the massive action in D.C. were some 20 solidarity rallies in 16 states, from the four corners of the country-- Los Angeles, Palm City, Seattle, Portland, Maine-- and points in between. They included rallies in Arkansas, Kansas, Nebraska, and five in Montana alone.[7]
External links
References