Sarah Knopp
Jump to navigation
Jump to search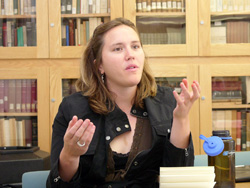 Template:TOCnestleft Sarah Knopp is a public high school teacher in Los Angeles. She has published several articles and reviews in the International Socialist Review, Counterpunch, Rethinking Schools, and United Teacher. She is a co-editor of the forthcoming book Education and Capitalism from Haymarket Books.[1]
Collaboration with Camejo
Knopp has contributed articles to "California: Under Corporate Rule" by the late Peter Camejo.[2]
Left Forum
At Left Forum 2011, Sarah Knopp organized a panel "Capitalism and Education: A Marxist discourse on what we're fighting against and what we're fighting for". other panelists included Jeff Bale, Department of Teacher Education, Michigan State University, Jean Anyon, Graduate Center, CUNY, Brian Jones, SocialistWorker.org, Megan Behrent, International Socialist Organization.[3]
References