Sacramento Democratic Socialists of America
Jump to navigation
Jump to search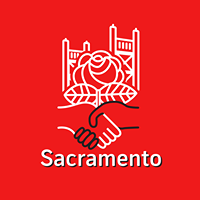 Template:TOCnestleft Sacramento Democratic Socialists of America is a California affiliate of Democratic Socialists of America.
Potential leaders 21/22
Sacramento Democratic Socialists of America. Meet your candidates for Sacramento DSA's Executive Board!
"Socialized Sacramento"
Sac DSA Podcast! May 15, 2019:
At our last General Membership Meeting, the membership authorized the creation of the very first chapter podcast! Socialized Sacramento is co-hosted by Skyler Henry and Cori Ring-Martinez, and produced by Skyler Henry.
In the inaugural episode of Socialized Sacramento: The Sac DSA Podcast, the hosts discuss the last general membership meeting, recap local events, and speak to Peter Lucas about the teacher's strike in Sacramento.[2]
Sacramento DSA for Bernie
Sacramento DSA for Bernie newsletter April 12 2020:
Last, though, I want to thank you. We did incredible work on the Sacramento DSA for Bernie campaign, reaching thousands of people, signing up hundreds of people, and getting out the vote in Sacramento for Bernie. I want to thank my co-chairs Sam Greenup [emeritus], Bryan Reese, and Andres Estebanez, and our members who really stepped up to do the hard work, leading canvasses, especially Andrea Arnott, Dov Salkoff, Peter Lucas, Jonah Paul, Micaela Vazquez, Seth Strumwasser, Annabel Vera, Maddie Beck, Michael Lucas, Johnny Lucas, Alyssa De La Rosa, Will Fayer, Kelsey Brewer, Harjit Singh Gill, and everybody else who showed up!
Sacramento DSA for Bernie Co-Chair.[3]
2021 DSA Convention Delegates
Sacramento Democratic Socialists of America 2021 DSA Convention Delegates included Andee Sunderland, Ben Arriaga, David M., Ellen Schwartz, Enzo Arona, Jonah Paul., J.R. Parker, Margot Rinaldo, Michael M., Mikeila M., Nic G., Phillip Kim., Seth Strumwasser.[4]
DSA victories
At the California Democratic Party 2019 District 9 election, Harjit Singh Gill, a No Party Preference voter and member of Democratic Socialists of America, registered as a Democrat to support his friend Peter Brogan, who won a seat. Sacramento Democratic Socialists of America endorsed the progressive slates in Districts 7, 8 and 9 – each of which won handily — and reported that 11 DSA members in the region won delegate seats.[5]
2018 Sacramento DSA endorsements
Sacramento Democratic Socialists of America, May 4 at 5:47pm
DSA Sacramento is pleased to announce our endorsements for the 2018 election cycle:
It's truly an honor to endorse such a strong slate of Socialist candidates for public office and we're thrilled by what this election cycle has in store. Special thanks to all who participated in our April 29th candidate forum.
Leaders
2017-18
On Sunday, September 17th, DSA Sacramento held elections for it's 2017-2018 Executive Board.
Election results are as follows:[6]
Co-Chairs
Secretary
Treasurer
Organizers
2014
Sacramento Valley Democratic Socialists of America held a general membership meeting Sept 22, 2014 and elected an executive committee.[7].
Democratic Socialism 101
Democratic Socialism 101: Building a Political Revolution.
4799 Stockton Blvd, Sacramento, Saturday 27 February 2016, 11:00 Organized by : Democratic Socialists of America, Sacramento Fighting against privatization, austerity, and brutality in California's capital city. Those indicating attendance on Wherevent included Linda Ann, Chels Wright, Kevin Carter, Adam Peichoto, Ian Lee, David Roddy, Mike Israel.[8]
2017 Delegates
Sacramento Democratic Socialists of America, November 18 2017;
Our 2017 Delegates! — with James Jackson, Jr., Andee Sunderland, Hannah Williams and David Roddy.
April General Membership Meeting
April General Membership Meeting · Hosted by Democratic Socialists of America, Sacramento
Sunday, April 23, 2017 at 4 PM - 6 PM PDT
Organize Sacramento 1714 Broadway, Sacramento, California 95818.
Invited on Facebook
Interested
Going
"NAFTA and Human Rights"
Sacramento DSA and the DSA Latino Commission held a successful conference on "NAFTA and Human Rights" October 20 and 21, 1993. Over four hundred people attended the event, which was held on the campus of California State University- Sacramento. Topics included labor rights in North America, U.S. press coverage of Mexico and Mexican-Americans, and the new immigration hysteria.
Speakers included Arnoldo Garcia of the National Network for Immigrant and Refugee Rights and Eileen Rafael of the Center for Ethics and Economic Policy. There were also some oppositional voices -- Myles Frechette, the U.S. Ambassador to Mexico, addressed the conference with a pro-NAFTA message via videotape.[9]
Training
On April 28 2000, the Sacramento Local hosted a regional Harrington-Hamer Institute training in media skills and community organizing featuring John Nichols of The Nation together with Salim Muwakkil of In These Times.[10]
2002 activity
In 2002, the local co-hosted Fr. Ray Bourgeois, who spoke on the School of the Americas ("School of the Assassins"). Local leader Duane Campbell spoke to a group of Mexican workers seeking to build a union at D-Q University. The local is distributing the national anti-war paper War Times and focusing on a living wage campaign.[11]
Sunday Voter Matinee
In 2004, the local cosponsored a Sunday Voter Matinee on February 22, at California State University–Sacramento. Ed Asner hosted the event and proudly identified himself as a DSA member. The event drew some 120 people and received regional media coverage.
The opening presentation by Jim Shoch, former national director of DSA,was a "tour de force on George Bush and the dangers of a consolidated Bush regime. There was unanimity among the speakers about the need to defeat Bush in November."
The Matinee also featured a panel of candidates from a hotly contested Assembly district race, including that race's labor-backed victor. Student speaker John Kincaid described how severe were the cuts to public higher education in the Schwarzenegger proposals.[12]
Progressive Alliance
In 2006, Sacramento DSAers and former DSA members formed a Progressive Alliance, at first working with Progressive Democrats of America . This became the local's primary electoral and anti-war focus, while we maintained a clear DSA identity. The Progressive Alliance reaches out to about 3000. The local DSA membership is about 90. The local has held DSA forums on the divisions in labor with David Bacon and Bill Fletcher, Jr.. Cornel West and Dolores Huerta spoke at" our campus and plugged DSA." The Progressive Alliance holds a monthly film series and features DSA at its annual May Day film event. They hosted Progressive Forums attended by 250, at which we presented the draft Economic Justice Agenda and "worked to elect a Democratic White House while connecting our electoral work to our anti-racist activism and advocacy for immigrant rights. "[13]
Democratic Party platform
In 2008/9 Sacramento DSA sponsored one of several platform development sessions to suggest ideas for the national Democratic Party, including DSA's national Re-negotiate NAFTA program.[14]
2008 election
Sacramento DSA is "proud to have played an active role in this campaign, working through the Sacramento Progressive Alliance...in cooperation with Progressives for Obama." At Sacramento State University, DSA members tabled and conducted voter registration, raised funds, rallied. and sponsored a progressive forum with candidates for a variety of offices. One of the candidates for state Assembly won by a narrow margin. What's more, says Campbell, "Because we were already up and tabling, we became a center for the 'No on 8' campaign [Proposition 8 prohibits gay marriage] on campus, distributing literature, bumper stickers, and signs when no one else had them."[15]
Local DSA leader arrested in Occupy Sacramento
Local participants in a national resistance movement vowed to continue to "occupy" Cesar Chavez Plaza in downtown Sacramento through the weekend, despite the arrests of 20 demonstrators in October 2011.
The demonstrators were charged with "failure to disperse," a misdemeanor, after officers ordered them to leave the park around midnight, said Sacramento police spokesman Sgt. Andrew Pettit.
They spent the night in jail and emerged in the morning to the cheers of fellow participants in the Occupy Sacramento movement, an offshoot of a national protest against large corporations and Wall Street power.
Thursday night, the Occupy Sacramento group, composed of the unemployed, students, and workers, were told to move from the park late last night by Sacramento police.
Most complied, but police took 19 Occupy protesters who would not vacate the downtown park to jail.
Paul Burke, Outreach chair of Sacramento Democratic Socialists of America was among those arrested. Burke is also one of the chairs of the Sacramento Progressive Alliance. [16]
References