Russ Feingold
From KeyWiki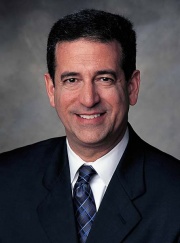 Russ Feingold was a Democratic member of the United States Senate, representing Wisconsin. He was first elected to his position in 1992.
Feingold grew up in Janesville, Wisconsin. He graduated from the University of Wisconsin-Madison in 1975, received a degree from Oxford University as a Rhodes Scholar in 1977, and then earned his degree from Harvard Law School in 1979.
In 1982, he was elected to the Wisconsin State Senate for the 27th District. Feingold was re-elected in 1986 and 1990.
Feingold has two daughters, Jessica and Ellen. Feingold is a member of Beth Hillel Temple in Kenosha, Wisconsin. He lives in Middleton, Wisconsin.[1]
Lobbied by Colombia Support Network
Not long after Russ Feingold was elected to the United States Senate for his first term, (circa 1993) several members of the Colombia Support Network Board went to meet him at his office, accompanied by future Congresswoman Tammy Baldwin and future Wisconsin State Representative Mark Pocan, at the time both members of the Dane County Board.
Senator Feingold listened carefully to our concerns about the dramatic situation in our sister community of Apartado, even though he had no particular reason to be interested in Colombia, South America.
Ever since that first meeting, Russ showed interest in our organization and supported our efforts to advance human rights in Colombia. He connected us to his staff members who assisted him in his role as a member of the Senate Foreign Relations Committee, and made them available to us to listen to our concerns. And no matter how busy he was with the legislative process in Washington, he made time for us. He even invited us to meet with him personally in his local office on a Saturday morning, taking time to meet with us even as his signature McCain-Feingold campaign finance reform bill was being considered by Congress, to discuss the situation in Colombia and to hear from us what we felt our government should do to support the grass-roots community organizations which formed our CSN sister communities.
He worried with us about the damage the militaristic focus of U.S. Government aid was causing to the Colombian people, and took very seriously our complaints about the harm that the coca crop spraying campaign, drenching peasants' fields with high-strength Roundup Ultra herbicide which killed their staple food crops, sickened their animals and caused rashes in their children.
But Russ Feingold was much more than a sympathetic voice to CSN in the U. S. Senate.
Wellstone Action
In 2009 Russ Feingold was listed as a member of the Advisory Board[3] of Wellstone Action, a Minnesota based organization based on the political legacy[4] of that state's late 'progressive" Senator Paul Wellstone.
Wellstone Action and Wellstone Action Fund combine to form a national center for training and leadership development for the progressive movement. Founded in January 2003, Wellstone Action's mission is to honor the legacy of Paul and Sheila Wellstone by continuing their work through training, educating, mobilizing and organizing a vast network of progressive individuals and organizations.
The Progressive
McGovern has been a contributor to the liberal magazine, The Progressive.
21st Century Democrats
21st Century Democrats is a political organization that has stood for Progressive causes for over 20 years. Founded in 1986 by Senator Tom Harkin, Texas Agriculture Secretary Jim Hightower, and Congressman Lane Evans, 21st Century Democrats has helped elect progressive politicians such as U.S. Senator Tim Johnson, U.S. Senator Barbara Boxer, U.S. Senator Russ Feingold, and U.S. Senator Jeff Merkley. Its three main goals are to help elect progressive candidates, train young people about grassroots organizing, and lastly, to continue to support our elected officials after Election Day "through our comprehensive progressive network".
The mission of 21st Century Democrats is to build a "farm team" of progressive populists who will be the future leaders of the Democratic Party.[5]
The organization supported Feingold in 2010, and 1998.
Supported by Council for a Livable World
The Council for a Livable World, founded in 1962 by long-time socialist activist and alleged Soviet agent, Leo Szilard, is a non-profit advocacy organization that seeks to "reduce the danger of nuclear weapons and increase national security", primarily through supporting progressive, congressional candidates who support their policies. The Council is supporting Russ Feingold in his 2010 election campaign.[6] He has also been previously supported by the Council.[7]
Honoring Clarence Kailin
By 1999, when hundreds of fans cheered Communist Party USA veteran Clarence Kailin as he dedicated a monument in James Madison Park celebrating the Wisconsinites who fought and died in Spain, he was lavished with praise. Madison Mayor Sue Bauman issued a proclamation the memorial in James Madison Park. The state Assembly and state Senate issued citations. Congresswoman Tammy Baldwin entered a statement in the Congressional Record. A "Citation of Special Recognition" came from the office of U.S. Senator Russ Feingold.[8]
Opposed Iraq War
Six of the eight U.S. Senators from the four upper Midwest states voted against the resolution to authorize force against Iraq, all of them Democrats or progressive Democrats: Mark Dayton and Paul Wellstone (Minn.), Russ Feingold (Wis.), Dick Durbin (Ill.), and Carl Levin and Debbie Stabenow (Mich.).
Sen. Wellstone, the only member of the Senate voting "Nay" who was facing election that fall, died in a plane crash just prior to the 2002 election; his seat was taken by Republican Norm Coleman. But Iowa Sen. Tom Harkin, a Democrat, joined the war resistance a year later by voting against the $87 billion supplemental appropriation for the Iraq War.[9]
DSA support 2004
In Democratic Socialists of America's Democratic Left Winter 2004/2005, Theresa Alt wrote;[10]
We reported on the candidates that DSAers were supporting in the last issue of Democratic Left. How did they do?
In Wisconsin, progressive incumbents Feingold, Baldwin and Obey won. In a race for an open state senate seat, the favored Mark Miller won handily. However, progressive insurgent Bryan Kennedy lost badly..
FightingBobFest speaker
Russ Feingold was a guest speaker at Wisconsin's annual progressive Fighting Bob Fest, in 2005.[11]
Take Back America Conferences
Russ Feingold was on the list of 153 speakers at the 2006 Take Back America conference, which was organized by the Institute for Policy Studies, and Democratic Socialists of America dominated Campaign for America's Future.[12]
Fair Elections Now Act
In 2010 Senator Maria Cantwell signed on as a Senate co-sponsor of the Fair Elections Now Act (FENA), S.752 - joining Senator Dick Durbin (original sponsor) and other Senate colleagues for a total of nine.
In the Senate, others were Sens. Barbara Boxer, Chris Dodd, Russ Feingold, Kirsten Gillibrand, Tom Harkin, John Kerry, and Arlen Specter. [13]
Obama for America, National Co-Chair
February 22, 2012, Obama for America, announced the selection of the campaign's National Co-Chairs, a diverse group of leaders from around the country committed to re-electing President Obama. The co-chairs will serve as ambassadors for the President, advise the campaign on key issues, and help engage and mobilize voters in all 50 states.
Senator Russ Feingold – Former U.S. Senator from Wisconsin , was on the list.[14]
Committees
Judiciary Committee
Foreign Relations Committee
Budget Committee
Intelligence Committee[1]
External links
References