Rosita Johnson
From KeyWiki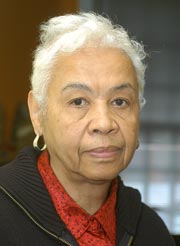 Rosita B. Johnson is an African-American member of the Communist Party USA.
Joining the Party
Rosita johnson joined the Communist Party USA through the Philadelphia Federation of Teachers[1];
I had strongly supported my union, the Philadelphia Federation of teachers since the 1960s. I wanted the union to fight for better schools and to support equality for Black students. In 1981, as a delegate to the AFT Convention, I met other school workers who were in the CP. I also saw red-baiting. I joined the AFT Black Caucus, whose chairman was a CPUSA member. I was exposed to more advanced thinking, not only about education but also about national and world affairs. I was asked to join the Party but hesitated. Then I attended a forum and heard Gus Hall speak. He made joining CPUSA sound so natural. Gus said, "Join us to make a better world, and if you don't like our party, you can always leave." I joined soon afterwards and have never regretted the decision.
Communist Party USA
In 2001 the Structure and Organization Convention Committee for the 27th National Convention of the Communist Party USA[2]included Marc Brodine (WA), Bill Davis (NY), Rosita Johnson (E. PA), Steve Noffke (MI), Brian Steinberg CT), Shelby Richardson (Ill) and Mark Almberg (ILL).
In September 2006 the Peoples Weekly World listed several members, or supporters of the Pennsylvania Communist Party:[3]
Asad Ali, Billie Penn Johnson, Denise Edwards, Donna Puleio Spadaro Dr A S Mahdi Ibn-Ziyad, Gary Puleio (In Memoriam), George Edwards, Joe Kopnitsky, Ken Heard, Ben Sears, Dave Bell, Debbie Bell, Diane Mohney & John Vago, Evie Horwitz & Larry Horwitz , Frances Gabow, The Incognito Family, James Bradford, Jimmie Wayne Moore, June Krebs, Leonard Pepper, Rookie Perna, Rosita Johnson, Sharon Hurley.
Endorsed Communist Party Call
On March 30 2002 the Communist Party USA paper People's Weekly World called for a national holiday in honor of late Farm Workers Union leader Cesar Chavez. The article was followed by a long list of endorsers[4]including Rosita Johnson, Almost all endorsers were confirmed members of the Communist Party USA.
Philadelphia area Black Radical Congress
In 2006 Rosita Johnson was a member of the Philadelphia Area Black Radical Congress.[5]
Communist Party tribute
In July 2007, the Communist Party USA paper Peoples World published a tribute "We salute Joyce Wheeler" to retiring Baltimore public school teacher and Communist Party member Joyce Wheeler. Rosita B. Johnson signed the tribute page. Most of the more than 100 signatories were identified Party members.[6]
References
References