Rosemari Mealy
From KeyWiki
Rosemari Mealy is a freelance radio journalist, essayist, published poet. Ms Mealy is an activist in international human rights and political prisoner movements[1].
Honors/writing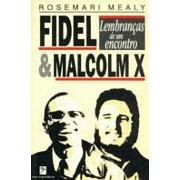 She has been honored for her community involvement and was the recipient of the prestigious Claudia Jones Fellow in the African New World Studies Program at Florida International University ( Miami), where she taught Critical Race Theory Analysis. She is the author of "Fidel and Malcolm X-Memories of a Meeting and Lift These Shadows from our Eyes". At present she is working on the completion of a manuscript detailing a significant 1954 Florida murder trial where a black woman was sentenced to die in the Florida electric chair[2].
Activism
Mealy has lived and worked in Cuba, where she collaborated on several projects in support of U.S. political prisoners with Assata Shakur. Her current efforts are focused on contributing to the organizing campaigns to win the freedom and a new trial for death row journalist and author Mumia-Abu Jamal[3].
Radical journalist
Ms. Mealy is a founding member of the National Alliance of Third World Journalists and a member of the Advisory Board of the Malcolm X Museum[4].
Communist "Manifestivity"
On October 30 and 31, 1998 the Brecht Forum presented the "Communist Manifestivity -150th Anniversary of the Communist Manifesto" at at Cooper Union's Great Hall, New York.
One of the many workshops at the Manifestivity was; Health, Environment and Human Survival; with Neftali Garcia, Joel Kovel, Rosemari Mealy and Suzanne Ross. Moderator: Eli Messinger.[5]
Committee for Luis Miranda
The Committee to Celebrate the Life of Luis Miranda Rivas commenced on 26 January 2008 in New York City's Manhattan, at the Martin Luther King Labor Center on 310 W 43rd St, to celebrate the life of Luis Miranda. The brochure said contributions would go to Compañero Luis Miranda, Casa De Las Américas, Cuba & Our Solidarity with The Cuban 5!
Its purpose was to celebrate the "life and political contributions of Brother Luis Miranda, the long-time president of Casa de las Americas, a giant in the defense of all the causes of oppressed and exploited humanity, and in particular the defense of the Cuban Revolution, for over five decades in New York City."
"Honor the memory, venerate the cause, and emulate the example of this friend and comrade to all people who fight for their liberation. ¡Luis Miranda Presente!"
The Co-Chairs were: Nancy Cabrero, Mariana Lamberti, Rosemari Mealy & Frank Velgara
References