Ron Wyden
From KeyWiki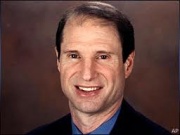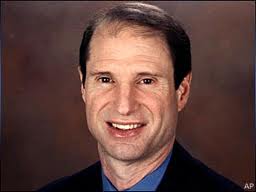 Ron Wyden is a Democratic member of the United States Senate, representing Oregon, since 1996.
In the U.S. Senate, Senator Wyden serves on the following committees: Finance, Intelligence, Aging, Budget, and Energy and Natural Resources. On the Energy Committee, he chairs the Subcommittee on Public Lands and Forests. On the Finance Committee, Wyden chairs the Subcommittee on International Trade, Customs and Global Competitiveness.
Background
Born in 1949 in Wichita, Kansas, Senator Wyden attended the University of California at Santa Barbara on a basketball scholarship. He later earned a B.A degree with distinction from Stanford University and received a J.D. degree from the University of Oregon School of Law in 1974. Following law school, he taught gerontology and co-founded the Oregon chapter of the Gray Panthers, an advocacy group for the elderly. He also served as the director of the Oregon Legal Services for the Elderly from 1977 to 1979 and as a member of the Oregon State Board of Examiners of Nursing Home Administrators during that same time period.
Since his days as co-director of the Oregon Gray Panthers, Senator Wyden has been one of the nation's leading voices on health care. He authored the first federal law to protect seniors from unscrupulous Medicare insurance scams, and during a 1994 congressional hearing, Wyden's tough questioning exposed the tobacco industry's willingness to lie about the addictiveness of their products.
Senator Wyden's home is in Portland. He is married to Nancy Wyden, whom he wed in September 2005.[1]
Politics
Ron Wyden was first elected to Congress in 1980 to represent Oregon's 3rd District. In 1996, he was elected to the U.S. Senate in a special election, becoming the first U.S. Senator to be elected in a vote-by-mail election. He was sworn in on February 5, 1996, to the seat once held by his mentor, U.S. Senator Wayne Morse. Elected to his second full term in 2004, Senator Wyden received more votes over 1.1 million than any other candidate for office in Oregon's history. He was re-elected in 2010.[2]
"Congressional Pink Caucus"
In October 1989 the Nicaraguan Sandinista Government announced that they would no longer comply with the 19 month-old cease-fire agreement with the Contras. This had been considered a prime step forward for the "peace process" that was progressing slowly as part of the Arias Peace Plan.
A resolution was introduced in Congress deploring the Sandinistas' action. The Senate voted unanimously in favor, but in the House the vote was 379-29. All the 29 Congressmen voting against the resolution were Democrats.
The Council for Inter-American Security dubbed these 29 people the "Congressional Pink Caucus":
Supported by Council for a Livable World
The Council for a Livable World, founded in 1962 by long-time socialist activist and alleged Soviet agent, Leo Szilard, is a non-profit advocacy organization that seeks to "reduce the danger of nuclear weapons and increase national security", primarily through supporting progressive, congressional candidates who support their policies. The Council supported Ron Wyden in his successful Senate run as candidate for Oregon.[3]
Council for a Livable World, 50th Anniversary
On June 6, 2012, Council for a Livable World, along with its sister organizations Center for Arms Control and Non-Proliferation and Council for a Livable World's PeacePAC, celebrated the 50th Anniversary of their founding by Leo Szilard in 1962.
An evening celebration was held at the Newseum in Washington, D.C. Congressman Barney Frank acted as the Master of Ceremonies and, in the process, received a lifetime achievement award from former Rep. Tom Downey, a member of the Council's Board of Directors. The Robert F. Drinan Peace and Human Award was presented to former Representative and PeacePAC Chairman David Bonior and the late Edith Wilkie, a longtime advocate and leader for peace and justice.
Additionally, prior to the celebration, Senator Ron Wyden (D-OR) inserted a statement in the Congressional Record congratulating Council on our 50th Anniversary stating:
In a time when our country continues to face a host of global threats, it is important that we recognize the vital work that the Council for a Livable World carries out each and every day to mitigate these threats, and to make our world a more peaceful, a more livable place.
The Council for a Livable World is honored and humbled by everyone who joined in the 50th Anniversary Celebration. Thank you to all those who attended the events and to the many supporters who generously contributed to our work. The event exceeded all of our expectations and we are excited and determined as we look forward to another 50 years working on arms control and non-proliferation.[4]
Opposed the Iraq War
The following is a list of the 23 U.S. Senators voting "Nay" on the Iraq War resolution in October 2002. The vote was 77-23 in favor of the resolution.
Daniel Akaka (D - Hawaii), Jeff Bingaman (D - N.M.), Barbara Boxer (D - Calif.), Robert Byrd (D - W. Va.), Lincoln Chafee (R - R.I.), Kent Conrad (D - N.D.), Jon Corzine (D - N.J.), Mark Dayton (D - Minn.), Dick Durbin (D - Ill.), Russ Feingold (D - Wis.), Bob Graham (D - Fla.) [Retired, 2004], Daniel Inouye (D - Hawaii), Jim Jeffords (I - Vt.), Ted Kennedy (D - Mass.), Patrick Leahy (D - Vt.), Carl Levin (D - Mich.), Barbara Mikulski (D - Md.), Patty Murray (D - Wash.), Jack Reed (D - R.I.), Paul Sarbanes (D - Md.), Debbie Stabenow (D - Mich.), Paul Wellstone (D - Minn.) [Dec. 2002] and Ron Wyden (D - Ore.).
The Sustainable Defense Task Force
The Sustainable Defense Task Force was formed in response to a request from Representative Barney Frank (D-MA), working in cooperation with Representative Walter B. Jones (R-NC), Representative Ron Paul (R-TX), and Senator Ron Wyden (D-OR), to explore possible defense budget contributions to deficit reduction efforts that would not compromise the essential security of the United States.
The Project on Defense Alternatives coordinated the work of the Task Force. Carl Conetta drafted the main body of the Task Force report in ongoing consultation with Task Force members who developed or digested proposals from the diverse sources cited in the report. A sub-committee of the Task Force reviewed the final draft before publication.[5]
Staff
The following are past and present staff:[6]
External links
References