Roberta Wood
From KeyWiki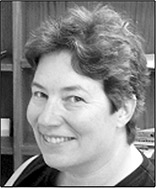 Roberta Wood is a Chicago Communist Party USA member and is the wife of Scott Marshall. She is a trustee for the United Steelworkers of America.[1]
A lifelong rank and file union activist, Roberta co-founded the steelworker women's caucus in the in the Chicago/Gary district of the Steelworkers union. In 1976 she was elected the first female member of USWA Local 65's Executive Board. Following the closing of U.S. Steel's South Works mill, Roberta worked until retirement as an electrical instrumentation mechanic in a municipal sewage treament facility[2].
Second Venceremos Brigade
In 1970 Roberta Wood from Maryland, was a member of the second Venceremos Brigade to Cuba.[3]
Supporting John Lumpkin
In 1978, Roberta Wood was treasurer of the Committee to Elect Dr. John R. Lumpkin for the 7th Ward Alderman, Chicago.[4]
Communist Party Labor Day call
The Communist Party USA paper People's Weekly World issued a statement to mark Labor Day 1995, entitled "We honor the dead and fight like hell for the living."
Of the more than 100 endorsers listed, almost all were identified members of the Communist Party USA.
Roberta Wood, IBEW Local 9 Chicago, was on the list.[5]
Birthday Greetings to William "Red" Davis
In December 1995 the Communist Party USA newspaper Peoples Weekly World published a page of 75th birthday greetings to William Davis - "Lifelong working class fighter and Communist"
In the fight for the unity and integrity of the Party in St. Louis, Missouri, in the post-war years, "Red" has been a rock of confidence and commitment to building the Communist Party.
Greetings were sent from Roberta Wood of Illinois[6].
Endorsed Communist Party Call
On March 30 2002 the Communist Party USA paper People's Weekly World called for a national holiday in honor of late Farm Workers Union leader Cesar Chavez. The article was followed by a long list of endorsers[7]including Roberta Wood, Almost all endorsers were confirmed members of the Communist Party USA.
Communist Party USA
In September 2006 the Peoples Weekly World[8]listed several members, or supporters of the Illinois Communist Party USA.
Joan Elbert, Barbara Russum, Bea Lumpkin, William Appelhans, Bill Mackovich, Carolyn Black, Carroll Krois, Dee Myles , Doug Freedman, Frank Lumpkin, John Bachtell, Kevin Collins, Lance Cohn, Mark Almberg, Marguerite Horberg, Martha Pedroza, Mike Giocondo, Pepe Lozano, Roberta Wood, Scott Marshall, Shelby Richardson, Sijisfredo Aviles, Sue Webb, Terrie Albano.
Roberta Wood has served as Secretary Treasurer of the Communist Party USA since 2007. She served several years as labor editor of the People's Weekly World, forerunner to the People's World[9].
Peoples World personnel
As at December 2010, personnel of the Communist Party USA paper, Peoples World, ;[10]
Editorial Board
Bureau Chiefs and National Contibutors, Juan Lopez (N. Calif.), Rossanna Cambron (S. Calif.), Joelle Fishman (Conn.), John Bachtell (Ill.), John Rummel (Mich.), Tony Pecinovsky (Mo.), Dan Margolis (N.Y.), Rick Nagin (Ohio), Libero Della Piana, Scott Marshall, Elena Mora, Emile Schepers, Jarvis Tyner, Sam Webb
References