Roberta Lynch
Jump to navigation
Jump to search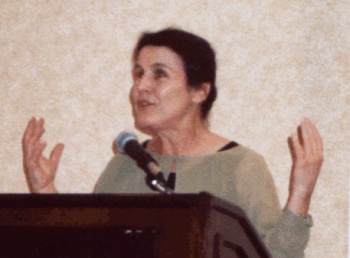 Template:TOCnestleft Roberta Lynch is a Chicago socialist, feminist and labor unionist.
Background
Roberta Lynch came to Council 31 AFSCME after serving as Research Director of the Chicago Area Committee on Occupational Safety and Health. Her first post with the Council was as Public Policy Director, a position she assumed in 1984. She became deputy director in 1993.
Lynch's career has been dedicated to the rights of working people, to equal opportunity, to economic justice. A Philadelphia native, she is a graduate of Duquesne University and was previously involved in a number of community and political organizing efforts.
She is also the co-author, with David Bensman of Rusted Dreams: Hard Times in a Steel Community, which chronicles the decline of the steel industry in Southeast Chicago.[1]
New American Movement
In 1974 Roberta Lynch was a member of the Pittsburgh New American Movement.[2]
The same year, the Editorial Committee for the New American Movement Discussion Bulletin consisted of: Susan Grady, Austin NAM; ,Judy MacLean, Pittsburgh NAM;Roberta Lynch, Pittsburgh NAM.[3]
According to the New American Movement Speaker's Bureau, Roberta Lynch "is a long-time and experienced activist and a founding leader of New American Movement. With extensive experience with both the feminist and socialist movements, she knowledgeably traces the relationship between feminism and socialism in the past, and outlines prospects for the contemporary movements. As a member of NAM's national leadership, she is familiar with the structure and realities of the development of revolutionary organization".[4]
New American Movement National Interim Committee members in 1975 included;
Frank Ackerman, Cambridge, Mass.; Sally Avery, Durham; N.C.; Edward Bolden, Iowa City; Harry Boyte, Chapel Hill, N.C.; Sandra Kricker and Jim Weinstein, San Franciseo: Roberta Lynch and Judy MacLean,Pittsburgh: Torrie Osborne, Mlddlebury, Vt.; Jeff Johnson, Fred Ojile and Shirley Wyatt, Minneapolis: Julia Reichert, Yellow Springs Ohio, Peggy Somers, Berkeley; Melissa Upton, Philadelphia.: and Loren Weinberg, Washington, D.C..[5]
Attendees at the Expanded National Interim Committee of New American Movement January 2-4, 1976 in Pittsburgh, PA included;
Roberta Lynch, Anne Farrar, Judy MacLean, Alan Charney, Steve Carlip, Holly Graff, Richard Healey, Mark Mericle, Carollee Sandberg, John Ehrenreich, Bill Leumer, Elayne Rapping
RIC respresentatives -Ellen Sugg (Port City Chapter, Industrial Heartland Region), Mel Tanzman (Brooklyn Chapter, Northeast Region), Joni Rabinowitz (Pittsburgh Chapter, Industrial Heartland Region), Noel Ignatin (Sojourner Truth Chapter, Midwest Region), Rick Kunnes (Ann Arbor Chapter Industrial Heartland Region), Dorothy Healey ( L.A. #4, Southwest Region), John Judis (East Bay Chapter, Northwest Region), Lee Holstein (Haymarket Chapter, Midwest Region), Laura Burns (Radcliffe/Harvard Chapter, Northeast Region), Dan Marschall (East Bay Chapter, Northwest Region), Glenn Scott (Austin Chapter, Southern Region), Alice Allgaier (St. Louis Chapter, Midwest Region), Dave McBride (Austin, Southern Region), Mark Cohen (Southern Region, Hal Adams ( Iowa City, Midwest Region);
Staff - Dave Ranney[6]
In February 1976, New American Movement Discussion Bulletin issue number 13, carried an article, A Very Brief Response to Steve Cohen 67, Roberta Lynch (Chicago #1 NAM).
In 1980, Lynch was a delegate to the December 12-14 Chicago, National Council meeting of the New American Movement[7].
In the 1980s Roberta Lynch was a speaker on the Women's Liberation section of the NAM Speakers Bureau on the subject of Socialist Feminism, Past and Present.[8] --Kiwi 10:51, 4 May 2010 (UTC)
New American Movement 10th convention
In 1981 Craig Merrilees, Chicago Northside NAM and Roberta Lynch and Frank Ackerman of the NAM Negotiating Committee led a workshop entitled NAM/DSOC Informational Session and Preliminary Debate at the 10th Convention of the New American Movement. The convention was held in a union headquarters in Chicago and ran from July 29 - August 2, 1981.
Lynch also spoke alongside Michael Harrington, National Chair, Democratic Socialists Organizing Committee; Eqbal Ahmed, Transnational Institute and Joanne Barkan, NY NAM on a mini-plenary entitled New Dangers, New Opportunities: Building a Socialist Politics for the '80's.[9]
Tribute to Ben Dobbs
On Sunday, June 7, 1981, the Los Angeles Chapter of the New American Movement sponsored a Tribute to Ben Dobbs for "His lifelong commitment to socialism". The event was held at the Miramar-Sheraton Hotel, Santa Monica, California. Sponsors of the event included Roberta Lynch.[10]
Merger negotiating committee
After intensive debate, the 1980 New American Movement Convention passed a resolution (by a 2-1. margin) calling for negotiations with Democratic Socialists Organizing Committee, the election of a Negotiating Committee, and the development of a Negotiating Document. Frank Ackerman, Joanne Barkan, David Dollar, Richard Healey, Anne Hill, Katherine Kennedy, Roberta Lynch, and Liz Weston were elected to the Negotiating Committee. Holly Graff was added as the ex officio Political Committee member, and John Beverly became the first alternate. In the fall of 1980 this Committee developed a Negotiating Document which was reviewed by chapters and then amended and approved (by a ninety per cent margin) at the December National Council meeting.[11]
Democratic Socialists of America founding conference
Roberta Lynch, a columnist with In These Times, addressed a "special unity convention session" on day two of the Democratic Socialist Organizing Committee/New American Movement Unity Convention in Detroit March 21/22 1982, that resulted in the formation of Democratic Socialists of America[12].
DSA Conference delegate
In 1983 Roberta Lynch was a Chicago delegate to the Democratic Socialists of America conference in New York City, October 14-16, 1983[13]
DSA Feminist Commission
In 1985[14] and 1986,[15] Roberta Lynch of Illinois was listed as a member of the Feminist Commission of the Democratic Socialists of America.
PROCAN
In 1988, Roberta Lynch served on the Board of Directors[16]of PROCAN (Progressive Chicago Area Network), an oganization which included several prominent Democratic Socialists of America members, including Alderman Danny K Davis and Dr Ron Sable.
"Women and Unions"
Dorothy Sue Cobble, was the editor of "Women and Unions: Forging a Partnership". (Ithaca, NY; ILR Press, 1993). Contributors included Margaret Halleck, of the University of Oregon and formerly of the Service Employees International Union, Jean Ross and Ronnie Steinberg, both of whom have been active in Democratic Socialists of America, Gloria Johnson - a vice president of the International Union of Electronic Workers, new president of the Coalition of Labor Union Women, a newly elected member of the AFL-CIO executive council, Susan Cowell, an International Ladies Garment Workers Union vice president and DSA activist, Virginia duRivage and David C. Jacobs, Leslie Nulty of the UFCW, DSA activist Roberta Lynch.[17]
Back to Basics conference
In 1998 James Weinstein presided over a major Chicago "Back to Basics" conference designed to re-align the U.S. left back to "class politics"[18]
"To explore how we (the Left) can increase our presence in the mainstream of American political and intellectual life" was the way James Weinstein, editor of In These Times magazine, stated the purpose of the "Back to Basics Conference". The conference was held Oct. 9-11, at Chicago's Congress Hotel. Several hundred people attended the conference, which In These Times magazine sponsored and managed. In practice the conference urged the Left to abandon its dead-end, self-destructive course toward cultural politics and return to class politics.
Speakers included Jim Hightower, Senator Paul Wellstone, Quentin Young, environmentalist Barbara Dudley, New Party founder Joel Rogers, Christine Riddiough, Joseph Schwartz, Barbara Epstein, Roxanne Dunbar-Ortiz and Roberta Lynch.
Joel Rogers, founder of The New Party, listed people's concerns: education, campaign finance reform, environment, raising the minimum wage, and concern about global capitalism. Neither Democrats nor Republicans take this list seriously. Liberalism relied on favorable government regulation and mass politics to deal with problems. A new time calls for new politics, emphasizing economic strategy, citizen participation, and electoral strategy.
AFSCME
Lynch is an International Vice President for the American Federation of State, County and Municipal Employees from Chicago, Illinois.[19]
Supporting Obama
"He (Obama)always wants to understand an issue and think it through," said Roberta Lynch, deputy director for Council 31 of the American Federation of State, County and Municipal Employees. "You have to make your case no matter who you are."[20]
Letter to McEntee
On January 4, 2008 several AFSCME leaders wrote to union president Gerald McEntee protesting that union resources had been used to oppose the candidacy of Barack Obama.[21]
Dear President McEntee:
We are writing to protest in the strongest terms the negative campaign that AFSCME is conducting against Barack Obama. We do not believe that such a wholesale assault on one of the great friends of our union was ever contemplated when the International Executive Board (IEB) made its decision to endorse Hillary Clinton...
We are calling on you to take whatever action that is within your legal purview to immediately end AFSCME's attack campaign against Sen. Obama. In the event that you are not able to legally compel these staff members to cease these actions, we are calling on you to immediately take action to discontinue such independent expenditures in order to ensure that no further attacks occur. And we also urge you to ensure that no funds are utilized to wage such "attack campaigns" among our own members.
In solidarity,
Midwest Academy awards
When Democratic Socialists of America controlled Midwest Academy held its annual award ceremony December 12, 2012, at the Eatonville Restaurant, Washington DC, Elizabeth Warren was guest speaker.
Pictured right, Elizabeth Warren mingles with Heather Booth, and Democratic Party strategist and long time DSA associate Bob Creamer, and in the background, well known Chicago Democratic Socialists of America member Roberta Lynch.
Long time Democratic Socialists of America member Julian Bond was given a "Lifetime Achievement Award", while another one time DSAer Mike Lux, was given a Progressive Leadership Award, as was Damon Silvers.[22]
External links
References