Robert Pollin
From KeyWiki
Robert Pollin is Professor of Economics and founding Co-Director of the Political Economy Research Institute (PERI) at the University of Massachusetts, Amherst.
New Party builder
New Party News Fall 1994 listed over 100 New Party activists-"some of the community leaders, organizers, retirees,, scholars, artists, parents, students, doctors, writers and other activists who are building the NP" the list included Bob Pollin,UC- Riverside.
Campaign for America's Future
In 1996 Robert Pollin, University of Massachussetts- Amherst was one of the original 130 founders of Campaign for America's Future.[1]
Feb. 2009 EFCA statement
On February 24, 2009 Richard B. Freeman, Frank Levy and Lawrence Mishel, issued an Economic Policy Institute Employee Free Choice Act Statement on the Economic Policy Institute website, calling for the passage of the pro labor union Employee Free Choice Act.[2]
Statement endorsers included Robert Pollin, University of Massachusetts .
"Real World Labor"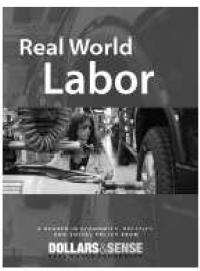 In August 2009 Dollars & Sense, produced an anthology entitled "Real World Labor", edited by Immanuel Ness, Amy Offner and Chris Sturr and the Dollars & Sense Collective.
Contributors included David Bacon, Kim Bobo, Aviva Chomsky, Steve Early, Bill Fletcher, Jr., Staughton Lynd, Arthur MacEwan, John Miller, Frances Fox Piven, Robert Pollin, Jane Slaughter.[3]
National Jobs For All Coalition
In 2010, Robert Pollin, Co-Dir., Political Economy Research Ctr. & Prof. of Economics, UMASS/Amherst, was listed as serving on the advisory board of the Democratic Socialists of America dominated National Jobs For All Coalition.[4]
References