Rick Nagin
Jump to navigation
Jump to search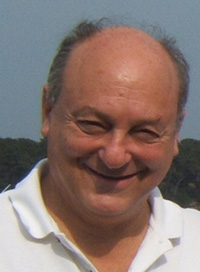 Rick Nagin, born circa 1941, is a prominent Ohio activist and member of the Communist Party USA. Nagin is Ohio correspondent for the Peoples World, has written for the paper and its predecessors since 1970. He has lived for 21 years in the Archwood-Denison Brooklyn Centre neighborhood[1].
Nagin joined the Communist Party USA circa 1970, inspired by Gus Hall[2].
Nagin is a member of the Newspaper Guild, Communications Workers of America, he is a delegate to the North Shore AFL-CIO and serves on its political coordinators committee. He also represents the Peoples World on the steering committee of Cleveland Jobs with Justice.
He is the husband of Ann Pallotta and the father of Rachel Nagin and Molly Nagin.
Education
AFL-CIO labor candidates school, Harvard College BA, Rockefeller Univ. Ph.D[3]
Militant background
John F. Kennedy's presidency and the Vietnam War were defining moments of Nagin's years studying science at Harvard University and Rockefeller University in New York. Kennedy's assassination, he said, "really drove home to me the right-wing danger in this country."
Nagin was obsessed with stopping the war and curious about socialism. The war, he thought, was "really to extend corporate capitalism to southeast Asia" and "a threat to democracy in the U.S." He began reading communist publications after receiving one at a peace rally.
Leaving behind his biochemistry degree and doctorate in biology, Nagin joined the Communist Party USA in 1970 and began writing for its newspaper, known today as the People's Weekly World.
Nagin's party involvement led him to Cleveland, where communists hoped to gain traction with steelworkers. It also led him to Gus Hall, the party's leader, who had become a perennial candidate for president. Nagin covered the campaigns.
"I was just fascinated with how he was able to talk about these progressive programs -- things we talk about today -- national health care, public-works programs," Nagin said.
In 1980, Hall recruited Nagin, who had become Ohio Communist Party chairman, for a national slate of communist candidates. Nagin made the U.S. Senate ballot as an independent and received more than 40,000 votes in his race against John Glenn, the incumbent Democrat.
Nagin was encouraged. A year later, he challenged Cleveland Mayor George Voinovich, a Republican. His candidacy generated little interest, as did subsequent bids for the Ohio House.
"To me, it was a way of breaking down a lot of Cold War prejudices," Nagin said of his early, long-shot political campaigns. "At some point, I figured, I was going to have to connect with the people. I finally realized that I needed to run from the grass roots."
Noticing a large influx of Puerto Ricans in his West Side Cleveland neighborhood, Nagin organized a voter registration drive for Hispanics. In 1989, he launched the first of three failed bids for the Ward 14 council seat. Eight years later, Nelson Cintron became the city's first Hispanic councilman and chose Nagin, one of his opponents, to be his City Hall aide.
Nagin resigned as head of the Ohio Communist Party to take the council job. He served as Cintron's go-to guy for seven years before being fired because he had begun to assemble a campaign to seek the Ward 15 council seat without the blessing of council leaders.
As in previous council races, Nagin failed to finish first or second and emerge from the primary. He placed third behind incumbent Emily Lipovan and Brian Cummins, the eventual winner.
Nagin's candidacy in 2009 for the Ward 14 seat surprised some. Cintron, his former boss and ally, had been ousted four years earlier by Joe Santiago and was seeking a comeback.
But Nagin said redrawn ward boundaries convinced him that this might be his year. His Brooklyn Centre neighborhood, part of the old Ward 15, is being tucked into a new Ward 14. He beat Cummins in those precincts in the 2005 primary. And he believes that Hispanic voters familiar with him from his role as Cintron's aide have tired of Cintron and Santiago.
Soon, opponents realized that Nagin no longer was an also-ran. He was a heavyweight.
His years of work on behalf of organized labor scored him a second straight endorsement from the North Shore Federation of Labor. He picked up support from other organized-labor interests as well as several key Hispanic activists. Nagin yard signs appeared overnight in large numbers.
Harriet Applegate, executive secretary of the local AFL-CIO chapter, said Nagin was a paid political coordinator for the group during the 2006 elections and volunteered in 2008.
"As far as I'm concerned, it's loyalty to someone who has paid his dues," Applegate said of the Nagin endorsement. "It appears to me that he has a better chance this time than last time."
Nagin also trumpets an endorsement he said he received last month from Dennis Kucinich, the influential West Side congressman. But Kucinich has not responded to requests to discuss or even confirm his support. He caught flak in the 1990s for allowing Nagin to be a volunteer.
Perhaps Nagin has stuck around long enough that voters uneasy with the thought of a communist representative have warmed to the idea. Maybe, as he likes to believe, the country's political mood is shifting to the left with the election last fall of Barack Obama as president.
"I think it's significant," Nagin said of a communist being a viable council candidate in a large city. But, he says: "This is not a party campaign. I am a coalition candidate."
Even so, his candidacy has excited other communists.
Part of the $6,650 in campaign contributions that Nagin disclosed before the primary came from people whose names appear as writers or subjects in the People's Weekly World.
Wally Kaufman, who replaced Nagin as chairman of the Ohio Communist Party, gave Nagin $1,000. Another $700 came from Bill Mackovich, a retired steelworker from Chicago who this year pledged his $250 federal stimulus check to the communist newspaper.
"He's always been fighting for working people," Mackovich said in a phone interview. "It's a different ballgame today. You tell people that you're a communist, they say, 'So what?' "
Nagin also received $100 from someone whose family name is synonymous with capitalism: David Rockefeller, Jr. Nagin attended prep school with the great-grandson of the oil baron.
Cummins believes Nagin's success is largely attributable to name recognition attained after years of appearing on ballots in West Side precincts. Voters may be past the communist issue, but Cummins said that will not stop him from comparing his record with Nagin's.
As both a Democrat and member of the Green Party, Cummins acknowledges sharing common ground with Nagin in that both have "not been satisfied with the two-party system."
But that is where the similarities end. Cummins is researching old news articles that Nagin has been quoted in, as well as pieces he has written for the People's Weekly World. To draw a contrast, Cummins cited a 1990 interview in which Nagin discussed his communist views.
"In 1990," Cummins said, "I was going overseas for the Peace Corps."
Others are unsure how Nagin's politics will play.
"That's up to the voters to decide," Applegate said.[4]
Davila campaign
Nagin worked in the campaign of Ed Davila, the first Hispanic to run for Ohio State Representative.[5]
Council activism
Ward 14 Councilmanic Assistant for over seven years. Nagin helped elect Cleveland's first Hispanic city councilman, Nelson Citron and served as his executive assistant for over seven years.
Communist Party USA
Rick Nagin is a Labor and Politics Reporter for the People's World[6].
Ethnic activism
Rick Nagin speaks Spanish and has traveled in Puerto Rico and Latin America. He as worked closely with Hispanic social clubs and agencies and NAACP Voter Fund[7].
Nagin was a member of the San Lorenzo Club and helped found the Cleveland chapter of the Labor Council for Latin American Advancement (LCLAA) affiliated with the AFL-CIO[8].
Labor activism
Rick Nagin is a delegate to Cleveland AFL-CIO from Communications Workers of America, he is active in efforts for health care, living wages, and union rights.
He serves on the Cleveland Jobs with Justice Steering Committee[9].
Supported Communist Party call
In May 1992 the Communist Party USA newspaper Peoples Weekly World published a May Day supplement which included a call to "support our continuing struggle for justice and dignity"
Endorsers of the call included Rick Nagin, Cleveland, Ohio.[10]
Supporting Brown and Strickland
In 2006, Nagin was on the staff of AFL-CIO Labor 2006 campaign for Sherrod Brown and Ted Strickland[11]
Working with Dennis Kucinich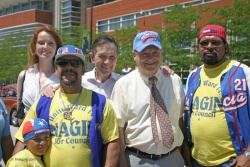 Nagin helped Congressman Kucinich set up a Steel Summit that "succeeded in saving the Cleveland steel mill, preserving the union contract and saving the jobs of thousands of area workers".[12]
Nagin had been a key organizer for Dennis Kucinich's campaigns for Congress and president and for the 2004 John Kerry presidential campaign.[13]
Rick Nagin was Labor Coordinator for Dennis Kucinich's 2008 primary campaign[14].
Dennis Kucinich, (center rear), endorsed Rick Nagin (second from right) in his 2009 City Council race[15].
I've known Rick Nagin for more than 30 years. He's honest, hard-working and conscientious. The people of Ward 14 have a chance to elect a Councilman who will be totally dedicated to them. What more can you ask for?
I'm proud to join with the AFL-CIO in supporting Rick Nagin
Dennis Kucinich, Congressman, 10th District
Rick Nagin backed Dennis Kucinich in his 2018 Governor of Ohio race. Dennis Kucinich March 28, 2018 ·
Supporting Barack Obama
Rick Nagin was a fulltime volunteer in the AFL-CIO Labor 2008 campaign for Barack Obama[16].
Opposing Israeli Policy in Gaza
In January 2009 Rick Nagin signed a statement circulated by the Magnes Zionist Blog, opposing Israeli policy in Gaza:[17]
As human beings, we are shocked and appalled at the mass destruction unleashed by the State of Israel against the people of Gaza in its military operation, following years of Israeli occupation, siege, and deprivation.
As progressives, we reject the same justifications for the carnage that we heard ad nauseam from the supporters of the Second Iraq War: the so-called "war on terror," the "clash of civilizations," the "need to re-establish deterrence" – all of which served to justify a misguided and unnecessary war, with disastrous consequences for America and Iraq.
Council run
During Nagin's 2009 run for a seat on the Cleveland City Council, his Communist Party USA membership again became an issue[18].
A former chairman of the state Communist Party has come closer than ever to taking a city council seat after years of trying for public office.
Registered Democrat Rick Nagin finished a strong second in this month's primary race in Council Ward 14. He faces a Nov. 3 nonpartisan general election runoff against the top vote-getter, Brian Cummins.
Nagin, 68, failed in three previous bids for a council seat. He resists being labeled a communist, saying Monday the word was demonized by 60 years of Cold War propaganda designed to prepare people for war and intimidate those with liberal ideas.
It's an epithet in this country," he said, "like using the N-word."
Nagin, who joined the Communist Party in 1970, has written for the People's Weekly World newspaper, which describes itself as having a "special relationship with the Communist Party USA," as recently as May.
He said the Communist Party USA has an honorable and distinguished history of working for economic, civil and democratic rights. But he suggested the party needs a new name, perhaps the New Socialist Party.
In the city council campaign, he said the issues are much more local — safety, vacant houses, jobs, programs for young people, block clubs.
"My philosophical outlook is to stand up for working people," he said. "If elected, I would work not only very hard for my constituents but be a voice for organized labor."
Nagin was unsuccessful, but received 45 percent of the vote.
Peoples World personnel
As at December 2010, personnel of the Communist Party USA paper, Peoples World, ;[19]
Editorial Board
Bureau Chiefs and National Contibutors, Juan Lopez (N. Calif.), Rossanna Cambron (S. Calif.), Joelle Fishman (Conn.), John Bachtell (Ill.), John Rummel (Mich.), Tony Pecinovsky (Mo.), Dan Margolis (N.Y.), Rick Nagin (Ohio), Libero Della Piana, Scott Marshall, Elena Mora, Emile Schepers, Jarvis Tyner, Sam Webb
Democrat
In 2012 Rick Nagin was the Democratic Leader in Cleveland Ward 14 and serves on the County Democratic Party Executive Committee.
In 2014, he still served as the Democratic Leader in Cleveland Ward 14 and serves on the Cuyahoga County Democratic Party Executive Committee.[20]
Tamir Rice petition
60,000-signature petition for County Prosecutor Tim McGinty for criminal charges and arrests warrants against Cleveland police that killed Tamir Rice to be delivered at 2 pm at Justice Center on July 23 2015 with 1 pm City Hall rally,
The groups called themselves the Tamir Rice Justice Committee and als also hold a 2 pm press conference on the steps of the Justice Center. Contacts were ontact Dick Peery, Rick Nagin and LaTonya Goldsby.
Dick Peery, a community activist, labor affiliate, and retired Cleveland Plain Dealer Newspaper reporter and former writer's guild union president said that Rick Nagin, a Cleveland west side community activist, would lead the rally, and so ould Rice's cousin, LaTonya Goldsby.
Congresswoman Marcia Fudge (D-11), a Warrensville Heights Democrat whose majority Black 11th congressional district includes the city of Cleveland, is the honorary chair of a Tamir Rice Justice Committee petition, a petition signed also by some Cleveland city council members, members of Cuyahoga County Council, state senators, other elected officials, residents, community activists, and members of the faith-based and labor communities of greater Cleveland.
Nick Martin, the executive director of the Cuyahoga County Democratic Party, was also among the notables supporting the initiative.
Members of the 17-member Cleveland City Council to sign the petition to date for McGinty to push for criminal charges against police relative to the killing of Rice include Jeff Johnson, Brian Cummins, and Kevin Conwell, vice chair of city council's safety committee.
Members of the 11- member Cuyahoga County Council that signed on include Anthony Hairston, Dale Miller, and Yvonne Conwell, Kevin Conwell's wife.
State Sen. Sandra Williams (D-21), a Cleveland Democrat, and state Sen. Michael Skindell (D-23), a Lakewood Democrat, also signed the petition, as did at least three suburban council persons, including those representing Woodmere, Fairvew Park and the city of Maple Heights.
Dozens of clergy of greater Cleveland have signed on, most of whom are Black, and include the Rev. Tony Minor, Rev. Lorenzo Norris, Rev. Sara Ross, Rev. Waltrina Middleton, and the Rev. Charles See, who leads Lutheran Metropolitan Ministries' Community Re-Entry Program for people returning from prison.
Labor leaders supporting the petition include Democratic operative Lane Dunbar, Workers United Local 178 President Wanda Navarro, Mark Davis, who is the Cleveland regional director of the American Federation of State, County and Municipal Employees (AFSCME), and David Sheagley, the legislative and political organizer for the American Federation of Government Employees, District 6.
Community activists supporting the endeavor include Dr. Stewart Robinson and Valerie Robinson of Stop Targeting Ohio's Poor, William Clarence Marshall of the Carl Stokes Brigade, Cleveland Renaissance Movement Leader Basheer Jones, Carol Steiner of Puncture the Silence, Bill Swain of Revolution Books, Don Bryant of the Greater Cleveland Immigrant Support Network, Al Porter of Black on Black Crime, Art McKoy of the Black Man's Army, and Julia Shearson, executive director of the Cleveland and northern Ohio chapter of the Council on American-Islamic Relations(CAIR).
Among others that signed the petition are Cleveland NAACP Executive Board Member Meryl Tolbert Johnson, Lillian Sharpley and Karolyn Isnhart of the Cuyahoga County Democratic Party, and Rick Nagin and Janet Garcia, both of whom have made failed bids for a seat on Cleveland City Council.[21]
2015 Vietnam Tour
Statement by the US peace activist delegation to Vietnam for the 40th anniversary of the end of the war (April 19-30, 2015)
Visiting Vietnam today, it is sometimes hard to remember the long and terrible US war that ended 40 years ago. Today's Vietnam is a proud socialist nation growing its economy toward prosperity and responsible integration into the global community.
Vietnam and the US are today building a warm multidimensional relationship. Since normalization of relations in 1995, there have been substantial US investments and bilateral trade as well as significant cultural and educational exchanges ,tourism and family visits by Vietnamese Americans.
This historical development makes us wonder even more about the terrible US policy decisions that led to such widespread destruction and the loss of millions of lives--Vietnamese, Lao and Cambodians as well as Americans and by allies.
The legacy of the war is the darker side of today's Vietnam. Unexploded ordnance--land mines, shells and bombs--continue to injure or kill thousands of people every year. Dioxin laden herbicides, such as Agent Orange, are now affecting a third generation with birth defects and severe developmental disabilities.
We call upon our government to increase aid to Vietnam for the clean up of unexploded ordnance and Agent Orange as well as to treat the victims of both.
It is clear to us that the situation today in the region is of great concern to the Vietnamese. Officials of the Vietnamese government and friendship organizations in the north, center and south expressed great concern about China's recent aggressive behavior in the East Sea (South China Sea) and welcomed support from the international community for stability and the peaceful resolution of regional conflicts.
We worry about how the US in future administrations will exert its role in this complicated situation. We call upon US policy makers to help resolve issues through multilateral regional and global diplomatic efforts, including close cooperation with the ASEAN nations.
Our Vietnamese hosts were very clear that the role of the anti-war movement was a critical element in the successfully liberation and reunification of their country.
Our struggle continues, both to teach our own history and to help Vietnam continue to recover from the damage inflicted by our government. It is critical that generations born since 1975 learn the truth about this war so they can ensure it never happens again.
Harriet Applegate, Steven Ault, Sally Benson, Ross Canton, Kenton Clymer, Frances Early, Janet Gardner, Anne Hill, John McAuliff, Rick Nagin, Ann Pallotta, Danis Regal, Mike Rubicz, Pari Sabety, Mark Shanahan, Larry Wittner[22]
The 12-day visit to Vietnam in April 2015 consisted of former anti-Vietnam-War activists organized by the Fund for Reconciliation and Development in coordination with the Vietnam Union of Friendship Organizations on the occasion of the 40th anniversary of the end of the war. [23]
Backing Jasmin Santana
In 2017 Cleveland City Councilman Brian Cummins faced a spirited challenge from Jasmin Santana, a longtime ward resident who has been endorsed by the ward's Democratic club and its influential leader, Rick Nagin, who finished second to Cummins in the 2009 election.[24]
Wrote Joelle Fishman in a February 1 2018 article on the Communist Party USA website "Building the party at the grassroots and winning elections";[25]
We will hear from Cleveland, Ohio about a big victory electing the first Latina to city council and how the West Side Club has been at the center of that campaign and successfully took on red baiting in that key election.
CPUSA National Committee
References