Richard Blumenthal
From KeyWiki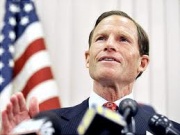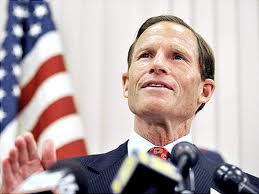 Richard Blumenthal is the junior Senator for Connecticut. Sworn in on January 5, 2011, Blumenthal is serving his first term as a United States Senator.
Senator Blumenthal served five terms as Connecticut's Attorney General, "fighting for people against large and powerful special interests. His aggressive law enforcement for consumer protection, environmental stewardship, labor rights, and personal privacy, has helped reshape the role of state attorneys general nationwide, and resulted in the recovery of hundreds of millions of dollars for Connecticut taxpayers and consumers each year".[1]
Education
Senator Blumenthal graduated from Harvard College (Phi Beta Kappa, Magna Cum Laude), and Yale Law School, where he was Editor-in-Chief of the Yale Law Journal.[2]
Political career
Blumenthal served in the Connecticut House of Representatives from 1984 to 1987, and the Connecticut State Senate from 1987 to 1990. As a volunteer attorney for the NAACP Legal Defense Fund, Senator Blumenthal saved the life of an innocent, wrongly convicted death row inmate, who came within hours of execution. From 1977 to 1981, Senator Blumenthal served as a U.S. Attorney for Connecticut, prosecuting drug trafficking, organized and white collar crime, civil rights violations, consumer fraud, and environmental pollution.
Prior to his position as U.S. Attorney, Senator Blumenthal also served as Administrative Assistant to U.S. Sen. Abraham A. Ribicoff, aide to former U.S. Sen. Daniel P. Moynihan when Moynihan was Assistant to the President of the United States, and law clerk to U.S. Supreme Court Justice Harry A. Blackmun. [3]
Supported Progressive Health Care Reform
In late 2009, Richard Blumenthal was one of more than 1,000 state legislators to sign a letter entitled "State Legislators for Progressive Health Care Reform". The letter was a project of the Progressive States Network and was developed in consultation with national health care reform advocates, including the AFL-CIO, AFSCME, Community Catalyst, Families USA, Herndon Alliance, National Women's Law Center, Northeast Action, SEIU, and Universal Health Care Action Network. The letter reads in part,[4]
"Failure to pass national comprehensive health reform now will further jeopardize state and local budgets, undermining public services like education, public safety, and transportation infrastructure... We, the undersigned, call on President Obama and the Congress to enact bold and comprehensive health care reform this year – based on these principles and a strong federal-state collaboration – and pledge our support as state legislators and allies in pursuit of guaranteed, high quality, affordable health care for all."
Anti "speculator" bill
in April 2012 Ben Cardin joined a group of his Senate colleagues in sponsoring a bill, S. 2222, which "will give federal regulators immediate authority to invoke emergency powers to rein in speculators who are responsible for rapidly rising gasoline prices".
There is broad agreement among energy experts and economists that speculators are one of the causes for the rapidly rising price of gas. Domestic oil production has risen to its highest level in a decade, oil supplies are greater today than they were three years ago and demand for oil in the United States is lower today than it was in 1997. Yet gas prices continue to soar.
There is something wrong with this equation. There is no logical reason why gas prices should continue to rise if oil supplies are up and demand is down.
The American Trucking Association, Delta Airlines, the Petroleum Marketers Association of America, the Federal Reserve Bank of St. Louis, and other experts all say excessive oil speculation in the futures markets significantly increases crude oil and gasoline prices. A Feb. 27, 2012 article in Forbes Magazine cited a recent report by the investment bank Goldman Sachs pointing out that excessive oil speculation adds 56 cents to the price of a gallon of gas.
This "speculators" bill would set a 14-day deadline for the Commodity Futures Trading Commission (CFTC) to take emergency steps to stop excessive speculation by Wall Street traders in the crude oil, gasoline and other energy futures markets. Also co-sponsoring the measure were: U.S. Senators Bernie Sanders (I-VT), Richard Blumenthal (D-CT), Sherrod Brown (D-OH), Al Franken (D-MN), Amy Klobuchar (D-MN) and Bill Nelson (D-FL).[5]
Equal Opportunity for All Act
Job-hunters are increasingly being asked to agree to allow potential employers to view their personal credit information, a development that Sen. Elizabeth Warren says is unfairly keeping people out of the job market who've had financial setbacks or have reports that contain inaccurate information.
December 17, 2013 Warren introduced The Equal Opportunity for All Act in Congress, which would outlaw such credit checks in many cases except in areas such as national security. Warren told reporters in a conference call sponsored by the Demos Foundation, a liberal think-tank, that the legislation was long overdue.
"This is about basic fairness," said the first-term legislator, adding that many people have had their credit records tarnished during the recent economic downturn. "There is little to no evidence of any correlation between job performance and a credit score."
The bill is co-sponsored by by Sens. Patrick Leahy, D.-Vt., Edward Markey, D-Mass., Sherrod Brown, D.-Ohio, Jeanne Shaheen, D.-N.H., and Richard Blumenthal, D-Conn. [6]
References