Rafael Pizarro
Jump to navigation
Jump to search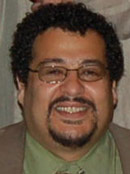 } Rafael Pizarro is a Massachusetts based trade union organizer. Administrative Organizer at 1199SEIU Massachusetts. Lives in New Bedford.
Education
Studied Communication at The University of Texas at Austin Sarah Lawrence College
WEB DuBois Clubs of America
In 2014, Rafael Pizarro was listed a a friend on the DuBois Clubs Facebook page.[1]
Communist Party reformer
In 1991, Rafael Pizarro, New York, was one of several hundred Communist Party USA members to sign the a paper "An initiative to Unite and Renew the Party" - most signatories left the Party after the December 1991 conference to found Committees of Correspondence.[2]
Leadership
Committees of Correspondence for Democracy and Socialism co-chairs elected October 2020:
Co-chairs Gary Hicks, Paul Krehbiel, Rafael Pizarro, Harry Targ, and Janet Tucker.
CoC National Conference endorser
In 1992 Rafael Pizarro, CoC Implementation Committee, New York, endorsed the Committees of Correspondence national conference Conference on Perspectives for Democracy and Socialism in the 90s held at Berkeley California July 17-19.[3]
Conference on Perspectives for Democracy and Socialism in the 90s
The Conference on Perspectives for Democracy and Socialism in the 90s was the Committees of Correspondence's first national conference held in Berkeley, California July 17-19, 1992.[4]
Workshops that were held at the conference on Saturday, July 18 included:[5]
Standing Together - Labor Standing together and showing support. How to respond to racism, sexism and anti-immigrant prejudice and other divisions within the labor movement? How to build labor solidarity and links with nationally oppressed communities?
New Party builder
New Party News Fall 1994 listed over 100 New Party activists-"some of the community leaders, organizers, retirees,, scholars, artists, parents, students, doctors, writers and other activists who are building the NP" the list included Rafael Pizarro, Committees of Correspondence.
Committees of Correspondence NCC
In 1994 Rafael Pizarro was a member of the National Coordinating Committee of the Committees of Correspondence.[6]
Supporting Committees of Correspondence
In 1995 Pizarro was listed[7] as one of the "CoC members and friends" donating to Committees of Correspondence. He contributed $25.
The same year Pizarro was chair of CoC's Political Action Task Force.
DSA membership
Like many CoC members Pizarro was also a leader of Democratic Socialists of America (DSA). From a report[8]on the 1995 Midwest Radical Scholars and Activists Conferenceby Chicago DSA member Ron Baiman.
The conference kicked off with an excellent opening plenary in which Rafael Pizzaro from Local 1199 Hospital Workers Union in New York, Co-Chair of the Committees of Correspondence and DSA, related his experience as a member of a DSA/NOC joint youth observer delegation to the Mexican elections.
After presenting a complex and detailed analysis of the various political forces and factions involved (including the mysterious disappearance of the right-wing PAN presidential candidate from public campaigning after a very successful national debate performance, indicating perhaps collusion between PRI and PAN operatives), Pizzaro concluded that the elections represented a real maturing of Mexican civil society and politics.
LA activism
In 2006 Rafael Pizarro of the Coalition for Clean Air[9]was organizing environmental, labor, and faith-based advocates to fight pollution in Los Angeles ports.
2016 CCDS National Coordinating Committee
Rafael Pizarro, Massachusetts, was elected in 2016 to the Committees of Correspondence for Democracy and Socialism National Coordinating Committee;[10]
Leadership role
In mid 2017 Rafael Pizarro re-joined the CCDS leadership.
Congratulations, Rafael Pizarro, CCDS Co-chair!
Rafael was nominated and confirmed by the NCC as Co-Chair of CCDS.
He has a long history in the labor movement, presently organizing for SEIU. He is also an activist in his community and has worked with some young people recruiting them to CCDS. During the occupy movement he took some young people from Occupy Boston on a tour through the South. He was one of the CCDS Co-Chairs at its founding.[11]
References
Template:Reflist Template:Endorsers of the Conference on Perspectives for Democracy and Socialism in the 90s