Paul Pinsky
Jump to navigation
Jump to search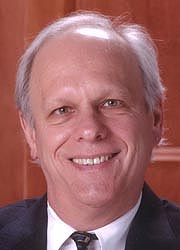 Template:TOCnestleft Paul G. Pinsky is a Maryland State Senator, Democrat, District 22, Prince George's County.
Pinsky taught high school history for twenty years and currently is a teachers' union organizer with an affiliate of the Maryland State Teachers' Association.
Background
Born in Camden, New Jersey, March 5, 1950. Attended Moorestown Friends School, Moorestown, N.J.; George Washington University, B.A. (public affairs), 1972, M.A. (education), 1978. [1]
Career
Educator, Prince George's County Public Schools, 1976-95; organizer for affiliate of Maryland State Teachers Association, 1995-. President, Prince George's County Educators' Association, 1983-87, representing over 6,000 professional school employees. Executive Board, Maryland Citizens Action Coalition. Member, National Education Association; Maryland State Teachers Association. Member, Progressive Maryland, 2001-.[2]
Legislative Awards
Chesapeake Bay Foundation, 1994. Betty Tyler Award, Planned Parenthood, 1992. Outstanding Contribution to Youth Award, Prince George's County Council of PTAs, on behalf of Prince George's County Educators' Association. Outstanding Contribution to the Community Award, National Conference of Christians and Jews, Prince George's County Chapter. Citation, Maryland Healthy Air Act Coalition, 2006.[3]
Our Revolution
Our Revolution - Maryland March 20, 2019 ·
At the Maryland State Senate, Fighting the good fight with Senator Paul Pinsky for SB871/HB 1087. — with Laura Kaplan Weissman, M.D., Ed Fischman, Hal Ginsberg, Paul Pinsky, Michael Feldman, Richard Bruno , Chrissy Keene Holt and K.M. Hartwich.
Attended high level Democratic Socialists of America meeting
Paul Pinsky was named as attending a Democratic Socialists of America National board meeting in Washington D.C. in 1992. member in Democratic Left, July/August 1992, page 11.
The text indicates that Pinsky, representing the New Party attended this high level D.S.A. meeting, which involved discussions on electoral organizing, strategies and tactics. Other attendees included Bob Fitrakis, a "DSAer" and Democratic Party Congressional candidate in Ohio, D.S.A. member Mary Jo Kilroy, from the Columbus Ohio school board and Howard Croft from the D.S.A. National Political Committee.
DSA conference
In 1995 Paul Pinsky attended the Democratic Socialists of America National Convention, addressing a plenary on electoral activity.
New Party builder
New Party News Fall 1994 listed over 100 New Party activists-"some of the community leaders, organizers, retirees,, scholars, artists, parents, students, doctors, writers and other activists who are building the NP" the list included Paul Pinksy, Maryland State Senate
State Senate
Paul Pinsky became a member of the Maryland Senate in 1994 after serving two terms in the House of Delegates. He serves on the Education, Health and Environmental Affairs Committee where he is an outspoken voice[4].
Global warming
Pinsky was the lead sponsor of the Healthy Air Act (2006) which limits pollution emitted from coal-fired power plants, among the state's oldest and dirtiest. The bill also required reductions of carbon dioxide, a greenhouse gas. During the 2007 and 2008 legislative sessions Senator Pinsky introduced the Global Warming Solutions Act which would set an aggressive mandatory greenhouse gas emissions reduction cap for the state of Maryland. Senator Pinsky is the lead senate sponsor again this year. The senator chairs the committee's Environment Subcommittee[5].
Pinsky has also led efforts to "reform" Maryland's tax structure by closing corporate tax loopholes and creating a progressive tax structure as well as provide health care for all Maryland residents. In addition to his other duties, Senator Pinsky serves as co-chairman of the Joint Committee on Administrative, Executive, & Legislative Review[6].
"Progressive Maryland" event
On Monday Nov. 7, 2011, Progressive Maryland, convened a "Shift the Budget Debate", at Prince George's Town Hall in Largo.
Panel speakers include : US Rep. Donna Edwards, MD State Senator Paul Pinsky, Delegate Aisha Braveboy, Institute for Policy Studies fellow Karen Dolan, activist and former state senator David Harrington (moderator), Prince George's County Executive Rushern Baker, Fund Our Communities coordinator Jean Athey.
Progressive Maryland is a member of Fund Our Communities, Bring the War Dollars Home,* a Maryland Coalition affiliated with the New Priorities Network, and co-sponsor of the Town Hall event . Please join us for this critical opportunity to share ideas and address the disgraceful federal debt deal, unending wars, and political outrages of recent years.
Following the speakers above will be audience Q&A, then breakout groups to strategize and plan action to help fix the crisis of priorities in Washington and Annapolis and demand policies that are right, fair and just.
Please mark your calendar Nov. 7, invite everyone you know, and join our impressive panelists (above), and myself. You'll be glad you did.
PM Board President is Elbridge James.[7]
IPS book launch
Maryland State Senator Paul Pinsky and Sam Pizzigati, Associate Fellow at the Institute for Policy Studies spoke at a book launch event for Pizzigati's new book, "The Rich Don't Always Win: The Forgotten Triumph Over Plutocracy That Created the American Middle Class." The event took place at the Hyattsville location of the popular literary venue, Busboys and Poets November 29, 2012.[8]
PDA meeting, Maryland
Thursday March 15, 2012, PDA National Director Tim Carpenter, PDA National Vice Chair emeritus Stephen Shaff, PDA National Deputy Field Director Andrea Miller and Mike Hersh welcomed speakers Rep. Donna Edwards (Md-6), Professor Eric Kingson from Social Security Works, and Alex Lawson from We Act 1480 AM Radio to Busboys and Poets in Hyattsville, Maryland.
Current and former PDA National Board Members Medea Benjamin, Joe Libertelli and Steve Cobble, Healthcare NOT Warfare co-chair Donna Smith, and Maryland Senator Paul Pinsky also helped welcome progressives to Prince George's County's newest meeting place. The turnout included several important progressive leaders from Maryland's 4th, 6th, and 8th districts.
Special thanks to the Very Important Progressive Host Committee including--Stephen Shaff; PDA board member Bill Fletcher, Jr., Raucus Activist Writer; Alex Lawson, Social Security Works and WE ACT Radio; Heather Booth, Activist; Steve Cobble, PDA Political Advisor, and Institute for Policy Studies; Medea Benjamin; Tom Hucker, MD Delegate, D-20; Greg Moore, NAACP/Political Consultant; Beth Becker, Progressive PST; Naomi Bloch, Activist who donated a small library of books; David Hart, Physicians for Social Responsibility; Beth Schulman, IPS; Greg Smith, Activist; Joe Libertelli; Mark Dudzic; Jimmy Tarlau, Communication Workers of America; Kerren-Pope Onwukwe, Attorney/Activist; and Andrea Miller.[9]
References