Paul Gieleghem
From KeyWiki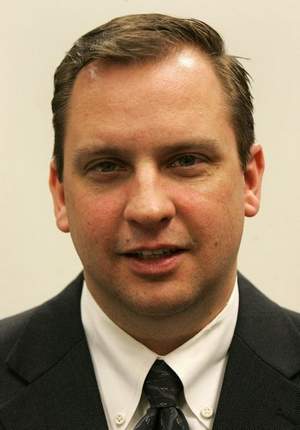 Paul Gieleghem is Chairman, Macomb County Board of Commissioners, Michigan. Paul Gieleghem was re-elected in November 2008 to represent the residents of District 19 in central Clinton Township. The 2009-2010 term is his third on the County Board. In January 2009, board members elected Gieleghem to a two-year term as chairman.
Before his election to the County Board, Gieleghem, 39, served three two-year terms in the Michigan House as the representative for residents of Clinton Township, Mount Clemens and Fraser, serving through 2004. Gieleghem previously served as a legislative aide to state Sen. Ken DeBeaussaert, and handled constituent services for former Congressman David Bonior.[1]
Education
Gieleghem has a bachelor's degree in Public Relations from Wayne State University, an associate's degree in General Business from Macomb Community College and is a graduate of Clintondale High School. [2]
Service
Paul Gieleghem is a member of the Macomb Chamber of Commerce, the Macomb County Inter-Agency Council, the Selfridge Base Community Council, the Clinton River Watershed Council, the Belgian-American Association, the Interfaith Center for Racial Justice and the Wayne State University Alumni Association.
Gieleghem was named "Environmentalist of the Year 2004" by the Sierra Club for his stewardship of the land, air and water, and was recognized by the Allergy and Asthma Foundation of Michigan for his legislation requiring emergency response personnel to deliver life-saving medication for severely allergic patients. The Michigan Society for Clinical Laboratory Science presented him with its "Presidential Recognition Award" and he was named "Legislator of the Year" by the Michigan Association of Intermediate School Superintendents in 2002.[3]
DSA endorsement
According to Greater Detroit Democratic Socialists of America July 2010 newsletter "at our last general membership and executive board meetings, DSA members voted to endorse three candidates for state senate. They are: Vincent Gregory (District 14—Southfield-Farmington Hills), Paul Gieleghem (District 10-Clinton Township-Roseville), and Isaac Robinson (District 3-Detroit-Dearborn).[4]
All three share our politics and will make superb state senators.
Paul Gieleghem is a former state representative. He presently serves as the chair of the Macomb County Board of Commissioners. In that role, he led the fight for a countywide living wage ordinance..
On June 26th, DSA members Selma Goode, Ken Jenkins, David Ivers, Lon Herman, Catherine Hoffman, and David Green canvassed in Roseville on behalf of Paul Gieleghem
DSA fundraiser
On Friday, July 9th 2010 a DSA Fundraiser for State Senate Candidates Vincent Gregory, Paul Gieleghem, and Isaac Robinson was held at the home of David Green and Teena Green in Farmington Hills) from 6-8 PM.[5]
DSA support
Greater Detroit Democratic Socialists of America was largely successful in its summer electoral 2010 work. "We endorsed three state senate candidates in the August 3rd primary: State Representative Vincent Gregory (District 14-Southfield/Farmington Hills), Macomb County Board of Commissioners Chairman Paul Gieleghem (District 10-Clinton Township/Roseville), and Isaac Robinson (District 3-Detroit/Dearborn). Our strategy was to intervene in primaries where, due to low voter turnout, the disciplined efforts of a small organization can have a disproportionate effect. We chose the state senate because 26 of the 37 races were for open seats. Due to term limits, there were very few incumbents seeking re-election. Since the Republicans presently hold the state senate by a one seat majority, there is a significant opportunity for the Democrats to recapture the state senate. Finally, with redistricting scheduled to take place in 2011 based on the 2010 Census, control of the state senate could have an enduring impact on the results of federal elections in Michigan."
Detroit DSA held a fundraising house party for the endorsed candidates on July 9th. 35 donors contributed over $6800 to the candidates. "This fundraiser occurred at a critical time when the candidates needed the money to cover the costs of mailings to absentee voters."
DSA volunteers canvassed twice for each of the candidates during the months of June and July. "We knocked on doors, distributed campaign literature, stuffed envelopes, and put up lawn signs for the candidates."
Two out of three of the endorsed candidates won their respective primaries. Vincent Gregory won his race comfortably, "though the result was closer than anyone had expected". Paul Gieleghem defeated a better known opponent by only 200 votes. DSA support was critical in this victory. Isaac Robinson came in second in a three person race—losing by only 848 votes.[6]
DSA will continue its electoral work this fall as we canvass and phone bank for Paul Gieleghem. He will need our support in what is expected to be a tough general election. continued
Endorsed MichUHCAN
As at Feb. 1, 2011, Macomb County Commissioner Paul Gieleghem was listed as an endorser and ongoing supporter of MichUHCAN's Health Care Security Campaign Coalition.[7] The Michigan Universal Health Care Access Network is a state-wide network that promotes comprehensive health care for all and improved health outcomes by addressing the social determinants of health through education, strategy development and advocacy. The leadership of MichUHCAN is heavily dominated by members of Democratic Socialists of America.[8]
References