Patrick Leahy
From KeyWiki
Patrick Leahy is a Democratic member of the United States Senate, representing Vermont.
Leahy is the Chairman of the Senate Judiciary Committee and is a senior member of the Agriculture and Appropriations Committees. He ranks second in seniority in the Senate.
As a leading member of the Appropriations Committee, Leahy is the Chairman of the Committee's Subcommittee on State and Foreign Operations.
Patrick Leahy of Middlesex was elected to the United States Senate in 1974 and remains the only Democrat elected to this office from Vermont. At 34, he was the youngest U.S. Senator ever to be elected from the Green Mountain State. [1]
Background
up across from the Statehouse. A graduate of Saint Michael's College in Colchester (1961), he received his Juris Doctor from Georgetown University Law Center (1964). He served for eight years as State's Attorney in Chittenden County. He gained a national reputation for his law enforcement activities and was selected (1974) as one of three outstanding prosecutors in the United States.
Patrick Leahy has been married to Marcelle Pomerleau Leahy since 1962.[2]
"Leaker Leahy"
Senator Pat Leahy was annoyed with the Reagan administration's war on terrorism in the 1980s. At the time he was vice chairman of the Senate Intelligence Committee. Therefore, "Leaky Leahy," threatened to sabotage classified strategies he didn't like.
Leahy "inadvertently" disclosed a top-secret communications intercept during a 1985 television interview. The intercept had made possible the capture of the Arab terrorists who had hijacked the cruise ship Achille Lauro and murdered American citizen. But Leahy's leak cost the life of at least one Egyptian "asset" involved in the operation.
In July 1987, it was reported that Leahy leaked secret information about a 1986 covert operation planned by the Reagan administration to topple Libya's Moammar Gaddhafi. US intelligence officials stated that Leahy sent a written threat to expose the operation directly to then-CIA Director William Casey. Weeks later, news of the secret plan turned up in the Washington Post, causing it to be aborted.
A year later, as the Senate was preparing to hold hearings on the Iran-Contra scandal, Leahy had to resign his Intelligence Committee post after he was caught leaking secret information to a reporter. The Vermont Democrat's Iran-Contra leak was considered to be one of the most serious breaches of secrecy in the committee's 28-year history. After Leahy's resignation, the Senate Intelligence Committee decided to restrict access to committee documents to a security-enhanced meeting room.[3]
Opposed covert aid to Nicaraguan "Contras"
Nov. 3, 1983, the US Senate, by voice vote, approved continued aid for covert operations in Nicaragua.
The action would provide only $19 million of the $50 million that the Administration sought for covert operations in Central America, mostly in Nicaragua. Those funds are expected to run out in less than six months, and the Central Intelligence Agency would have to give an accounting of the goals and risks of specific covert projects as it sought the rest of the money.
Senator Patrick J. Leahy, told the Senate that I'm a political realist, adding, I can also count.
He said he held no brief whatever for the Sandinista regime, which he said had in many ways betrayed its own revolution. But that regime, he said, was the internationally recognized Government of a sovereign nation.
Nicaragua is yet another example of Administration substitution of covert action and military force for a sophisticated foreign policy, Mr. Leahy said.
The Senator added that covert United States operations had strengthened the regime, undermined regional stability and violated the charter of the Organization of American States and the Rio Treaty.[4]
Anti-anti communist
In the 1980s Leahy traveled to Nicaragua and openly opposed U.S. military support for the Contras in their fight against the Marxist, Soviet-sponsored Sandinistas. In 1990 Leahy joined with Senator Robert Byrd in spearheading the fight to cut $500 million out of an emergency aid package that President George H.W. Bush had requested for anti-communist initiatives in Panama and Nicaragua. In addition, Leahy and Senator Chris Dodd co-sponsored legislation to cut U.S. aid to the government of El Salvador, which was at war against Marxist-Leninist militias backed by Cuba and the Soviet Union.[5]
Supported by Council for a Livable World
The Council for a Livable World, founded in 1962 by long-time socialist activist and alleged Soviet agent, Leo Szilard, is a non-profit advocacy organization that seeks to "reduce the danger of nuclear weapons and increase national security", primarily through supporting progressive, congressional candidates who support their policies. The Council supported Patrick Leahy in his successful Senate run as candidate for Vermont.[6]
Soros funding
By 2008, Barack Obama was one of only a handful of candidates to get a personal contribution from George Soros. The others include Senate Minority Leader Tom Daschle (D-S.D.), Sens. Barbara Boxer (D-Calif.), Hillary Rodham Clinton (D-N.Y.), Bob Graham (D-Fla.), John Kerry (D-Mass.), Patrick Leahy (D-Vt.), U.S. Rep. Tom Lantos, and former Vermont governor Howard Dean.[7]
Opposed the Iraq War
The following is a list of the 23 U.S. Senators voting "Nay" on the Iraq War resolution in October 2002. The vote was 77-23 in favor of the resolution.
Daniel Akaka (D - Hawaii), Jeff Bingaman (D - N.M.), Barbara Boxer (D - Calif.), Robert Byrd (D - W. Va.), Lincoln Chafee (R - R.I.), Kent Conrad (D - N.D.), Jon Corzine (D - N.J.), Mark Dayton (D - Minn.), Dick Durbin (D - Ill.), Russ Feingold (D - Wis.), Bob Graham (D - Fla.) [Retired, 2004], Daniel Inouye (D - Hawaii), Jim Jeffords (I - Vt.), Ted Kennedy (D - Mass.), Patrick Leahy (D - Vt.), Carl Levin (D - Mich.), Barbara Mikulski (D - Md.), Patty Murray (D - Wash.), Jack Reed (D - R.I.), Paul Sarbanes (D - Md.), Debbie Stabenow (D - Mich.), Paul Wellstone (D - Minn.) [Dec. 2002] and Ron Wyden (D - Ore.).
Supporting "Veteran's fast for life"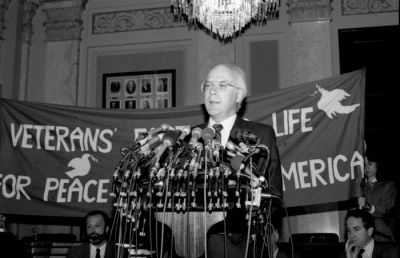 On September 1st, 1986, four veterans began a water-only "fast for life" on the Capitol steps in Washington, D.C. They wanted to to draw attention to, and to protest, President Reagan's "illegal and extraordinarily vicious wars against the poor of Nicaragua, El Salvador, and Guatemala."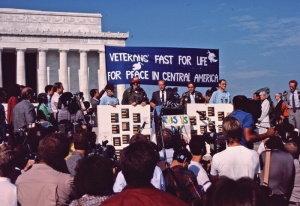 The veterans were;
The veterans believed that the President's explicit policy of directing the contra terrorists in Nicaragua to commit wanton murder and destruction, enabled by appropriations passed by a majority of members of the U.S. Senate and House of Representatives, amounted to grotesque, unconscionable violent behavior in violation of both U.S. Constitutional and international law, and the egregious breach of the human rights of virtually all Nicaraguan citizens. The veterans believed that the President was clearly vulnerable to Constitutional impeachment, and that all members of the Senate and House of Representatives should have been subjected to criminal prosecution under international law as well, whether they were re-elected or not.
On October 7 several U.S Congressmen and Senators spoke at a press conference in support of the faster's cause. They included Senator Charles Mathias (R-MD), Claiborne Pell (D-RI), Don Edwards (D-CA), Senator Ted Kennedy (D-MA), Leon Panetta (D-CA), Senator Tom Harkin (D-Iowa), Senator John Kerry (D-MA), David Bonior (D-MI), Lane Evans (D-Illinois), Senator Patrick Leahy (D-VT).[8]
Nicaragua/Central America
From remarks Of Senator Patrick Leahy At The Organization Of American States Commemoration Of A Mine-Free Central America, December 8, 2010.[9]
Twenty- two years ago, my wife Marcelle and I walked into a small field hospital in Honduras a short distance from the Nicaraguan border.
It was during the Contra war – a war I did not support – and we had traveled there to meet some of the people who had been wounded.
We met a young campesino boy who had lost one of his legs from a landmine, and who appeared to be living at the hospital.
I asked him who had put the mine on one of the trails near his home in the jungle. He had no idea, nor did he know what the fighting was about. But he did know that his life was changed forever.
Latin American trip
From December 6 to 9, 1993, Leahy traveled to Honduras, El Salvador, and Nicaragua in his capacity as chairman of the Foreign Operations Subcommittee. The purpose of the trip was to discuss with local and U.S. officials the implications of the decline in U.S. foreign assistance to these countries, as well as issues specific to each country such as the elections and increase in violence in El Salvador and the proposed release of $40 million in economic assistance to Nicaragua.[10]
Senate
In the immediate aftermath of the terrorist attacks of September 11, Leahy headed the Senate's negotiations on the 2001 anti-terrorism bill, the USA PATRIOT Act. He added checks and balances to the bill to protect civil liberties, as well as provisions which he authored to triple staffing along the U.S.-Canada border, to authorize domestic preparedness grants to states, and to facilitate the hiring of new FBI translators.
Leahy's Judiciary Committee investigation into the mass firings of U.S. Attorneys and of White House attempts to exert political influence over the Justice Department led in 2008 to the resignation of Attorney General Alberto Gonzales and the Department's entire top rank of political appointees.
Leahy is the chief sponsor of the Innocence Protection Act, which addresses flaws in the administration of capital punishment. Parts of Leahy's death penalty reform package, which were enacted in 2004, will reduce the risks that innocent people are executed by providing for post-conviction DNA testing and better access to competent legal counsel.[11]
Anti Landmines work
Active on human rights issues, Leahy also has been the leading U.S. officeholder in the international campaign against the production, export and use of anti-personnel landmines. In 1992 Leahy wrote the first law by any government to ban the export of these weapons. He led efforts in Congress to aid mine victims by creating a special fund in the foreign aid budget, and the Leahy War Victims Fund now provides up to $14 million of relief to these victims each year. He was instrumental in establishing programs to support humanitarian demining and played a key role in pushing for an international treaty banning anti-personnel mines. He also wrote and enacted civilian war victims relief programs that are underway in Afghanistan and Iraq.[12]
Cuba visits
At the headquarters of the National Press Club in downtown Washington D.C., a consortium of organizations announced a new push to get Cuba taken off the State Department's "State Sponsors of Terrorism" list in early March 2013.
The event, in the form of a panel discussion, was sponsored by the Center for International Policy, the Latin American Working Group , and the Washington Office on Latin America. The MC was Wayne Smith, Senior Fellow at the Center for International Policy, who was the head of the U.S. Interests Section (instead of embassy) in Havana from 1979 to 1982, having been appointed by Jimmy Carter. Other participants were Congressman James P. McGovern, D-Massachusetts, former ambassador Anthony Quainton who is now "Diplomat in Residence" at American University, Robert Muse of Muse and Associates, and Adam Isacson of WOLA.
Congressman McGovern, who has followed U.S. Cuba policy closely, just got back from a visit to Cuba with a bipartisan delegation headed by Senator Patrick Leahy, D-Vermont. McGovern participated in a two hour meeting with Cuban President Raul Castro. He and the other speakers pushed for an overall change in U.S.-Cuba policy, of which removal of Cuba from the State Sponsors of Terrorism would be a useful first step.[13]
The Cuba trips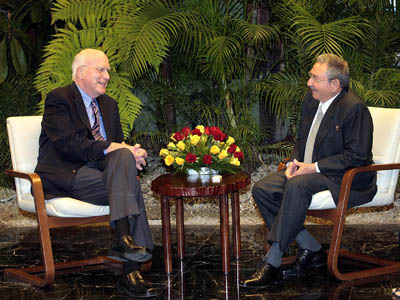 2013 visit
The delegation of American lawmakers led by Senator Patrick Leahy arrived in Cuba on Monday, Feb. 18, 2013, in order to gauge the island's economic changes and to lobby on behalf of Alan Gross, an American whose detention has chilled relations between the two countries. The trip was the first to the Communist-run island by high-level US politicians since President Barack Obama's re-election in November.
Cuban President Raul Castro met on Tuesday 19 with a group of US senators and representatives visiting the island, among other things, to see US agent Alan Gross, imprisoned in Cuba since 2009, reported DPA news.
The Cuban president and the US legislators "discussed matters of interest to both countries", stated the Cuban TV news without going into any details.
The overall goal of the congressional visit appears to be seeking out a path to improved US-Cuba relations, marked by over a half century of hostility.
The trip was viewed in the Cuban press as laying the groundwork that could lead to reestablishing diplomatic relations and bilateral trade is the far greater challenge to the Obama and Castro administrations.
"Every one of us has an interest in Cuba," Leahy told the foreign press upon his arrival to Havana on Monday. "We all want to see relations improve and both sides take steps in that direction," he added.[14]
2012 visit
In 2012, another group of legislators led by Leahy, went to Cuba and met President Raul Castro. They also visited Gross, who was jailed in 2009 for illegally distributing communications equipment on the island while on a US-funded democracy-building program.
The latest delegation also included, Republican senator Jeff Flake, the Democrat senators Sherrod Brown, Debbie Stabenow and Sheldon Whitehouse and the Democratic congressmen James McGovern (Massachusetts) and Chris Van Hollen from Maryland, Gross's home state.Cite error: Closing </ref> missing for <ref> tag
1999 visit
In 1999 Leahy traveled to Cuba, where he dined with Fidel Castro. Although the senator criticized the communist dictator for his regime's oppressive policies, he also took the occasion to complain about the longstanding U.S. policy banning travel to Cuba. [15]
Equal Opportunity for All Act
Job-hunters are increasingly being asked to agree to allow potential employers to view their personal credit information, a development that Sen. Elizabeth Warren says is unfairly keeping people out of the job market who've had financial setbacks or have reports that contain inaccurate information.
December 17, 2013 Warren introduced The Equal Opportunity for All Act in Congress, which would outlaw such credit checks in many cases except in areas such as national security. Warren told reporters in a conference call sponsored by the Demos Foundation, a liberal think-tank, that the legislation was long overdue.
"This is about basic fairness," said the first-term legislator, adding that many people have had their credit records tarnished during the recent economic downturn. "There is little to no evidence of any correlation between job performance and a credit score."
The bill is co-sponsored by by Sens. Patrick Leahy, D.-Vt., Edward Markey, D-Mass., Sherrod Brown, D.-Ohio, Jeanne Shaheen, D.-N.H., and Richard Blumenthal, D-Conn. [16]
External links
References