Owen Williamson
From KeyWiki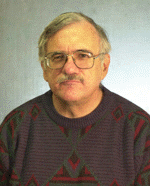 Owen Williamson earned a BA in English from the College of St. Thomas (now University of St. Thomas) in St. Paul, Minnesota, and an MA in Professional Writing and Rhetoric at University of Texas, El Paso. He was formerly certified as a Social Work Associate in Texas. He taught at Barton County Community College, in Kansas, before coming back to UTEP to teach, first with University College, currently with Undergraduate Studies, in the Developmental English Dept[1].
Williamson is associated with the Communist Party USA
Research interests
Marxist rhetoric and praxis[2].
Latinos for Peace
On October 31 2009, Latinos For Peace issued a statement calling for "no escalation of the war in Afghanistan and for expedited withdrawal of U.S. troops from Iraq and Afghanistan as well as an end to the coup government in Honduras".
More than 100 activists endorsed the call, including Owen Williamson, Texas El Paso.[3]
Peoples World personnel
As at December 2010, personnel of the Communist Party USA paper, Peoples World, ;[4]
Editorial Board
Bureau Chiefs and National Contibutors, Juan Lopez (N. Calif.), Rossanna Cambron (S. Calif.), Joelle Fishman (Conn.), John Bachtell (Ill.), John Rummel (Mich.), Tony Pecinovsky (Mo.), Dan Margolis (N.Y.), Rick Nagin (Ohio), Libero Della Piana, Scott Marshall, Elena Mora, Emile Schepers, Jarvis Tyner, Sam Webb
References