Nicole Iaquinto
From KeyWiki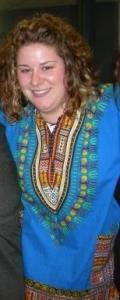 Nicole Iaquinto is a Senior at Michigan State University majoring in Social Relations and Policy and specializing in Black American and Diasporic Studies as well as African Studies[1].
Atlanta DSA convention
Young Democratic Socialists members Maria Svart, Nicole Iaquinto, Flavio Hickel, Jr., Chris Hicks and Alyssa Cundari (University of Miami) attended the Democratic Socialists of America National Convention in Atlanta, Georgia in November 2007;[2]
Young Democratic Socialists
Nicole Iaquintois the co-founder of the MSU chapter of the Young Democratic Socialists (YDS), and a participant in many groups at MSU such as YDS, the W.E.B. Du Bois Society, Associated Progress, the Multi Racial Unity Living Experience (MRULE), and My Brother's Keeper.
She serves as a mentor for My Brother's Keeper-- a mentoring program for young black males at the Malcolm X Academy in Detroit, Michigan and as an intern at Vumundzuku-Bya Vana Our Children's Future (VVOCF) in Zonkizizwe, South Africa[3].
Nicole believes that both the economy and society should be run democratically to meet the needs of the whole community, not to make profits for the rich few. Nicole also takes an active role in promoting racial justice issues at the national and local level. She is especially interested in developing education for children of color across the world.
"Support Bill Ayers"
In October 2008, several thousand college professors, students and academic staff signed a statement Support Bill Ayers in solidarity with former Weather Underground Organization terrorist Bill Ayers.
In the run up to the U.S. presidential elections, Ayers had come under considerable media scrutiny, sparked by his relationship to presidential candidate Barack Obama.
We write to support our colleague Professor William Ayers, Distinguished Professor of Education and Senior University Scholar at the University of Illinois at Chicago, who is currently under determined and sustained political attack...
We, the undersigned, stand on the side of education as an enterprise devoted to human inquiry, enlightenment, and liberation. We oppose the demonization of Professor William Ayers.
Nicole Iaquinto signed the statement[4].
References