New Wave Party
From KeyWiki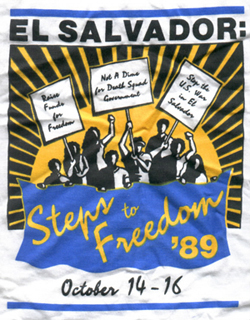 New Wave Party
History
In the spring of 1979, concerned students at the University of Iowa believed they were poised to help initiate a fresh movement of political activism on campus. Capturing this idea by calling themselves "New Wave," these students organized a progressive party within the university student government and entered the election campaign for seats in the Student Senate the following year. Since 1980, when they won 8 of the 21 seats, they enlarged their support base and solidified an aggressive platform built around their support of a wide range of social causes.[1]
New Wave soon formally disengaged from the Student Senate, but continued to advocate for a number of concerns including reproductive rights, racial and gender equality, peace, women's empowerment, and opposition to Apartheid. In this pursuit, New Wave opposed anti-abortion activity in the Iowa City area and worked against the conservative efforts of what they called the "New Right." Throughout the 1980s, they opposed U.S. foreign policy under the Reagan and Bush (Sr.) administrations and promoted "solidarity" with the people they considered victims of U.S. "militarism," especially in Central America. New Wave offered public forums, film showings and rallies in addition to organizing local demonstrations and protest activities.
Organizationally, New Wave was a single party, but networked with many other organizations; its members were often active in a variety of committees and associations. Members of New Wave conceived of themselves as uniting the efforts of numerous progressive groups that would have otherwise remained uncoordinated. The party was affiliated with the Progressive Student Network, a national organization, but more significantly, worked along side local bodies including the Student Coalition Against Registration and the Draft, the Iowa Coalition against Apartheid, the Central America Solidarity Committee, and CIA Off Campus . New Wave also worked closely with numerous organizations on the University of Iowa campus including the Women's Caucus and the Women's Resource and Action Committee.[1]
New Wave's political influence waned in the early 1990s. The party's last efforts can be seen in its opposition to U.S. involvement in the Persian Gulf Conflict. New Wave's activities, which lasted for more than a decade, however, represent a significant contribution to student activism on the University of Iowa campus. The party's efforts essentially spanned the period between the post-Viet Nam era and the beginning of the Clinton years.
Key activists
Key New Wave Party activists included Joe Iosbaker, Stephanie Weiner and Linda Yanney.[1]
References