Myril Axelrod
Jump to navigation
Jump to search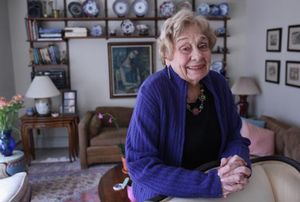 Template:TOCnestleft Myril Bennett Axelrod (born 1926) is a New York marketing and advertising professional. She is principal and president of New York City-based Marketing Directions Associates.[1]
She is the mother of David Axelrod and was married to the late Joseph Axelrod.

After Joseph Axelrod's death, Myril remarried a marketing executive named Abner Bennett (who died in 1986). Her parents' names, Louis Davidson and Gertrude Davidson. The father had reportedly fled Russian pogroms as a teen and became a dentist in Hoboken, New Jersey. The mother, also a child of immigrants, became a teacher. Myril had two siblings, one of them named Bill Davidson, a writer who reportedly entered the NYU journalism program.[2]
She died in 2014, aged 93.
Early life
Myril Jessica Davidson, was born on April 4, 1920 in Weehawken, New Jersey. After leaving Jersey City, NJ (across the Hudson River from NYC) , "I couldn't wait to get out of there!" Myril Bennett kick-started her career much like her son David Axelrod did, completing a bachelor's degree in journalism at New York University while covering news and politics for an ad-free leftist New York City daily newspaper called PM.[3]
PM
In the 1940s Myril Axelrod worked for a left leaning New York magazine, PM. Though not officially a communist publication, several Marxists (including labour editor Leo Huberman) and Communist Party USA members worked on the paper.
Former Communist Eugene Lyons, writing in The Red Decade: The Stalinist Penetration of America, noted that PM's staff included a former editor of the Daily Worker, former editor of The Communist, a leader of the Young Communist League USA, a Soviet government official and a former staff cartoonist for the Daily Worker, the official newspaper of the Communist Party USA.[4]
PM's Washington DC correspondent I. F. Stone was later identified as a Communist Party USA member and a Soviet intelligence agent.
One of PM's writers, Earl Conrad, also wrote for the leftist magazine Negro Story, as did Frank Marshall Davis the Communist Party USA member who was later to mentor the young Barack Obama in Hawaii.
The PM, and published its final issue on June 22, 1948.
Around this time in 1948 when the PM folded, Bennett Myril had married her husband Joseph Axelrod.
Working with Stone
At PM Mrs. Axelrod worked as a "leg man" for Albert Deutsch, the journalist and social historian, on PM's science and welfare coverage. Mrs. Axelrod also helped I. F. Stone prepare his work "Underground to Palestine," a landmark account of the efforts of Jewish "displaced persons" in Europe to reach what was then British Mandatory Palestine after World War II. Mr. Stone's book began as a series in PM.
A book on post-war Displaced Persons (DPs) might not be suspected as a pro-Soviet work—unless you know the history. In fact, Stalin and Molotov tried to turn the DP issue into a major propaganda ploy, as did their comrades throughout the Daily Worker, Communist Party USA, and the international communist movement.
Myril worked for Albert Deutsch, who was a labor leftist working for the longshoremen's union. That union, incidentally, was one of the most manipulated by communists. It helped bring Barack Obama's mentor, Frank Marshall Davis, from Chicago to Hawaii in 1949. Deutsch apparently won the Heywood Broun award, named for the celebrated socialist reporter.
In addition, the obituary states that at PM, Myril "rose to City Desk reporter, writing about labor, law enforcement, and breaking news, with a stint covering education. After PM folded in 1948, she stayed on with its successor, the New York Star.[5]
Career
Myril Axelrod spent 16 years with Young & Rubicam and six at Compton Advertising.
Service
Axelrod, a pioneer in qualitative research, was one of the first to introduce focus group research into marketing. She also is credited for being one of the first researchers to give builders the tools to look at their product from their customers' perspective and helped to provide a deeper understanding of senior consumers. Axelrod is co-founder of the Qualitative Research Consultants Association and an active member of the NAHB Seniors Housing Council. In addition to writing and teaching a marketing course for seniors housing professionals, she served as the editorial board chair for the council's magazine, Seniors' Housing News, and was the editor of the book, "The Best of Seniors' Housing News."[6]
References