Milt Tambor
From KeyWiki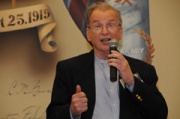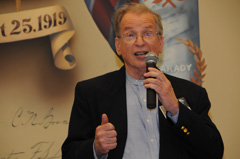 Milton "Milt" Tambor moved to Atlanta from Detroit in 2001 and is currently retired. He worked for Michigan American Federation of State County and Municipal Employees Council 25 as a staff representative and education coordinator. As labor educator he conducted classes in collective bargaining, steward training, labor history, economics, strategic planning and health and safety. With a Ph.D. in Sociology, Milt also taught classes as an adjunct faculty at Wayne State University's School of Social Work.
Democratic Socialists of America
Milt Tambor has served as Metro Atlanta Democratic Socialists of America chair[1]since 2006.
In 2006 Milton Tambor, Georgia, donated $250 to the Democratic Socialists of America Political Action Committee. According to DSA's Democratic Left Spring 2006,[2]
"DSA has formed a Political Action Committee—Democratic Socialists of America PAC (DSA PAC), which will raise funds to enable activity that supports or opposes candidates for federal office. By law, DSA is not permitted to expend its resources in support of or against candidates in partisan elections; however, DSA is permitted to form a PAC for this purpose...
...Only DSA members in good standing may contribute to the PAC. Because the law is so specific, all contributions are carefully screened to make sure that they are from members."[3]
Open Letter to Obama on Iran
In 2008 Milton Tambor of Democratic Socialists of America signed an online petition "A Open Letter to Barack Obama on Iran".[4]
DSA Conference delegate
Five Metro Atlanta DSA members served as delegates to the Democratic Socialists of America biennial national convention, held in Evanston, Illinois in mid-November 2009: Jess Bowling, Barbara Joye, Barbara Landay, Milt Tambor and Jorge A. Lawton.[5]
"Foreclosure Five"
The Foreclosure Five were arrested on August 31 for refusing to leave a Wells Fargo branch office in East Point until a bank official would meet and hear the demands of the Atlanta Fighting Foreclosure Coalition. Those arrested included: Reginald Eaves, Charlie Flemming, State Senator Vincent Fort, Dianne Mathiowetz and Milt Tambor. The case of criminal trespass was moved from East Point to Fulton County after the five defendants continued to enter a "not guilty" plea rather than plead guilty to a lesser charge. The monies raised will go toward the defense provided by "Peoples' Attorney" Brian Spears at the hearing and a possible trial [6]
Atlanta Fighting Foreclosure Coalition
Formed in April 2009 following a community forum at the First Iconium Baptist Church, By late 2010 the Atlanta Fighting Foreclosure Coalition represented 41 member organizations: labor unions; civil rights, civil liberties, human rights and peace and justice groups; homeless shelters; and faith-based organizations.
In late 2010, the Coalition co-chairs were:
Poor Peoples' Day
Contacts for Poor Peoples' Day 2010, were Metro Atlanta Democratic Socialists of America steering committee members Carol Coney and Milt Tambor.[7]
2011 DSA National Conference
Metro Atlanta Democratic Socialists of America delegates attending the November 11-13, 2011 National Convention in the Washington DC area included Barbara Joye, Jorge A. Lawton, Minnie Ruffin, Milt Tambor and Bob Wohlheuter.[8]
References