Mildred Jeffrey
Jump to navigation
Jump to search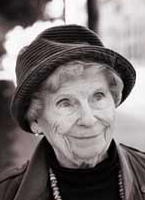 Mildred (Millie) Jeffrey was born on Dec. 29, 1910, in Alton, Iowa, the eldest of seven children. A life long socialist Mildred McWilliams Jeffrey, died in 2004 in a Detroit nursing home, age 93.
Early life/education
Millie McWilliams graduated from Minneapolis Central High School. She received her B.A. in psychology at the University of Minnesota, where she immersed herself in the socialist and progressive movements.
In 1934, she received a master's degree in social economy and social research from Bryn Mawr. She joined the campus YWCA, which at the time was considered a controversial group for sponsoring interracial dances and attempting to integrate local restaurants.
After earning a graduate degree at Bryn Mawr College in 1934, she married a union organizer and Socialist Party USA member Newman Jeffrey, and they traveled the country, organizing textile workers. They divorced in the late 1950s.[1]
Early career
With the passage of laws promoting labor unions, Millie became an organizer for the Amalgamated Clothing Workers in Philadelphia and later the education director of the Pennsylvania Joint Board of Shirt Workers.[2]
According to Millie Jeffrey's DSA obituary writer Harold Meyerson;[3]
That work began in the 1930s, when Millie, a fiery young socialist, organized clothing workers in the South. In 1944, she became the first director of the UAW's Women's Bureau, working to secure child care and transportation for the quarter-million Riveting Rosies who had swelled the UAW's ranks – and teaching the women the parliamentary and bureaucratic skills they needed to have a role in their union.
NAACP
Mildred Jeffrey joined the NAACP in the 1940s and marched in the South with Dr. Martin Luther King, Jr. in the 1960s.
Former Executive Secretary of the Detroit Branch of the NAACP, Arthur Johnson, commented that 'in the civil rights movement, she knew how to fight without being disagreeable'.[4]
Work with United Auto Workers, Emissary for Walter Reuther
Meyerson explains[5] Jeffrey's role as an emissary from United Auto Workers leader Walter Reuther to organizations including National Council of Churches, Cesar Chavez's United Farm Workers, National Association for the Advancement of Colored People, Students for a Democratic Society and events and movements such as Earth Day the Civil Rights Movement and the 1963 March on Washington.
By the end of World War II, Millie had become one of a number of extraordinarily talented staffers whom Walter Reuther hired to help him mold the auto workers into the greatest force for social democracy that America has ever known. Under Reuther, the UAW became the anchor tenant in the house of postwar liberalism. Its contracts, and those of the steelworkers,set the standard for the entire manufacturing sector, and for the three decades after World War II, working- class living standards in the United States rose just as steeply as upper-middle class living standards – an equality of economic opportunity that America has experienced only during this period of union strength.
More than that, though, the Reutherites saw it as their duty to bolster newer movements for social equality. They provided political and material assistance to the civil rights movement (it was the UAW that paid for the signs and sound system at the great 1963 March on Washington), for Cesar Chavez's farm workers, for the campus left in the early '60s, for start-up feminist organizations and the first Earth Day. And for several decades, Walter Reuther's emissary to these groups was Millie Jeffrey.
And so it was that Millie trained activists from the National Council of Churches to lobby for civil rights, introduced the young Jack Kennedy to NAACP leaders, secured UAW support for inner-city community organizing, and obtained the UAW's campground at Port Huron for the founding meeting of Students for a Democratic Society. In the years before the New Left descended to ultra-left wackiness, there was no better emissary between the generations of '30s and '60s leftists. In the '70s, when many New Leftists began to re-engage reality, Millie was there to ease their reentry.''
Democratic Party official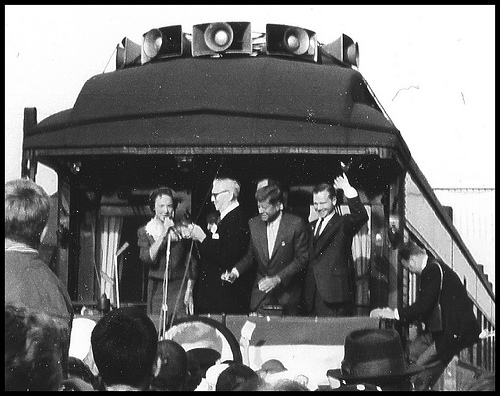 In the 1950 and 60s, Jeffrey was a Democratic Party National committeewoman from Michigan. In 1960, she helped campaign for[6]John F Kennedy, as a Michigan member of the Democratic National Committee.
After mobilizing the Michigan Democratic Party behind JFK in 1960, she then reportedly pushed JFK to initiate[7]the Peace Corps.
Democratic Party influence
Millie Jeffrey quit the DNC[8]the late 60s to protest the Vietnam War and to work for Robert Kennedy. She went on to co-found the National Women's Political Caucus in the 1970s.
According to Harold Meyerson Millie Jeffrey was very influential inside the Democratic Party and the party's National Women's Political Caucus.
In the early '70s, during her final years on the staff of the United Auto Workers, she helped found the National Women's Political Caucus and launched a decade-long campaign to have Democratic National Convention delegate slots divided equally between men and women.
From her perch on several Democratic Party commissions, and using the contacts she'd acquired in 40 years of liberal activism, Millie built enough support for this wild-eyed notion that it was adopted by the 1980 convention.
Democratic Agenda
More than 1,200 people attended the Democratic Socialist Organizing Committee initiated Democratic Agenda Conference held November 16-18, 1979, at the International Inn and Metropolitan AM Church in Washington 1 DC. The conference focused on "corporate power'; as the key barrier to "economic and political democracy," concepts many Democratic Agenda participants defined as "socialism.'
The Democratic Agenda meetings attempted to develop anti-corporate alternatives" through influencing the direction of the Democratic Party during the period leading to the July 1980 Democratic National Convention in New York.
Keynote speakers included Washington, DC, Mayor Marion Barry, Democratic Socialists Organizing Committee leader Mildred Jeffrey and Democratic Socialists Organizing Committee chairman Michael Harrington.[9]
Democratic Agenda/Socialist Caucus
For groups and organizations seeking radical social change within the Democratic Party, the National Convention of 1980 had at least one historic first - formation of a Socialist Caucus of delegates. Organized by the Democratic Socialist Organizing Committee and by the Democratic Agenda which was DSOC's cadre and supporters within the Democratic Party and was based in DSOC' s New York office and at 1730 M Street, NW, Washington, DC. Some 31 delegates and alternates from twelve states and Democrats Abroad attended the Socialist Caucus.
As a preliminary to the convention's Socialist Caucus meeting, , indeed as a "building event" and as a continued show of support for Senator Edward Kennedy (D-MA), the Democratic Agenda sponsored a convention rally at New York's Town Hall. The speakers included Herman Badillo, Julian Bond, Fran Bennick, Harry Britt, Cesar Chavez, Rep. John Conyers (D-MI}, Douglas Fraser, Murray Finley, Michael Harrington, Terry Herndon, Ruth Jordan, Ruth Messinger, Eleanor Smeal, Gloria Steinem and William Winpisinger.
DSOC works within the Democratic Party, said Harrington, because of the party's relationships with organized workers, blacks, feminists, environmentalists and other "progressive groups."
The Socialist Caucus circulated a list of convention delegates who were caucus members, including;[10]
Prominent DSOC member
According to Democratic Socialist Organizing Committee founder and chairman Michael Harrington, the influence of the group is disproportionate to its size because of the positions held by some DSOC members within the Democratic Party.
In 1980 prominent DSOC members included Rep, Ronald Dellums (D-CA); Hilda Mason, D.C. City Council, Harlan Baker, Maine state legislature; Jerry Nadler, New York state legislature, Perry Bullard, Michigan state legislature; Ruth Messinger, New York City Council; Harry Britt, San Francisco Board of Supervisors; Patrick Gorman, chairman of the board, Amalgamated Meatcutters; William Winpisinger, president, International Association of Machinists ; Irving Bluestone, vice president, United Auto Workers; Martin Gerber, vice-president, UAW, Sol Stetin, senior vice-president, Amalgamated Clothing and Textile Workers , Joyce Miller, national president, Coalition of Labor Union Women ; Dolores Huerta, vice-president, United Farmworkers, Cleveland Robinson, president, District 65, UAW;Victor Gotbaum, head of District Council 37, American Federation of State, County and Municipal Employees , New York, Mildred Jeffrey; Victor Reuther; James Farmer; Nat Hentoff; Gloria Steinem; Rosemary Reuther; Harvey Cox and Irving Howe.[11]
WILPF
In the 1970s Millie Jeffrey was a leading activist in the Women's International League for Peace & Freedom.
Soviet travels
Millie Jeffrey traveled to the Soviet Union in 69/70.[12]
In 1989 Jeffrey visited Moscow, Leningrad and Tblisi, Georgia in the U.S.S.R. in 1989 as a delegate in a twenty woman team sponsored by Women's Peace Initiative andWomen for a Meaningful Summit traveling with the JoAnn Watson and the Hon. Debbie Stabenow.[13] [14]
Millie was open to everything and everybody. She made friends with everyone—young and old, men and women, big and small, those who spoke English and those who didn't. Her friend, Michigan Sen. Debbie Stabenow, who was with her on a delegation of women to the Soviet Union
China trips
In 1974 she traveled to China.[15]
In 1995 Millie Jeffrey accompanied[16]Debbie Stabenow to China.
Millie's capacity for connecting with people was unmatched. As one who traveled with her to the Fourth World Conference on Women in Beijing, it was amazing to see people from all over the world, hearing we were from Michigan, asking if we knew Millie Jeffrey and if we could tell them where she was; or that their grandmother, their aunt, suggested they meet Millie Jeffrey....
Midwifeing SDS
In 1962, Millie Jeffrey arranged[17]for her daughter, Sharon, and a group of politically active University of Michigan students, including Tom Hayden, to use an UAW camp[18]on Lake Huron. The students issued the Port Huron Statement, the founding document of Students for a Democratic Society (SDS).
When SDS was formed, the children of UAW staff attending the University of Michigan played an important role[19]in forming one of SDS's first and strongest branches. They included Sharon Jeffrey, daughter of UAW official Millie Jeffrey, Leslie Woodcock, daughter of UAW vice president Leonard Woodcock and Barry Bluestone, son of Irving Bluestone, Reuther's key administrative assistant in the 1960s.
IVI-IPO
In 1981 Mildred Jeffrey was a Vice President of Independent Voters of Illinois-Independent Precinct Organization[20].
"Socialism in America" conference
In late 1984, more than 700 people attended a conference at Princeton "Socialism in America" to mark the centenary of the birth of Norman Thomas.
The conference was organized by historians Gary Gerstle, Peter Mandler and Sean Wilentz.
Speakers included Michael Harrington, Maurice Isserman, Irving Howe, H. L. Mitchell, Millie Jeffrey, Harry Fleischman, Ben McLaurin, and Frances Fox Piven. [21]
Norman Thomas Centennial
Verbatim from Democratic Left SEPT.-OCT. 1984, Page 24:
"The Centennial of the birth of Norman Thomas, "America's conscience," will be marked by conferences and forums in the east and midwest A symposiwn at Norman Thomas High School on November 17 will focus on "The Continuing Influence of Norman Thomas" and will feature as speakers three leaders of organizations with roots ui the Socialist party that Thomas led for many years. They are
Michael Harrington, co-chair of DSA, Bayard Rustin, chair of Social Democrats-U.S.A. and Frank Zeidler, chair of the Socialist Party USA Other speakers include James Farmer, H.L. Mitchell, Fay Bennett, Gus Tyler, Aaron Levenstein and Millie Jeffrey. Harry Fleischman, a close friend, campaign manager and biographer of Thomas who was also national secretary of the American Socialist Party. will be moderator for the symnposium. Fleischman will be honored at the event for his half-century of activism and dedication to the ideals of socialism in the spirit of Norman Thomas. Earlier in the month Thomas will be remembered at a conference on "Socialism in America" to be held at Princeton November 9. 10. On October 31 the life and influence of Thomas will be assessed at a symposium at Roosevelt University in Chicago. Speakers will look at Thomas's religion, lib pacifism, his labor policy, his humanism. and end by asking, "What's Left of Thomas' Agenda?"[22]
Promotion of Geraldine Ferraro
Harold Meyerson details Jeffrey's work with Joanne Howes to promote 1984 Democratic Party vice presidential candidate Geraldine Ferarro;[23]
Millie then became "the unelected leader," in the words of her co-conspirator Joanne Howes, of a committee of seven Democratic women promoting the idea of a female vice presidential candidate on the 1984 ticket. "By the fall of 1983,"recalls Howes, "we came to the conclusion that the right person was Gerry Ferraro" – then an obscure member of Congress from Queens. That required augmenting Ferraro's visibility and bona fides, and as a result of "Millie's strategic thinking," says Howes, the group successfully pressured the party and Walter Mondale to make Ferraro chair of the convention platform committee. The rest is herstory.
Women for a Meaningful Summit
In 1989 Mildred Jeffrey served on the Board of Directors of Women for a Meaningful Summit.
The Jeffrey/Stabenow relationship
Millie Jeffrey enjoyed a long relationship with now Michigan Senator Debbie Stabenow
As well as accompanying Stabenow on trips to the Soviet Union and China, Millie Jeffrey became a friend and political supporter of the Michigan politician.
In 1994 Millie Jeffrey was a leader[24]in the Stabenow for Governor Committee.
On Millie Jeffrey's death in 2004 Debbie Stabenow wrote[25];
...today I have lost a very dear friend, as have the people of Michigan and hundreds of thousands of people across the country. Millie Jeffery is an icon in the State of Michigan and in our country for civil rights, women's rights, and workers' rights. Her life has epitomized the principles by which we all strive to live our lives-justice, equality, and compassion...
Millie is the "political godmother" for many of us, and we are extremely grateful for her love and support.
In 2000 Millie Jeffrey was part[26]of Team Stabenow-actively supporting her friend's successful bid for United States Senate.
Promoting women for public office
Jeffrey was active in the elections of U.S. Senator Debbie Stabenow, Representative Carolyn Cheeks Kilpatrick and Michigan's first female governor,Jennifer Granholm.[27]
After helping create the National Women's Political Caucus in 1971, Jeffrey became a leader on the Democratic Party committee that ensured that half the delegates to its 1980 convention were women. She helped propel the careers of many women in politics, including the governor of Michigan, Jennifer M. Granholm, a Democrat.
Patricia Schroeder, a former United States representative from Colorado, said, "Millie is the political godmother for many of us."[28]
Presidential Medal Of Freedom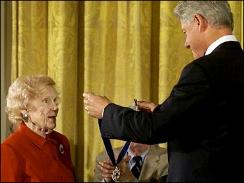 In 2000 President Bill Clinton presented[29]15 "illustrious figures", including Millie Jeffrey, with the nation's highest civilian honor bestowed by the U.S. Government, the Presidential Medal Of Freedom, with a citation, saying those awarded "have helped America to achieve freedom."
Other honorees included included retiring Jesse Jackson, Marian Wright Edelman, Senator Daniel Patrick Moynihan (D-NY), former U.S. Sen. George McGovern, economist John Kenneth Galbraith, retired Gen. Wesley Clark, and posthumously Rhode Island Sen. John Chafee.
Recognition, later work
Meyerson documents[30]recognition of Jeffrey's work by prominent Michigan Democrats Gov. Jennifer Granholm and Sen. Debbie Stabenow and her support for Madeline Kunin and Joan Campbell;
When Millie died last week, both Michigan Gov. Jennifer Granholm and Sen. Debbie Stabenow (DMich.) told the media that they would not be in their current positions without the decades of work that Millie had put in on behalf of equal opportunities for women.
Her energy was the stuff of legend. Determined to attend the inauguration of Madeleine Kunin as governor of Vermont, which occurred in the middle of the 1981 air traffic controllers' strike, the then 70-year-old Millie traveled from Detroit to Montpelier by bus. Two years ago, at age 91, she bused down from Detroit to Cleveland to witness Joan Campbell's swearing in as mayor.
Millie Jeffrey was inducted[31]into the Michigan Women's Hall of Fame and was an original board member of the Michigan Women's Foundation. She served in various leadership roles in a wide variety of national and State organizations such as the Michigan Women's Political Caucus, the Coalition of Labor Union Women, Americans for Democratic Action, National Abortion Rights Action League, Voters for Choice, EMILY's List and the American Civil Liberties Union. She served on the peer review board of Blue Cross and was an active member of the First Unitarian Universalist Church in Detroit.
Democratic Socialists of America
Millie Jeffrey was a member of Democratic Socialists of America. From Chicago DSA's[32]New Ground.
Eliseo Medina, an Executive Vice-President of the Service Employees International Union, was elected an Honorary Chair of Democratic Socialists of America. Medina was elected to fill the vacancy created by the death of Millie Jeffrey earlier this year. The election was a unanimous vote of DSA's National Political Committee.
Millie Jeffrey co-founded[33]both the Democratic Socialists Organizing Committee in the 1970s and the Democratic Socialists of America in 1982.
Millie Jeffrey addressed a "special unity convention session" on day two of the Democratic Socialist Organizing Committee/New American Movement Unity Convention in Detroit March 21/22 1982, that resulted in the formation of Democratic Socialists of America[34].
Media influence
In 2004, the Senior Political Editor of CBS News, Dotty Lynch wrote[35]of Millie Jeffrey;
Last May, she came to D.C. to review the Democratic presidential candidates who were speaking at Emily's List, one of many organizations she helped start to further the course of women in politics. She was a reader of this column and, now it can be revealed, a trusted source. Millie had an agenda but was as shrewd a political analyst as they come, and often gave me insights into what was "really happening" behind the scene in politics...
Millie was also my mentor and my pal for 25 years. About 10 years ago she surprised me by saying that she had decided to "limit her activities." "You're slowing down?" I asked. " No, just confining my work to peace and justice." Now that's really kicking back!
"Passing the Torch"
In celebration of Women's History Month in March 2006, the Michigan Veteran Feminists of America presented the documentary Passing the Torch on March 25 on PBS (WTVS, Channel 56).
The documentary, narrated by Lily Tomlin, explored Michigan women's motivations to participate in "one of the most profound social movements of the 20th Century."
Detroit-area feminists were active in the women's movement of the late '60s and early '70s, and they joined the national VFA organization in the fall of 2000 to ensure the gains that they helped to make on behalf of women remain in place today. Through interviews and oral histories, the documentary recalls the struggles of these engaging activists to establish domestic violence shelters, pass legislation to promote more accessible child care and gain reproductive rights.
Luminaries such as former Michigan First Lady Helen Milliken, Erma Henderson, the first African American woman elected to the Detroit City Council, UAW executive Millie Jeffrey, Senator Debbie Stabenow (D-MI), and Governor Jennifer Granholm "reminisce about the protest marches, consciousness raising sessions and the excitement they felt when opening doors that had been closed to women."[36]
Other affiliations
Millie Jeffrey played a major role in many groups, including the Coalition of Labor Union Women, Emily's List, Americans for Democratic Action, the National Abortion Rights League, the American Civil Liberties Union.[37] and on the peer review board of the Blue Cross.[4]
References