Mike Thompson
Jump to navigation
Jump to search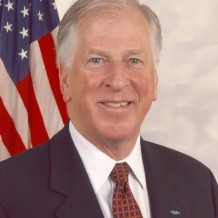 Mike Thompson is a Democratic member of the United States House of Representatives, representing the 1st district of California.
Mike Thompson was first elected to represent California's 1st Congressional District in 1998. The district includes all of Napa, Lake, Mendocino, Humboldt and Del Norte Counties as well as portions of Yolo and Sonoma Counties. Prior to serving in Congress, Rep. Thompson represented California's 2nd District in the California State Senate where he chaired the powerful Budget Committee.
Thompson is a small vineyard owner and was the maintenance supervisor for the Beringer Winery. He has taught Public Administration and State Government at San Francisco State University and California State University, Chico.
He is married to Janet Thompson, a family nurse practitioner.[1]
Humanitarian Needs in Cuba letter
December 16 2021 , House Rules Committee Chair James McGovern (D-MA), House Foreign Affairs Committee Chair Greg Meeks (D-NY), House Appropriations subcommittee on State and Foreign Operations Chair Barbara Lee (D-CA), and House Energy and Commerce subcommittee on Energy Chair Bobby Rush (D-IL) led 114 Members of Congress in a letter to President Biden asking him to prioritize the well-being of the Cuban people as they experience the worst economic and humanitarian crisis in recent history...
In the wake of this year's protests, the members urged the administration to support the Cuban people by suspending U.S. regulations that prevent food, medicine, remittances, and other humanitarian assistance from reaching the Cuban people...
Signatories included Mike Thompson.[2]
Support for the Council on American Islamic Relations
Mike Thompson wrote a letter of support to the Council on American-Islamic Relations (CAIR) on the occasion of their 24th anniversary in September 2018.[3]
Blue Dog Coalition
In Congress, Mike Thompson is a member of the Blue Dog Coalition.
HR 109 endorser
By February 20 2019 endorsers of Alexandria Ocasio-Cortez's HR 109 (Green New Deal) included Mike Thompson.
Medicare for All Act
In February 2019 Rep. Pramila Jayapal introduced H.R.1384 - Medicare for All Act of 2019. By May 29 she had 110 co-sponsors including Rep. Mike Thompson.
Congress
thompson is a member of the House Committee on Ways and Means and the House Permanent Select Committee on Intelligence, where he serves as Ranking Member of the Subcommittee on Terrorism, Human Intelligence, Analysis and Counterintelligence.
Thompson is the co-founder and co-chair of the bipartisan Congressional Wine Caucus, which consists of over 215 U.S. Senators and House members. He is also a member and former co-chair of the Congressional Sportsmen's Caucus. He is also a member of the Blue Dog Coalition, which is composed of moderate Democrats committed to bipartisan problem solving.
Thompson was the first Vietnam veteran elected to the California State Senate. He served in combat with the U.S. Army as a staff sergeant/platoon leader with the 173rd Airborne Brigade where he was wounded and received a Purple Heart. He was also an instructor at the Army's Airborne School.
Thompson is recognized in Congress and throughout his district as a moderate Democrat who has built a solid reputation for bipartisan problem solving. While serving in the State Senate he authored California's landmark Welfare Reform Act with Republican Senator Ken Maddy.[4]
Dining with Fidel Castro
In February 2002 a delegation of California Democratic Party Congressmen and women including Sam Farr, Diane Watson, Bob Filner and Mike Thompson, together with singer Carole King and representatives of California's rice and wine industries visited Havana as part of the latest effort to change U.S. policy toward Cuba.[5]
Carole King serenaded Fidel Castro with "You've Got a Friend" at a weekend dinner, and U.S. representatives from California shared wines from Napa and Sonoma.
They said their dinner with Castro at the Palace of the Revolution stretched from 9 p.m. Sunday until about 4:30 a.m. Monday. During the meal, King also performed a new song, "Love Makes the World."
Fact-finding in Iraq
In 2002 David Bonior and two other Democratic Congressmen Jim McDermott and Mike Thompson traveled to Iraq on a fact-finding mission. It was later revealed that Iraqi intelligence had funded the trip through a Michigan based Muslim group headed by Muthanna Al-Hanooti.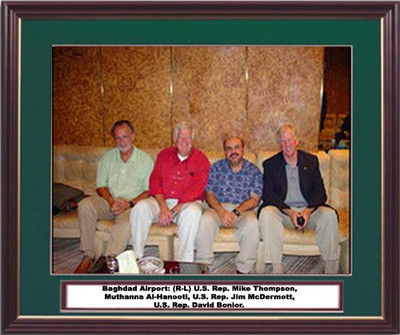 Photograph taken from Spring 2003 FAAIR Newsletter.
Before he was indicted for allegedly spying for Saddam Hussein, Muthanna Al-Hanooti's charity work and political activism provided him with access to the highest echelons of government.
Iraqi intelligence agents had reportedly had confidence that Al-Hanooti would be able to persuade Congress to lift economic sanctions against Iraq. A federal indictment unsealed in mach 2008 accuses him of using his work with the Michigan-based Life for Relief and Development (LIFE), formerly known as the International Relief Association, Inc., to become an Iraqi agent.
According to the indictment, Al-Hanooti drafted a plan to undermine the sanctions for the Iraqis, listing members of Congress who would support the move. He then led tours to Iraq, indirectly funded by the Iraqi government, with congressional leaders including Democrats David Bonior of Michigan, Jim McDermott of Washington and Mike Thompson of California[6].
LIFE issued a statement in advance of a 2002 trip, saying it was designed to help the representatives "gain a better understanding of the humanitarian plight faced by innocent Iraqi civilians still suffering from the destruction caused by the 1991 Gulf War and the continuation of the 12-year embargo." Photos of the junket in question were included in a 2003 newsletter published by an organization called Focus on American & Arab Interests & Relations (FAAIR), of which Al-Hanooti was President.
According to the indictment, an intermediary for the Iraqis gave Al-Hanooti $24,000 in September 2002 to cover trip expenses, the indictment alleges. The next month, Al-Hanooti received $10,000 more. The indictment also claims he also was given the right to buy 2 million barrels of oil under Iraq's Oil for Food program.
FBI agents interviewed Al-Hanooti in 2007. He denied knowingly meeting with any Iraqi intelligence officials and denied being offered the oil contract. That led to three counts in the indictment of providing false statements to federal agents[7].
Supported by Council for a Livable World
The Council for a Livable World, founded in 1962 by long-time socialist activist and alleged Soviet agent, Leo Szilard, is a non-profit advocacy organization that seeks to "reduce the danger of nuclear weapons and increase national security", primarily through supporting progressive, congressional candidates who support their policies. The Council supported Mike Thompson in his successful House of Representatives run as candidate for California.[8]
Peace Pledge Coalition
In 2007 90 Members of Congress, pledged in an open letter delivered to President Bush: "We will only support appropriating funds for U.S. military operations in Iraq during Fiscal Year 2008 and beyond for the protection and safe redeployment of all our troops out of Iraq before you leave office." The letter was initiated by the Peace Pledge Coalition. The Coalition was led by Tim Carpenter, Progressive Democrats of America, Bob Fertik, Democrats.com Medea Benjamin, CodePink, Bill Fletcher, co-founder of Center for Labor Renewal David Swanson, AfterDowningStreet.org, Democrats.com, Progressive Democrats of America, Kevin Zeese, Voters for Peace, Democracy Rising, Brad Friedman, co-founder of Velvet Revolution, Bill Moyer, Backbone Campaign.
Mike Thompson signed the letter.[9][10]
Fred Ross award campaign
In early 2013, mainly Democratic Socialists of America aligned activists, together with many elected officials across the United States came together to urge President Barack Obama to award posthumously the Presidential Medal of Freedom to the legendary organizer, Fred Ross, Sr.. The Saul Alinsky trained radical was the first to organize people through house meetings, a mentor to both Cesar Chavez and DSAer Dolores Huerta, and a pioneer in Latino voter outreach since 1949 when he helped elect Communist Party USA affiliate Ed Roybal as Los Angeles's first Latino council member, "Ross' influence on social change movements remains strong two decades after his death in 1992".
Congressional endorsers of the proposal included Mike Thompson.[11]
Lifting travel ban on Cuba
A May 03, 2013 Press release from the radical controlled and Institute for Policy Studies affiliated Latin America Working Group's Cuba Team stated:
Due to your action/emails/phone calls we have 59 signatures from House representatives urging President Obama to support travel to Cuba by granting general licenses for ALL current categories of travel.
By eliminating the laborious license application process, especially for people-to-people groups, that is managed by the Office of Foreign Assets Control (OFAC), the majority of the bureaucratic red tape that holds up licensable travel to Cuba would disappear and actually facilitate what the President wanted to see in 2011, liberalized travel regulations.
Signatories included Rep. Mike Thompson.[12]
PDA contact
In 2013 Progressive Democrats of America assigned activists to deliver their material to almost every US Congressman and Senator, Anna Givens was assigned as the contact for Rep. Thompson.[13]
JStreet 2014 endorsement
The socialist infiltrated, anti-Israel "two state solution" JStreet PAC endorsed Mike Thompson in his 2014 Congressional race. [14]
JStreet endorsed him again in 2016.
He is an outspoken supporter of US leadership to broker a two-state solution.[15]
ARA endorsements
The Alliance for Retired Americans Political Action Fund endorsed Mike Thompson in 2012, 2014.[16]
External links
References