Mike Lux
Jump to navigation
Jump to search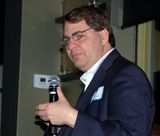 Mike Lux (Born May 13, 1960 in Lincoln, Nebraska) is a significant strategist for the left wing of the Democratic Party. He is the co-founder and President of Progressive Strategies.[1]
In August 2008, he was retained by the Campaign for Community Change as a senior fellow with money CCC received from Atlantic Philanthropies.
He is married to Barbara Laur.
DSA member
While living in Cedar Rapids, Iowa in the mid 1980's Mike Lux was a member of Democratic Socialists of America.
Around that time Lux was leading Iowa Citizen Action Network.
Organizations
Other organizations Lux has taken a role in starting or guiding, by his account, are:
American Family Voices, described as "an issue advocacy group working on pocketbook issues for American families"
The Progressive Donor Network, described as "a network of individual donors, issue advocacy groups, and top flight political consultants and strategists."
He "helped launch" the Center for American Progress and Air America.
The Chicago-based political consulting firm, The Strategy Group
Lux says that he launched OpenLeft.com in July 2007 with bloggers Matt Stoller and Chris Bowers. OpenLeft.com is described as a "news, analysis and action website dedicated toward building a progressive governing majority in America."
Boards serving
Advisory Boards
Past boards
Clinton White House
From January 1993 to mid-1995, Lux was the Special Assistant to the President for Public Liaison in the Bill Clinton White House.
Presidential campaigns
Lux was the Constituency Director on the 1992 Clinton-Gore campaign and the presidential transition team.
Lux was a senior staff member in the failed 1988 Joe Biden presidential campaign.
According to his biography, in 1984, "he played a major volunteer role in the Iowa Mondale campaign."
Other political activities
Lux talks about his 2009 book, "The Progressive Revolution"
In November of 2008, Mike Lux was named to the Obama-Biden Transition Team. In that role, he served as an advisor to the Office of Public Liaison on working with the progressive community.
On January 14th, Mike Lux released his first book, The Progressive Revolution: How the Best in America Came to Be, in bookstores and online nationwide.
Progressives in an Obama world
On February 26 2009, Mike Lux, Miles Rapoport of Demos, Deepak Bhargava of Center for Community Change, and Gloria Totten of Progressive Majority spoke at the Center for Community Change in New York at a forum entitled[2]
The forum blurb identified Obama as a "progressive" and went on to say;
Since the 2004 election, the progressive movement has built a powerful infrastructure of think tanks, media outlets and advocacy organizations. Frustrated by the conservative ascendancy and the dominance of conservative ideas, individuals and institutions have put forward new paradigms for government and promoted a bold vision for the future.
But now a progressive holds the highest office in the land. As the movement struggles to define its role in the Obama era, important questions remain unanswered: What is the role of such organizations in Washington and how can they best create political space for Obama to act? On what issues should the movement compromise and on which take strong stands? How can progressives build consensus to make their efforts more effective?
The panel will feature progressive leaders Deepak Bhargava, Miles Rapoport and Mike Lux; the speakers will draw on two new books, 'Thinking Big: Progressive Ideas for a New Era,' and The Progressive Revolution: How the Best in America Came to Be, as they discuss what progressives can do to create momentum for greater boldness at a time when opportunities and challenges abound.
ProgressNow
From:michael@progressnowaction.org To: john.podesta@gmail.com Date: 2008-04-29 18:29
Subject: Do you want to discuss any of these states?
Dear Board, Investors and Progressive Partner Organizations,
Great news! We are proud to announce our newest advisors below. I've also included the most recent successes in each of our state partner organizations.
Please let me know if you'd like to discuss any ProgressNow partner states: California, Colorado, Florida, Michigan, Minnesota, New Mexico, Ohio, Washington or Wisconsin.
I'd also like your advice on any of these states: Arizona, Missouri, Nevada, New Hampshire, New York, Oregon or Pennsylvania.
Thank you. I look forward to hearing from you.
Mike (303) 931-4547 cell
P.S. Let me know if you wish to discuss our plans around the August convention in Denver (the Pepsi Center is four blocks from our office).
P.P.S. Below is an updated list of our advisors (if you would like to be added let me know)
National Board of Directors: Wes Boyd, Martin Collier, Rob McKay, Doug Phelps, Jared Polis, Deborah Rappaport, Bill Roberts, Jeff Rusnak, Anne Summers, Ted Trimpa (Chair) and Joe Zimlich (We recently lost one of our cherished board members-- Adam Solomon-- who went out of his way to help so many of us and so many progressive causes. Our deepest condolences to his entire family. Adam's passing is a true loss and we will miss him.)
Advisors Include: Alexandra Acker, Karen Ackerman, Jennifer Ancona, Adam Bink, Kafi Blumenfield, Bill Budinger, Marc Buell, Anne Bartley, Patricia Bauman, Jeff Blum, Heather Booth, Robert Borosage, David Brock, Anna Burger, Steve Cobble, Noey Congdon, David Donnelly, Cathy Duvall, Christian Ettinger, Patricia Evert, Kirstin Falk, Ricki Feller, David Friedman, Meg Gage, Beth Ganz, Chris Gates, James Golin, Ellen Golumbek, Ken Grossinger, Jill Hanauer, Honorable Gary Hart, Jerry Hauser, Bracken Hendricks, Norton Kalishman, Craig Kaplan, Paul Lhevine, Paul Loeb, Mark Lotwis, John Luongo, Mike Lux, Awilda Marquez, Matt MacWilliams, Tony Masarro, Peter Murray, Sandy Newman, Eli Pariser, Steve Phillips, Drummond Pike, John Podesta, Mike Podhorzer, Zach Pollet, Carl Pope, Rachel Pritzker, Andrew Rasiej, Cecile Richards, Will Robinson, Robin Rorapaugh, Donald Ross, Ron Rowell, Catalina Ruiz-Healy, Laura Quinn, Marsha Scott, Steve Silberstein, David Sirota, Frank Smith, Greg Speed, Steve Shapiro, Rob Stein, John Stocks, Valerie Tarico, Betsy Taylor, Roy Temple, Lisa Turner, Michael Vachon, Phil Villers, Antha Williams, Al Yates, Jon Youngdahl, David Zwick.
ProgressNow affiliate organizations have already launched in nine states and we hope to expand to twenty-five states by 2012.
CCC Fellowship
In August 2008, the Campaign for Community Change announced it was receiving a grant from Atlantic Philanthropies to hire Lux as a senior fellow. Describing his role, he wrote on OpenLeft:
"I have been a big fan of Deepak Bhargava and the Campaign for Community Change's work for a long time, I am looking forward to collaborating with this team to offer up my experience, insights and strategic advice, not only for the Campaign for Community Change, but also for the broader progressive community. Over the past years, the progressive movement has once again begun to rise and with the right vision, tactics and leadership, we can continue to inject the progressive vision of America into our public policy and into the great organizations that help to lead the charge on a day-to-day basis."
2008 Obama Transition Team
In November 2008, Lux was named to the Obama/Biden Transition team.[3]
In that role, he served as an adviser to the Public Liaison on relationships with the progressive community and gave strategic advice on structuring the Office of Public Liaison based on his past experience working on the Clinton/Gore Transition, as well as in the White House. [4]
ICAN 30th Anniversary Award Celebration
Iowa Citizen Action Network 30th Anniversary Award Celebration, was held Hilton Garden Inn 8600 Northport Drive Johnston, IA, Saturday March 28, 2009.
2009 ICAN Award Recipients
Legislative Leadership: Bruce Braley, presented by William McNary
Grassroots Leadership: PCCI – Progressive Coalition of Central Iowa, presented by Mayor Frank Cownie
Political Strategist: Brad Lint, presented by Mike Lux[5]
Iowa friends
On Friday March 7 2009 a host team was formed of a "bunch of my old friends in Des Moines" threw a book party for Mike Lux at Don Rios Cantina. Lux's book was "The Progressive Revolution:How the Best in America Came to Be".
The team included Speaker of the Iowa House Pat Murphy and other hosts, Robin Ahnen-Cacciatore, Betty Ahrens, Holly Armstrong, John Cacciatore, Jerry Crawford, Mark Daley, Tim Gannon, Nader Halawa, Jeff Link, Brad Lint, Dave Leshtz, Jennifer Mullin, Jeani Murray, Marcia Nichols, Matt Paul, Aaron Pickrell, Sheila Riggs, Don Rowen & Virginia Rowen, Joe Shannahan, Mike Tramontina, Jessica Vandenberg, Lola Velazquez-Aguilu,Margi Weiss, Nate Willems, Bill Wimmer[6]
Take Back the American Dream Conference 2011
Mike Lux was one of the 158 speakers who addressed the Take Back the American Dream Conference 2011 . The Conference was hosted by the Institute for Policy Studies, and Democratic Socialists of America dominated Campaign for America's Future, [7]
Elizabeth Warren fundraiser
On March 21, 2012, Young Professionals Event fundraiser was held at the International Brotherhood of Electrical Workers in Boston, for Elizabeth Warren
Hosted by: Alisha Bhagat, Heather Booth, Paul Booth, Robert Borosage, Chris Bowers, Denise Bowyer, Laura Clawson, Carla Ohringer Engle, Robert Friedman, Rich Goldberg, Adam Green, Sarah Harrison, Sabrina Hersi Issa, Mike Lux, Kate Ottenberg, Jonathan Parnes, Ami Patel, Cecilia Poon, Joel Silberman, Stephanie Taylor, James Williams, Jenny Wu, Zaid A. Zaid
Contribution: $1,000 chair; $250 Sponsor (VIP reception included); $50 guest.[8]
Midwest Academy awards
When Democratic Socialists of America controlled Midwest Academy held its annual award ceremony December 12, 2012, at the Eatonville Restaurant, Washington DC, Elizabeth Warren was guest speaker.
Long time Democratic Socialists of America member Julian Bond was given a "Lifetime Achievement Award", while another one time DSAer Mike Lux, was given a Progressive Leadership Award, as was Damon Silvers.[9]
2014 Midwest Academy board
In 2014, the Midwest Academy board consisted of;
"Progressive Agenda"
Signers of New York City Mayor Bill de Blasio's May 12, 2015 launched The Progressive Agenda to Combat Income Inequality included Mike Lux - Progressive Strategies.[11]
Movement Voter Project Advisory Board
Movement Voter Project Advisory Board members, as of January 24, 2018 included Mike Lux.[12]
External links
References