Michio Kaku
From KeyWiki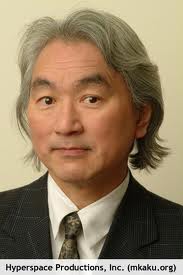 Michio Kaku is a theoretical physicist, best-selling author, and popularizer of science. He's the co-founder of string field theory (a branch of string theory), and continues Einstein's search to unite the four fundamental forces of nature into one unified theory.
Education
He received a B.S. (summa cum laude) from Harvard University in 1968 where he came first in his physics class. He went on to the Berkeley Radiation Laboratory at the University of California, Berkeley and received a Ph.D. in 1972. In 1973, he held a lectureship at Princeton University.[1]
Academia
Kaku holds the Henry Semat Chair and Professorship in theoretical physics at the City College of New York, where he has taught for over 25 years. He has also been a visiting professor at the Institute for Advanced Study at Princeton, as well as New York University (NYU).[2]
Writing and media
Kaku is the author of several scholarly, Ph.D. level textbooks and has had more than 70 articles published in physics journals, covering topics such as superstring theory, supergravity, supersymmetry, and hadronic physics.
Michio's new book, Physics of the Impossible: A Scientific Exploration of the World of Phasers, Force Fields, Teleportation, and Time Travel has already hit the NY Times Bestseller List.
Other Books Include:
Parallel Worlds - 2006
Einstein's Cosmos - 2005
Visions - 1999
Beyond Einstein - 1995
Hyperspace - 1994
Kaku has appeared on television (Discovery, BBC, ABC, Science Channel, and CNN to name a few), written for popular science publications like Discover, Wired, and New Scientist, been featured in documentaries like Me & Isaac Newton, and hosted many of his own including BBC's recent series on Time.[3]
ASI activist
Brenda Sunoo, Jan Sunoo, Michio Kaku, and Eddie Kochiyama were all active in Asians in the Spirit of the Indo-Chinese (ASI), at City College in the early 1970s. The group was designed to guarantee an Asian presence in the Anti-Vietnam War movement.[4]
WVO leader
In the 1970s, Michio Kaku was a leader, with Jerry Tung, of the Workers Viewpoint Organization, forerunner to the Communist Workers Party.[5]
Greensboro support
After the infamous November 1979 Greensboro Massacre of 5 Communist Workers Party members by the Ku Klux Klan, the CWP stepped up its political offensive, blow for blow. The Party's task, as formulated by General Secretary Jerry Tung, was to reach out to all who would listen, and proceeding from a spirit of uniting with them around this question, to struggle to ' provide direction and organization for all who were being drawn into the struggle. Within thirty days of November 3rd, the CWP began a national tour of the widows of the CWP 5, Party speakers like Central Committee member Philip Thompson, and prominent friends. In New York, for instance, attorney William Kunstler and anti-nuke activist Dr. Michio Kaku spoke at the forum. General Secretary Jerry Tung personally attended the event.[6].
Physicians for Social Responsibility
Speakers at other New York City Physicians for Social Responsibility meetings from August 1981 to January 1982 included Michio Kaku, physics department, City College of New York, a frequent MFS rally speaker who links his antinuclear sentiments to the Hiroshima atomic bombing in which members of his family died; H. Jack Geiger, a founding PSR member and president of IPPNW; Barry Commoner, Citizens Party; and Joe Fahey of Pax Christi and the Manhattan College Peace Studies section on the European Nuclear Disarmament movement. Among the featured speakers in national PSR presentations have been Kosta Tsipis; Gene LaRocque, CDI; John Constable; H. Jack Geiger; Howard H. Hiatt.
Workers World Party event
A Workers World Party event was held on December 5, 1981, in Rochester with "Over 80 activist and organizers came from the Upstate cities of Ithaca, Buffalo, Geneva, Binghamtom and Courtland as well as Rochester." Among the speakers were: Michio Kaku - Professor, but not identified as such. Photo of Kaku giving his speech
All-Peoples Congress National Advisory Board
In 1983, the Workers World Party influenced All-Peoples Congress' National Advisory Board, icluded;
Isaiah Bennett President. A. Philip Randolph Institute. South Carolina President, Local J5A., Retail.Wholesale and Department Store Employees Union.
Josephine D. Butler Chairperson. D.C. Statehood Party
Reverend Victor Carpenter , Senior Minister, Arlington Street Church
Ramsey Clark, Former U.S: Attorney General
Lynda Clendenning, Vice President; AFSÇME Maryland State Employees Council
Emile D'Antonio, Film Director
Dr. Michio Kaku Prfessor of Nuclear Physics. City College, of New York.
Corita Kent, Artist
Paul O'Dwyer Former President. New York City Council
Margaret Ratner, Attorney
Jewel Ryan White, President, National Black Communications Coalition President. Local 5011, Communications Workers of America
George Wald, Nobel Prize Laureate, Harvard University
Quentin Young, M.D.[7]
The Guardian supporter
The Guardian, April 13, 1983, p. 2, contained a fundraising message
"We Interrupt This Newspaper to Bring You An Urgent Message"
$35,000 Matching Fund deadline: May 1
Contributions needed immediately for the Guardian to continue publication
Source:[8]
"35: 1948-1983" "Now, during its 35th anniversary year, join us in offering much-needed support to the Guardian - an essential voice committed to today's struggles for peace, liberation and social justice" -
Listed supporters included Michio Kaku, Professor of Physics, CCNY.
Federation for Progress
The Federation for Progress was another attempt to create a new Marxist united front organization, much like similar efforts of the People's Alliance and the National Committee for Independent Political Action
The FFP put a half-page ad in the "socialist" oriented weekly newspaper, In These Times ITT in the July 14-27, 1982 issue, p. 8, entitled: "A natural follow-up to June 12: A national conference July 30-August 1 at Columbia Un., in New York City".
It was a follow-up conference to the major "anti-defense lobby" march and protest in New York on June relating to the U.N. Second Special Session on Disarmament.
The FPP Interim Executive Committee consisted of;
Conference on Socialism and Activism
The Maoist-oriented weekly newspaper, The Guardian of November 27, 1985, on Page 14, featured a half-page announcement about the upcoming Conference on Socialism and Activism to be held on December 6-8, 1985, at Teachers College, Columbia University in New York City. It was "sponsored" by The Guardian, The Nation Institute, The Progressive (magazine), and WBAI-FM (one of the Pacifica stations).
Keynote Speakers were;
South End Press Books
The Guardian, November 5, 1986, Guardian Book Supplement, Fall 1986, had a full-paged ad listing, with a brief synopsis, of some of their "books for the movement", which were as follows:
"Beauty Secrets: Women and the Politics of Appearance", Wendy Chapkis
"Based on recently de-classified "Top Secret" documents, this shocking survey of U.S. plans to wage nuclear war from 1945 to the present demonstrates how the U.S. has brought the world to the brink of nuclear war dozens of times. From the Berlin Crisis through Star Wars, the authors introduce us to the war-planners and trace the evolution of their strategies, technologies and institutions." 400 pp., $11.00
Asian Americans for Equality event
On May 28 1986, Prof. Michio Kaku attended a premier showing of a new film on China, "A Great wall" at Equality House, New York. the showing was organized by Asian Americans for Equality, a front for the Communist Workers Party.
Here Kaku is pictured with director Peter Wang, and then Asian Americans for Equality President Margaret Chin, a member of the CWP.
Addressed Communist Party USA, front meeting
An ad/notice was placed in the Guardian, November 8, 1989, concerning an upcoming U.S. Peace Council national conference. The text of the notice was:
"End The Cold War Fund Human Needs" U.S. Peace Council's Tenth Anniversary National Conference - Boston, Mass., Nov. 10-12, 1989
Speakers Included:[9]
Conference to Counter the Combat Culture
Conference to Counter the Combat Culture, was held at the Julie Richman High School in New York City on May 3-5, 1991, and sponsored by the Brecht Forum, 79 Leonard Street, NYC, NY 10013, this conference had as its themes the following:
military budget vs. human services
New World Order abroad and at home
racism in the Gulf War
gender and war-making
war, families and children
new organizing strategies
alternative media/communications
the fires burn on in the Gulf
the psycho-politics of patriotism
teaching about the Gulf War
Participants included,Michio Kaku - Professor physicist, CUNY, (from the list on the ad/notice)[10]
Nuclear Y2K Symposium
Monday, March 8, 1999, 9 a.m. to 5:30 p.m. a Nuclear Y2K Symposium, was held in Canon House Office Building, Caucus Room 345, Speakers: Dr. Helen Caldicott, Rep. Ed Markey, Sen. Tom Harkin, Bill Ulrich, David Lochbaum, Michio Kaku, Rock Cowles, Paul Gunter, Michael Murphy, Judith Johnsrud, Dan Plesch, Dr. Ted Taylor, Bruce Blair, Michael Kraig, Stephen Young, and others.[11]
References