Megan Behrent
Jump to navigation
Jump to search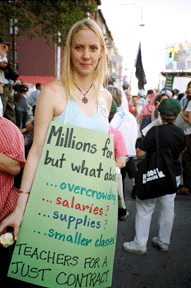 Template:TOCnestleft Megan Behrent is a public school teacher in New York City and an activist with the International Socialist Organization.
DSA Socialist Feminists Call on Joe Biden to Drop Out
DSA Socialist Feminists Call on Joe Biden to Drop Out was a May 2020 letter to Joe Biden.
Presumptive Democratic presidential candidate Joe Biden stands accused of sexual assault. Members of the Democratic Socialists of America demand that he leave the race.
As socialists, we believe that the lessons of the #MeToo movement must not be forgotten. This movement challenged rape culture and upended myths about sexual violence and the credibility of survivors. For a short period, these issues were even embraced by many liberal politicians and commentators, as evidenced by the widespread support for Dr. Christine Blasey-Ford when she bravely spoke out about incumbent Supreme Court Justice Brett Kavanaugh. #MeToo made previously tolerated behavior intolerable, and powerful men in numerous industries faced consequences for their misconduct....
We, the undersigned, call on Joe Biden to leave the race. We also call on elected officials endorsed by the Democratic Socialists of America to rescind any endorsements of Joe Biden.
Signatories included Megan Behrent.
Socialism 2018
Megan Behrent was a proposed featured speaker of the Socialism 2018, an annual socialist gathering sponsored by the International Socialist Organization held in Chicago, Illinois in July 2018.[1] Go to the main page of ISO Socialism Conference...
Left Forum
At Left Forum 2011, Sarah Knopp organized a panel "Capitalism and Education: A Marxist discourse on what we're fighting against and what we're fighting for". other panelists included Jeff Bale, Department of Teacher Education, Michigan State University, Jean Anyon, Graduate Center, CUNY, Brian Jones, SocialistWorker.org, Megan Behrent, International Socialist Organization.[2]
References