Marty Meehan
From KeyWiki
Marty Meehan
Hearing on Economic Insecurity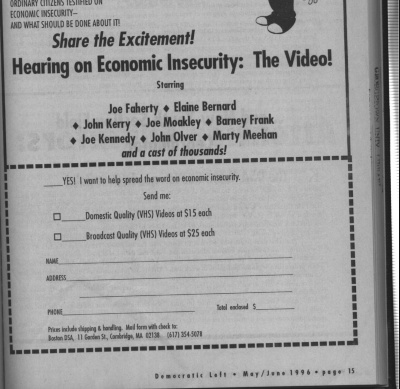 Boston Democratic Socialists of America was involved in the January 1996 Boston Hearing on Economic Insecurity. Participants included Joe Faherty, DSA member Elaine Bernard, John Kerry, Joe Moakley, Barney Frank, Joe Kennedy, John Olver, Marty Meehan.[1]
Staffer at Woman's Agenda meeting
Woman's Agenda Celebrates 8th Annual Women & Policy Symposium on Violence Against Women
On Saturday, May 6, 2006, Woman's Agenda will celebrate its 8th Annual Women & Policy Symposium called Beating a Culture of Violence: "I'm a Survivor." It will take place at the Lawrence Senior Center, located at 155 Haverhill Street, from 8:30 am to 3:30 pm.
Woman's Agenda annually organizes a symposium to support and encourage the community activism of local women leaders in the Merrimack Valley. Since its inception in 1999, Woman's Agenda plans and organizes a series of dialogues or symposiums, in which local women leaders can focus on themselves and the very important roles they play in every sphere of the community.
Despite the fact that these symposiums are held only once a year, it has served to influence policy development in the public and private sectors. This year the focus is on attacking violence against women through an intergenerational dialogue in which mature women will be engaged in a discussion with young adolescent and young adult females to develop strategies to prevent women from falling victims of violence and to ensure women already in abusive situations that there are avenues for escape.
This year the organizing committee includes not only Dr. Nilka Alvarez-Rodriguez, who is a Lawrence City Councilor-At-Large and Women Studies Instructor at Merrimack College, but also Patricia Sanchez-Reyes and Martina Cruz, Lawrence School Committee Members; June Black, Congressman Marty Meehan's Office; Maribel Serate and Noris Gonzalez, Garden of Options; Janice Burkholder, Senator Susan Tucker's Office; Vilma Lora, Greater Lawrence YWCA; Susan Santos, Women of Excellence Ministry; Grisel Silva, District B Lawrence City Councilor; Luz Rosado, Lawrence Senior Center; and Annia Lembert, New England UNITE HERE; as well as, community activists Haydee Cuadrado, Felicita Caminero, and Doris Anziani. Another important objective of Woman's Agenda is to support and celebrate the tireless efforts of local women through the Maria Garcia Liriano Award and the Women of Action Awards.
The Maria Garcia Liriano Award is presented to one woman each year for outstanding achievements and this year it will go to domestic violence survivor, journalist, writer and poet Beatriz Perez. The Women of Action Awards celebrates the extraordinary efforts of unsung heroines and this year these women are Sandy Almonte, Maria Monica Alvarces, Paula Callanan, Zoila Gomez Diaz, Rebecca A. Hall, Anna Ruth Sullivan, Carolyn Traficanti and Rev. Gladys Tucker. [2]
References
↑

Dem. Left May/June 1996
References