Martin Sheen
From KeyWiki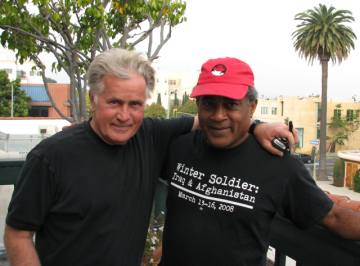 Martin Sheen is a well known actor and activist.
DSA potential donors list
On January 21, 1992 Steve Tarzynski, National Political Committee of Democratic Socialists of America, wrote a letter to "Harold" (probably Harold Meyerson).
"Following is the list of possible major donors I can think of to pledge support for Trish and our program in southern California. Additions and comments sorely needed."
Question marks in original list.[1]
Los Angeles DSA potential donors list
On July 26 1992 California Democratic Socialists of America leader Steve Tarzynski wrote a draft "major donor letter" for Southern California DSA, inviting donors to join the Upton Sinclair Club of DSA[2]
We know you have been generous in supporting DSA's important work in the past. We'd like to develop a core of at least twelve people who will pledge 1,000 annually to keep our Organization working for Southern California DSA. We invite you to be one of those people. This select group of members and friends would have a key role in rebuilding a democratic left opposition in California.
This unique group of individuals would form the "Upton Sinclair Club" which will act in an advisory role meeting with the Southern California DSA leadership at an annual brunch. Sinclair Club members will receive a quarterly bulletin reporting on Southern California DSA's progress, and will have an opportunity to meet international DSA spokespeople and international guest speakers in more intimate small group settings. Admission to all local, statewide, and national DSA events in the Southern California would be complimentary with membership in the Sinclair Club.
The draft was accompanied by a "List of Potential major donors to DSA"
Peace for Cuba Appeal
In 1994 Martin Sheen was an initiator of the International Peace for Cuba Appeal, an affiliate of the Workers World Party dominated International Action Center.
Other prominent initiators included Cuban Intelligence agent Philip Agee, academic Noam Chomsky, Congressman John Conyers and Charles Rangel[3].
Open Letter to the Colombian People, Press and Government, Aug. 1996
"Stop the Bloodshed in Uraba, Due Process for Jose Antonio Lopez, Nelson Campo and others, and an End to Faceless Justice and Political Repression".
We, the undersigned, are North Americans and others who are deeply disturbed by the human rights situation in Colombia.
Massacres, disappearances and torture happen continually in the anguished region of Uraba. We can not understand how paramilitary groups operate so freely in this militarized region where the Colombian army is present in massive numbers, and which does not perform its constitutional function of defending the civilian population. And we can not understand why the regional paramilitary leader is not apprehended and brought to justice for his crimes against humanity.
We call upon all armed parties -- paramilitary units, guerrillas, army, police, urban militias and commandos -- to immediately cease all attacks upon both the civilian population and upon each other. Justice, peace and a fruitful life is never found through murder, torture, kidnapping and intimidation.
Martin Sheen, signed the letter, from the Colombia Support Network .[4]
Watsonville UFW march
In 1997 the United Farm Workers, with the support and participation of the AFL-CIO, mobilized over 30,000 farmworkers and supporters in the Strawberry Capitol of the World: Watsonville, California. The march was lead by UFW leaders, Jesse Jackson, John Sweeney, Ron Carey of the Teamsters Union, Martin Sheen, and a "host of dignitaries". A particularly strong contingent came from the UCLA MeCha which mobilized close to 100 Chicano students.
Dolores Huerta, UFW vice president, an Honorary Chair of DSA , and a supporter of the DSA Latino Commission, welcomed the marchers.
Arturo Rodriguez, the new President of the United Farmworkers and heir to the tradition of Cesar Chavez, delivered his speech in English and in Spanish. John Sweeney and Richard Trumka addressed the crowd, with translation provided by Louis Valdez and others. DSA contingents came from Sacramento, Los Angeles, and San Diego as well as the Latino Commission. [5]
Cesar Chavez walk
Thousands of people from across Southern California joined the 4th Annual Cesar E. Chavez Walk in East Los Angeles on Saturday, April 6, 2002 --marking the ninth anniversary of the legendary farm worker and civil rights leader's death and the 40th anniversary of the United Farm Workers.
Walkers who assembled Saturday at East Los Angeles College Stadium for the walk included Chavez's widow, Helen, other Chavez family members and UFW President Arturo Rodriguez. Also participating were Hollywood figures including Martin Sheen; Jackie Guerra, Pete Leal, Austin Marquez, Edward James Olmos; Esai Morales; Mike Farrell; Ed Begley, Jr.; Marisol Nichols; Richard Coca, Evelina Fernandez, Mike Gomez, Sal Lopez, Dyana Ortelli, Jose Luis Valuenzuela; and Michele Greene.
Many elected officials also joined the walk, including U.S. Rep. Hilda Solis, state Sen. Richard Alarcon, Sen. Gloria Romero, Sen. Nell Soto, Speaker of the Assembly Herb Wesson, Assemblymembers Marco Firebaugh, Judy Chu and Paul Koretz, and Board of Equalization member John Chang.
After a brief welcome by emcees Sid Garcia (ABC7) and Nancy Agosto (KMEX-TV), participants traveled a five-kilometer route through the neighborhood before returning for free music and entertainment.
Sponsors supporting the 4th Annual Cesar Chavez Walk included ABC7, KMEX, La Opinion, Super Estrella and L.A. County Supervisor Gloria Molina.[6]
ACLU dinner
The December 1st 2007 —ACLU Dinner on Saturday, December 1st at the Dearborn Hyatt Regency Hotel,Michigan, featured actor and activist Martin Sheen.[7]
Cesar Chavez National Holiday campaign
In 2009 Martin Sheen an actor was listed as an Endorsor of the Communist Party USA initiated Cesar E. Chavez National Holiday organization[8]
Africa Faith and Justice Network's 30th Anniversary
Martin Sheen, Cardinal Peter Turkson of Ghana, and Emira Woods were all invited guest speakers at the Africa Faith and Justice Network's 30th Anniversary, March 1, 2013 through March 3, 2013, University of Notre Dame. South Bend, IN, USA.[9]
References