Martin M. Looney
From KeyWiki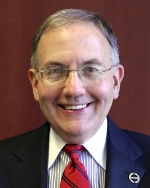 Martin M. Looney was a State Senator from Connecticut. He is married to Ellen Looney.
Political history
Looney won an open seat in 1992, succeeding Democrat Anthony V. Avallone. He previously was elected to six terms in the House, beginning in 1980. In 2008 and 2010, he was cross-endorsed by the Working Families Party.
Looney is the Senate's majority leader, its longest-serving legislator (with a tenure split between the chambers) and a student of the General Assembly's history and traditions.
Before becoming majority leader in 2003, Looney had stints as co-chair of the banks and finance committees. In New Haven, he took on Mayor John DeStefano in a bruising primary for the Democratic mayoral nomination in 2001. He takes on the politically sensitive task in 2011 of drawing legislative districts as a member of the bipartisan Reapportionment Committee.
In the Senate, Looney has a record of supporting progressive causes and organized labor.
He supported mandating insurance coverage for autism therapy, the decriminalization of marijuana, the abolition of the death penalty, and allowing undocumented immigrants to attend public colleges at in-state rates. As a House member in 1991, he voted for passage of the income tax.[1]
Supported Progressive Health Care Reform
In late 2009, Martin M. Looney was one of more than 1,000 state legislators to sign a letter entitled "State Legislators for Progressive Health Care Reform". The letter was a project of the Progressive States Network and was developed in consultation with national health care reform advocates, including the AFL-CIO, AFSCME, Community Catalyst, Families USA, Herndon Alliance, National Women's Law Center, Northeast Action, SEIU, and Universal Health Care Action Network. The letter reads in part,[2]
"Failure to pass national comprehensive health reform now will further jeopardize state and local budgets, undermining public services like education, public safety, and transportation infrastructure... We, the undersigned, call on President Obama and the Congress to enact bold and comprehensive health care reform this year – based on these principles and a strong federal-state collaboration – and pledge our support as state legislators and allies in pursuit of guaranteed, high quality, affordable health care for all."
Alfred L. Marder 90th Birthday Celebration
The March 2012 Host Committee, in honor of Connecticut Communist Party USA member Alfred Marder's 90th Birthday Celebration, held at the New Haven People's Center consisted of;
Hon. Rosa DeLauro, Sen. Toni Harp, Sen. Martin Looney, Rep. Juan Candelaria, Rep. Patricia Dillon, Rep. Toni Edmonds Walker, Rep. Gary Holder-Winfield, Rep. Roland Lemar, Ald. Jorge Perez, President, New Haven Board of Aldermen, Ambassador Sylvester Rowe, Mohammed Barrie, Vinie Burrows, Mary Compton, Joelle Fishman, Craig Gauthier, Emanuel Gomez, Hilda Kilpatrick, Henry Lowendorf, Kenneth Marder, Rev. Scott Marks, William Morico, John Olsen, Quentin Snediker, Jarvis Tyner, Andrea van den Heever, Susan Yolen
A statement issued on the committee's behalf read;[3]
Dear Friends and Family of Al Marder,
We are excited to invite you to celebrate the 90th birthday of Al Marder and to recognize his many contributions, international and local, toward world peace, justice and equality.
Please join us in this joyous occasion on Sunday, March 18, at 3:00 pm at the New Haven Peoples Center, 37 Howe Street, New Haven, Connecticut 06511.
Among Al's many projects, there is one he selected for support on this occasion. The New Haven Peoples Center is a site on the African American Freedom Trail in Connecticut. It provides social, cultural and educational opportunities for the community. From his youth, Al has taken part in the activities of the Peoples Center, where today he serves as president.
References