Martin Luther King, Jr.
From KeyWiki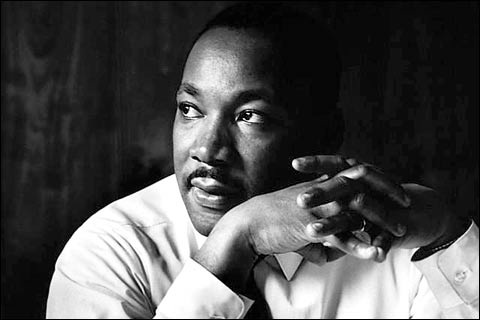 Rev. Martin Luther King Jr. (January 15, 1929 – April 4, 1968) was the son of Martin Luther King Sr.
Socialist views
You can't talk about solving the economic problem of the Negro without talking about billions of dollars. You can't talk about ending the slums without first saying profit must be taken out of slums. You're really tampering and getting on dangerous ground because you are messing with folk then. You are messing with captains of industry.... Now this means that we are treading in difficult water, because it really means that we are saying that something is wrong... with capitalism.... There must be a better distribution of wealth and maybe America must move toward a democratic socialism". ~ Rev. Dr. Martin Luther King Jr. Frogmore, S.C. November 14, 1966. Speech in front of his staff.
Early socialism
According to Democratic Socialists of America Honorary Chair Bogdan Denitch, Martin Luther King was briefly a member of the Young Peoples Socialist League in the early 1950s when he was attending Boston University.[1]
Denitch was a YPSL organizer at that time.
Meeting Stanley Levison
Ella J. Baker and her fellow African-American civil-rights activist Bayard Rustin introduced secret Communist Party USA member Stanley Levison to to Martin Luther King, Jr. A special relationship developed; from the late 1950s until King's death, in 1968, it was without a doubt King's closest friendship with a white person. In December of 1956 and January of 1957 Levison served as Rustin's primary sounding board as Rustin drew up the founding-agenda documents for what came to be called the Southern Christian Leadership Conference[2].
Like Rustin, Levison, and Baker, King and a network of his southern African-American ministerial colleagues hoped that the SCLC could leverage the success of the Montgomery bus boycott into a South-wide attack on segregation and racial discrimination.
Highlander School

Rosa Parks said that the first time she met a white person who treated her with respect was at the Highlander School in Tennessee where she attended a workshop on labor rights and met the Rev. Martin Luther King, Jr. and communist balladeer Pete Seeger. [3]
Local 1199
In New York City in 1959, King joined A. Philip Randolph and Malcolm X in supporting the white, black and Puerto Rican hospital workers of NewYork's newly organized Local 1199. Over 3,000 hospital workers—laundry workers, cafeteria workers, janitors and orderlies—struck seven New York private hospitals. At the bottom of the new service economy they were legally barred from collective bargaining; excluded from minimum wage protections and unemployment compensation; and denied the medical insurance that might give them access to the hospitals where they worked. Harlem's black community rallied to their defense. King cheered a struggle that transcended "a fight for union rights" and had become a multiracial "fight for human rights."[4]
Jack O'Dell
Jack O'Dell had a long record as a prominent and active member of the Communist Party USA . During the 1950s, he was the head organizer for the Communist Party USA in the South. In the 1960s he became an advisor to Martin Luther King. He was simultaneously serving on the National Committee of the CPUSA under the pseudonym of "Cornelius James."
King's relations with O'Dell and other communists were major factors in causing President John Kennedy and his brother, Robert, the Attorney General, to approve an investigation of King by the FBI. Jack and Bobby Kennedy warned King about O'Dell and other communist associates. King then claimed to have fired O'Dell but O'Dell later turned up as head of King's organization in New York City. After King's assassination, O'Dell began to work for Jesse Jackson under the name Jack O'Dell.[5]
SCLC reception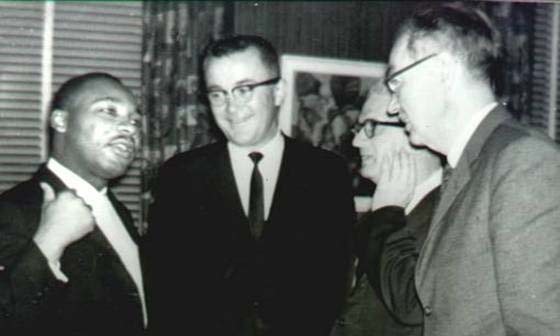 The Southern Christian Leadership Conference hosted a reception honoring Communist Party USA members Frank Wilkinson and Carl Braden, April 30, 1961, the day before they went to jail for defying the House committee on Un-American Activities. Dr. Martin Luther King, Jr. and Dr. James Dombrowski were present.[6]
SCLC assistant
Harry Boyte, a white North Carolinian joined SCLC in October of 1963 as an assistant to Martin Luther King, Jr.. Boyte was later identified as a Marxist. [7]
Clergy and Laity Concerned
Martin Luther King, Jr. was named as a founder of the Clergy and Laity Concerned.[8]
The March on Washington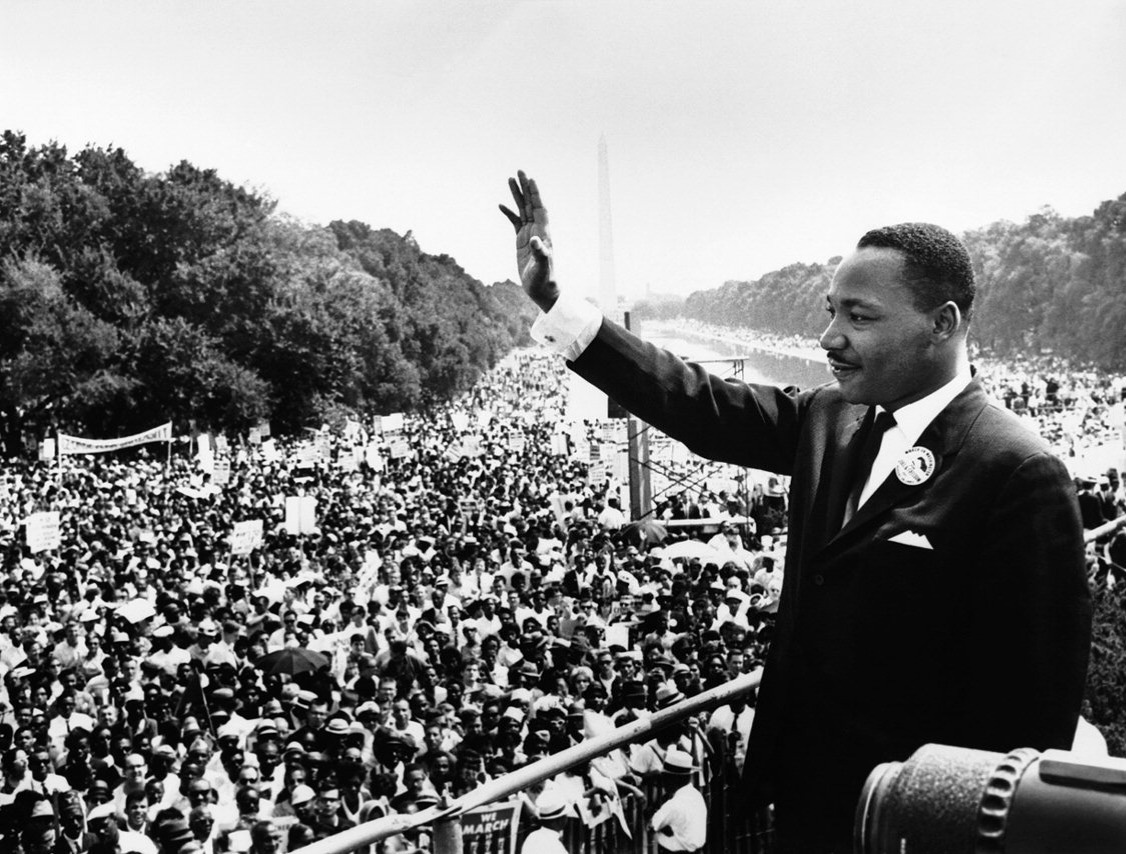 Martin Luther King Jr. made his famous "I have a dream" speech at the March on Washington for Jobs and Freedom which took place on August 28, 1963. It culminated in a gathering at the Lincoln Memorial in Washington D.C.
Socialist Party influence
According to Boston Democratic Socialists of America publication Yankee Radical, September/October 2010 page 3, the Socialist Party USA played a major role in organizing Martin Luther King's famous 1963 March On Washington for Jobs and Freedom. According to Boston DSA several Socialist Party members played key roles in organizing the march, including A. Philip Randolph, Bayard Rustin, Tom Kahn, Rachelle Horowitz and Norm Hill. King himself was in the Socialist Party in Boston during his student days in the early 1950s, according then Socialist Party member, now DSAer Bogdan Denitch.[9]
If anything, one aspect of the 1963 rally, deliberately down-played at the time for fear of red-baiting, was the influence of members of the Socialist Party, DSA's major predecessor organization, in both organizing the event and its politics. This began with A. Philip Randolph, who issued the call for the March and MC'd it, his longtime lieutenant Bayard Rustin, and his key assistants who ran the March organizing office in NY—Tom Kahn, Rachelle Horowitz, Norm Hill and others, SPers all. (According to Honorary DSA Chair Bogdan Denitch, who was in a position to know, Matin Luther King himself was briefly in the Socialist Party in the early 1950s while attending Boston University.)
Keeping it covert
In 2000, Democratic Socialists of America member and former Young People's Socialist League activist Bogdan Denitch wrote "If I have one fault with Maurice's (Maurice Isserman's biography of Michael Harrington)excellent book, it is the underestimation–which we may have helped ourselves–of the socialist role around Martin Luther King and the civil rights movement, and in some unions. Because our publicly acknowledged socialist presence would have been the kiss of political death, the basis on which many civil rights activists were often red-baited, our very credible activism as hard-working, key behind the scenes players (with Bayard,) who got things done—is not well known. Mike was the closest we had to a 'respectable' public face with oratorical skills, so he got a piece of the credit, but the honorable activity of socialists did a great deal of good, should make DSAers proud of their historical roots, and might well be emulated today." [10]
Help from Walter Reuther
According to an article published for the occasion by the UAW, Irving Bluestone, Walter Reuther's top aide during the early 1960s, and later a UAW vice president, said, "The UAW did everything possible to support King and the civil rights movement. When King began planning the Walk to Freedom march, he wanted as many unionists as possible marching with him."
"To help him, Reuther gave King the use of an office in Solidarity house, UAW headquarters," Bluestone said. "King used it while he was planning the march in Detroit and the March on Washington that took place the next month."
Detroit's 1963 march was enormous, with 200,000 people led by King and Reuther marching down Woodward Avenue. It ended at Cobo Hall in downtown Detroit with King delivering a rousing speech. One person who was at the original march said that it was tremendous to see so many Detroiters making a stand for civil rights. "We waited for hours to get in the march," she said. "By the time we got down to Cobo Hall, we couldn't get in, there were so many people." [11]
Negro American Labor Council
The Negro American Labor Council grew out of the efforts of labor leader A. Philip Randolph, who was discontented with the apathy of the American Federation of Labor and the Congress of Industrial Organizations (AFL-CIO) on civil rights issues. In 1959, Randolph proposed the idea of a black labor organization at the NAACP convention.
In May 1960, Randolph was elected president of the new organization and Cleveland Robinson became vice president. On May 23, 1961, Randolph telegraphed Dr. Martin Luther King about NALC's strong support for the Freedom Rides. In a March 1963 telegram, Randolph and NALC petitioned King to endorse their best known effort, the March on Washington for Jobs and Freedom. After Robinson became president in 1966, NALC officially joined the Southern Christian Leadership Conference.[12]
March on Washington - key four
According to Democratic Left, Winter 2012, page 10, four democratic socialists organized the 1963 March on Washington – A. Philip Randolph, Bayard Rustin, Martin Luther King, Jr., and UAW president Walter Reuther.[13]
Nat'l C'ttee to Abolish the House Un-American Activities C'ttee
As of May 1964, Martin Luther King, Jr. President, Southern Christian Leadership Conference, was listed as a sponsor of the Communist Party USA front, National Committee to Abolish the House Un-American Activities Committee.
Chicago Freedom Movement
In 1966 Father William Hogan, a Communist Party USA supporter, served as recording secretary of the Coordinating Council of Community Organizations, the group that, together with Martin Luther King, Jr.'s Southern Christian Leadership Conference, formed the Chicago Freedom Movement, which led the massive civil disobedience direct action campaign of the summer of 1966 in Chicago.
Hogan said that while King was "first among equals," the composition of the CFM staff was exceptional and reflected the scope of the movement: James Bevel, C. T. Vivian, Al Sampson, James Orange, Jesse Jackson and Andrew Young, who went on to become mayor of Atlanta and later U.S. ambassador to the United Nations.
According to Hogan..."All were veterans of major battles in the South," he said, adding that key players from Chicago included Edwin Berry of the Urban League, Bob Lucas of CORE and Carl Fuqua of the NAACP.
"In addition to traditional civil rights organizations, CFM included representatives from the religious and liberal communities. Some of the unions affiliated with AFL-CIO Industrial Union Department provided staff assistance.[14]
Freedomways connection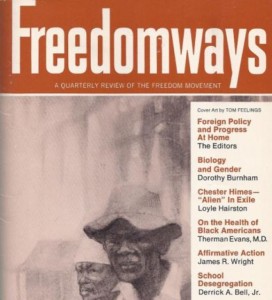 The Communist Party USA created Freedomways magazine as a propaganda vehicle with which to reach into the black intellectual and academic community. It was established in the mid-1960's by members of the CPUSA and well-documented sympathizers/supporters. It billed itself as "A Quarterly Review of the Freedom Movement."
Newly declassified documents from Operation SOLO, an FBI program to infiltrate the Communist Party USA, reveal that a journal called Freedomways, which was influential in the black community for decades, was subsidized by the Soviet and Chinese Communist Parties.
Freedomways has been called "one of the most influential African-American literary and political journals of the 1960s and 1970s." It began in 1961 and ceased publication in 1986.
During the 25 years it served as a propaganda organ for the CPUSA and Soviet front organizations such as the World Peace Council, Freedomways published articles by such figures as:
On W.E.B. DuBois joining the Communist Party
Martin Luther King admired W.E.B. DuBois for his decision to join the Communist Party USA;
We cannot talk of Dr. Du Bois without recognizing that he was a radical all of his life. Some people would like to ignore the fact that he was a Communist in his later years.
It is time to cease muting the fact that Dr. Du Bois was a genius and chose to be a Communist. Our irrational, obsessive anti-communism has led us into too many quagmires to be retained as if it were a mode of scientific thinking.'
Martin Luther King Jr address at Freedomways celebration of Du Bois centennial, 1968.[16]
Addie Wyatt connection
According to the United states department of labor, Chicago activist Rev. Addie Wyatt worked closely with Dr. Martin Luther King, Jr. to support the Montgomery Bus Boycott and later counseled a young community organizer named Barack Obama as he came up the ranks in Chicago. [17]
Relationship to Joe Walker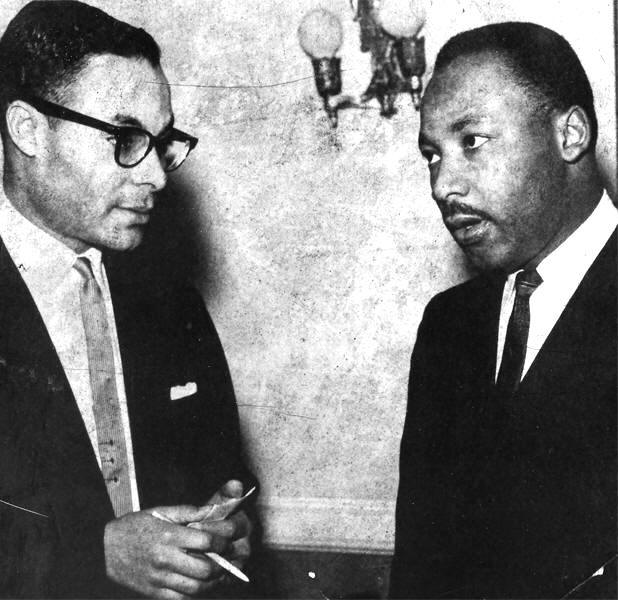 During his life, long time Communist Party USA associate Joe Walker enjoyed professional and personal relationships with a number of dignitaries, civil rights activists, and freedom fighters to include Martin Luther King, Jr., Muhammad Ali, Malcolm X, Angela Davis, Adam Clayton Powell, Jr. James Baldwin, Hulan Jack and David Dinkins, the former Mayor of New York City[18].
Mentors
Rev. James Lawson was mentor to Martin Luther King, Jr..[19]
References