Marshall Ganz
From KeyWiki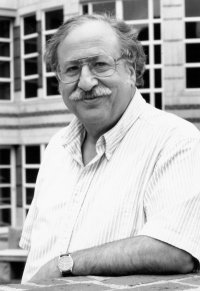 Marshall Ganz is a senior lecturer in public policy, at Harvard University.
Background
Marshall Ganz grew up in Bakersfield, California, where his father was a Rabbi and his mother, a teacher. He entered Harvard College in the fall of 1960. He left a year before graduating to volunteer with the 1964 Mississippi Summer Project. He found a "calling" as an organizer for the Student Nonviolent Coordinating Committee, and, in the fall of 1965, joined Cesar Chavez in his effort to unionize California farm workers.
During 16 years with the United Farm Workers Ganz gained experience in union, political, and community organizing, became Director of Organizing, and was elected to the national executive board on which he served for 8 years. During the 1980s, he worked with grassroots groups to develop new organizing programs and designed innovative voter mobilization strategies for local, state, and national electoral campaigns.[1]
Fred Ross influence
Fred Ross conceived the voter outreach strategy that not only elected Ed Roybal as Los Angeles' first Latino Councilmember in 1949, but also laid the groundwork for the Obama campaign's Latino voter outreach campaign in 2008. Ross trained UFW organizers Marshall Ganz, Miguel Contreras and Eliseo Medina in voter outreach strategies to reach "occasional" voting Latinos, and these three took what they learned to California politics. Ganz and Medina then brought this voter outreach model to the Obama campaign.[2]
UFW leaders 1973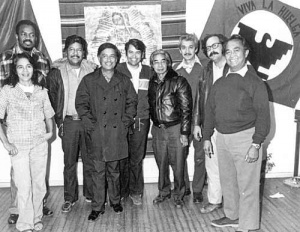 The United Farm Workers Executive Board in 1973 included veteran farmworker organizers and activists:(l-r) Dolores Huerta, Mack Lyons, Richard Chavez, Cesar Chavez, Eliseo Medina, Philip Veracruz, Gilbert Padilla, Marshall Ganz and Pete Velasco.
Political consultant
After leaving the UFWA in 1981, Ganz began working on California political campaigns -- directing field programs, training organizers, and leading strategic planning for such candidates as Nancy Pelosi for Congress, Alan Cranston for Senate, Tom Bradley for governor, and governor Jerry Brown. He also worked on campaigns of such unions as the Hotel Employees and Restaurant Employees Union (HERE), Service Employees International Union , and the Screen Actors Guild. In 1987 he formed and served as executive director of two groups to develop organizing programs, Services for Organizing and Leadership, and The Organizing Institute. He led voter registration, get-out-the-vote, and organizer training, and conducted research on voting, leadership development, and community organizing.[3]
Further education and writing
In 1991, in order to deepen his intellectual understanding of his work, he returned to Harvard College and, after a 28-year "leave of absence," completed his undergraduate degree in history and government. He was awarded an MPA by the Kennedy School in 1993 and completed his PhD in sociology in 2000. As senior lecturer in public policy at the Kennedy School of Government, he teaches, researches, and writes on leadership, organization, and strategy in social movements, civic associations, and politics. He has published in the American Journal of Sociology, American Political Science Review, American Prospect, Washington Post, Los Angeles Times and elsewhere.
His newest book, Why David Sometimes Wins: leadership, organization and strategy in the California farm worker movement was published in 2009, earning the Michael J. Harrington Book Award of the American Political Science Association. He was awarded an honorary doctorate in divinity by the Episcopal Divinity School in 2010.[4]
Collaborating with radicals
Since completing his doctorate in 2000, Ganz has been a lecturer in public policy, teaching courses on organizing, leadership, civic engagement, and community action research. He has collaborated with Harvard professors Theda Skocpol on African-American fraternal organizations and with Lani Guinier for a course on law and social movements. [5]
DSA meeting
On March 17, circa 1990 Los Angeles Democratic Socialists of America and the Socialist Community School organized a meeting at the os Angeles Workmen's Circle with Marshall Ganz, Director of the Organizing Institute.
Ganz was described as in an advertising leaflet as;
Come and engage in a lively discussion about the future of the democratic party and the strategy for progressive activists working within the Party.
Toxics leadership conference
On March 18, 2006, The Toxics Action Center and the New England Grassroots Environmental Fund co-sponsored their 20th annual leadership conference , at Wentworth Institute of Technology in Boston.[6]
Speakers:
Organizing for Obama
Barack Obama enlisted Marshall Ganz, a Harvard professor who is one of the country's leading organizing theorists and practitioners, to help train organizers and volunteers as a key component of his first presidential campaign. Ganz was instrumental in shaping the volunteer training experience.
Many Obama campaign volunteers went through several days of intense training sessions called "Camp Obama." The sessions were led by Ganz and other experienced organizers, including Mike Kruglik, one of Obama's organizing mentors in Chicago. Potential field organizers were given an overview of the history of grassroots organizing techniques and the key lessons of campaigns that have succeeded and failed.
"Organizing combines the language of the heart as well as the head," Ganz says, reflecting on his experiences as an organizer with SNCC in the civil rights movement and as a key architect of the United Farmworkers' early successes. Not surprisingly, compared with other political operations, Obama's campaign has embodied many of the characteristics of a social movement—a redemptive calling for a better society, coupling individual and social transformation. This is due not only to Obama's rhetorical style but also to his campaign's enlistment of hundreds of seasoned organizers from unions, community groups, churches, peace, and environmental groups. They, in turn, have mobilized thousands of volunteers—many of them neophytes in electoral politics—into tightly knit, highly motivated and efficient teams. This summer, the campaign created an "Obama Organizing Fellows" program to recruit college students to become campaign staffers.
This organizing effort has mobilized many first-time voters, including an unprecedented number of young people and African Americans during the primary season. Now that Obama is the presumed Democratic nominee, he faces pressure to resort to more traditional electoral strategies, but so far Obama and top campaign officials have continued to emphasize grassroots organizing. It is evident in Obama's speeches, his continued use of the UFW slogan, "Yes, we can/Si se puede," his emphasis on "hope" and "change," and the growing number of experienced organizers drawn into the campaign.[7]
Marshall Ganz speaks to NDP Convention
Members of Canada's New Democratic Party were treated to the secrets of winning on the ground when Marshall Ganz, designer of President Obama's grassroots campaign, spoke to the national convention August 15, 2009.
The people who need the change have to be authors of that change, and that happens because there is skilled leadership to make that happen," said Ganz. "In the Obama campaign the right candidate in the right setting gave us the opportunity to reintroduce the whole country to targeted campaigning; recognizing people as citizens working together, to build their future together."
Barack Obama won the White House with a stunningly successful ground campaign. Ganz described how the Obama team turned organisers into leaders, with the skills, strategies and data needed to win. Organisers learned to connect their own story to the campaign and build a grassroots movement for change.
"Progressives in the United States are very familiar with the politics of disappointment," said Ganz. "The politics of hope is a lot more challenging. In the politics of hope you have to take the chance to seize the opportunities. We're in a fast moment right now and so what we do really matters. The combination of a hopeful heart and a critical eye is what spurs change."[8]
References