Mark Rudd
From KeyWiki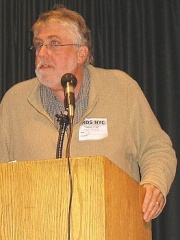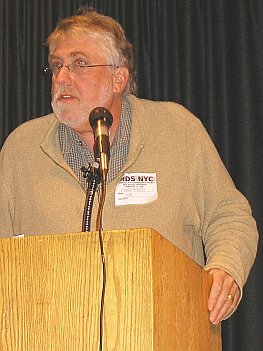 Mark William Rudd (born June 2, 1947 in Irvington, New Jersey) is a New Mexico schoolteacher and a former leader of the terrorist Weather Underground Organization. Rudd, who led the riots at New York's Columbia University during early 1968, was acknowledged as one of the leaders of the Weather Underground Organization when the group submerged into the underground in early 1970. He was arrested during the WUO "Days of Rage" riots in October, 1969.[1]
Rudd also went under the false names of Mark William Rudnitsky, Frank Henry Koch and Anthony Goodman.
From Mark Rudd's website;
As he traveled the country, from the fall of 1968 to the summer of 1969, Mark met many other activists in SDS who were thinking along the same lines as he, that SDS could move from anti-war resistance to full-scale socialist revolution...
White students would reject their "white skin privilege" and actually begin armed struggle against the U.S. government; this, in turn, would attract broad youth support as the struggle increased, following the Cuban model. This theory became fully articulated in a paper presented to the SDS National Convention in Chicago in June, 1969, authored by a collective of eleven, of which Mark was a member. Its title was "You Don't Need a Weatherman to Know Which Way the Wind Blows," from which Mark's faction of SDS became known as "The Weathermen."
That convention was SDS' last. Following a titanic ideological battle concerning "the correct revolutionary direction," a split occurred between the Weathermen and allies grouped around the National Office and a competing faction of Maoist Progressive Labor Party members and their allies. When it ended, Mark Rudd the newly elected National Secretary of Students for a Democratic Society, along with comrades Bill Ayers as Educational Secretary, and Jeff Jones as Inter-organizational Secretary. The Weathermen were in control of the National Office backed by a small number of chapters around the country.
Trip to Cuba
Rudd visited Cuba for four weeks in early 1968.
From Mark Rudd's website;
A few national SDS leaders had met with Vietnamese and Cubans to find out about their resistance to U.S. imperialism. Out of these meetings came an invitation for SDS to send a group of students to Cuba in January, 1968. Because of his active work with the chapter, Mark was invited by the National Office to join the trip, which was openly defying the U.S. government's ban on travel to Cuba. He accepted, working out a month-long absence with his professors...
Mark met young Cubans in positions of responsibility such as running schools and farms and medical institutions who were fired up with revolutionary enthusiasm: they were remaking society along non-capitalist lines, creating socialism! Meeting with Vietnamese delegates in Cuba, he learned about the nature of the resistance to American aggression, that these people believed they would inevitably drive the Americans from their country, no matter how long it took. As if to prove their point, the Tet Offensive was raging at the time in Vietnam, giving the lie to the American military's claims that they were winning the war. His group was told by a Vietnamese diplomat in Havana, "The American people will eventually tire of the war and the troops will have to be withdrawn."
According to the FBI Mark Rudd's trip to Cuba also involved terrorist training in camps set up by Soviet KGB Colonel Vadim Kotchergine.
Model for U.S. Revolution
In an interview with Francisco Portela of Prensa Latina, the Cuban news agency in New York City, on June 11, 1968, Rudd stated,
"The struggle of the people of the Third World is very closely linked to the point of view of the Cuban people about that struggle. In fact, we consider that the Cuban criterion on the struggle in America is perhaps the correct way in which the revolution will take place... As is known, we have taken from Che his slogan: Create two, three, many Vietnams. Thus we have as our slogan: Create two, three, many Columbias..."[1]
The International Assembly of Revolutionary Student Movements, co-sponsored by Students for a Democratic Society and the Strike Coordinating Committee at Columbia University, was held in New York City, September 18-24, 1968. The assembly was called to explore the ways and means of creating revolutions in the highly industrialized countries of the world and brought together many top people of the youth revolutionary movements in France, Germany, England, Italy, Sweden, Mexico and Canada. In attendance were some top figures in the American revolutionary movement, including Mark Rudd, chairman of SDS at Columbia University.[1]
What follows is experts from an an interview with WAAC Radio on Sept. 30, 1969, at Terre Haute, Indiana:[1]
Interviewer: "...You said a moment ago that the primary purpose of the SDS is to inform?"
Rudd: "No, it's to fight."
Interviewer: "You mean literally fight?"
Rudd: "The purpose..."
Interviewer: "To overthrow our government as you stated before, right?"
Rudd: "No, that's the goal. Absolutely. But I said the purpose was to win America to this..."
later on in the interview;
Interviewer: "Are you saying to me then that life in Cuba and life in Russia and life in North Vietnam or any other communist country is better than life in the U.S.?"
Rudd: "Well, first of all, I think that it is true that life in Cuba for the Cuban people is a lot better off than in a lot of ways than life in the U.S., even though they have tremendous economic problems for a tiny country. Russia I am not going to defend, because I don't think Russia is a communist country."
later on in the interview,
Rudd: "I am part of a faction that is somewhat Maoist,... We believe that third world revolution is happening, that the black struggle is happening, it is starting now... Are you going to fight. Are you going to be on the side of the people who are oppressed against the oppressors. Are you going to be for building a much, a much better society, and to say that this is a racist is a terrible distortion, an absolute distortion. There is one other thing I want to talk about. That is we are holding demonstrations and actions in Chicago next week. It is going to be around the trial of eight people who were charged with federal crime of incitement to riot for last year's Chicago Democratic Convention actions. Our demands are U.S. out of Vietnam, one demand. Another demand is police, occupation troops out of black communities. And U.S. troops out of everywhere in the world, 65 countries where they are occupying bases and where they are actually maintaining the American rule. Those are our demands, or major demands."
Columbia rioting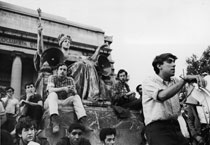 Weathermen Flint "War Council"
December 27-31, 1969, about 400 of the national membership of the Weatherman faction of Students for a Democratic Society held a "War Council" at a ballroom dancehall in Flint, Michigan. Posters of a giant cardboard machinegun, Ho Chi Minh, Che Guevera, and Fidel Castro hung everywhere.
Among the attendees of the "War Council in Flint" identified by the Flint police department and/or its informant were: Michael Avey, Karen Ashley, Bill Ayers, Edward Benedict, Margaret Bennett, Douglas Bernhardt, Jeff Blum, Harvey Blume, David Chase, Peter Clapp, Judy Clark, Bernardine Dohrn, Diane Donghi, Linda Evans, Brian Flannigan, David Flatley, John Fuerst, Lynn Ray Garvin, Bert Garskof, Michele Garskoff, Mark Glasser, Theodore Gold, Lenny Handlesman, Ann Hathaway, Karen Hardiman, Daniel Hardy, Tom Hayden, Phoebe Hirsch, Arthur Hochberg, Anne Hodges, John J. J. Jacobs, Jeff Jones, Sam Karp, David Klafter, Dianne Kohn, Peter Kuttner, Bradford Lang, Stephen Lang, Karen Latimer, Jonathan Lerner, Naomi Lev, Bradford Long, Allan Maki, Eric Mann, Howard Machtinger, Carol McDermott, L.R. Meadows, Lisa Meisel, Jeff Melish, James Mellen, David Millstone, Russell Neufeld, Diana Oughton, John Pilkington, Edward Purtz, Jonah Raskin, Natalie Rosenstein, Dennis Roskamp, Mark Rudd, Karen Selin, Mark Shapiro, Janet Snider, Mike Spiegel, Jane Spiegelman, Marsha Steinberg, David Sole, Susan Stern, Clayton Van Lydegraf, Cathy Wilkerson and Mary Wozniak[2].
Jeff Jones drove to the meeting in a blue Volvo with Maryland plates (owned by Jeffrey David Blum) with Mark Rudd, Howard Machtinger and John Jacobs aboard.[3]
According to a federal indictment, a smaller group, Bill Ayers, Bernardine Dohrn, Linda Evans, Erik Mann, Howard Machtinger, Diana Oughton and Mark Rudd, met secretly in Flint on December 30, 1969 at the Parish House of Sacred Heart Convent to set up a central committee. It was modeled after Lenin's democratic centralism. The Weather central committte was to direct underground bombings nationwide from New York, Chicago, Detroit and Berkeley aimed at police, military, university and commercial targets. There was also talk of assassinations. The Liberation News Service reported, "Part of armed struggle, as Dohrn and others laid it down, is terrorism. Political assassination… and… violence…were put forward as legitimate forms of armed struggle.[4]."
Eric Mann, part of the secret group meeting at the Parish House of Sacred Heart Convent soon became an SDS defector and a Flint Police informant. He reported a man dressed as a priest distributing 200 sticks of dynamite in the parking lot to drivers of cars with license plates from New York, Washington, Colorado, Wisconsin, Illinois, Ohio and Pennsylvania, include Theodore Gold, New York[5].
Weather Underground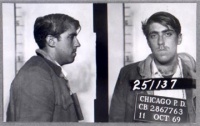 "Pine Street" bomb factory
Movement for a Democratic Society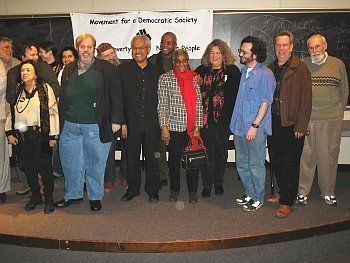 Original members of the 2006 Movement for a Democratic Society board included[6];
Elliott Adams, Senia Barragan (Student Representative), David Barsamian, Noam Chomsky, Carl Davidson, Bernardine Dohrn, Bill Fletcher Jr, Bert Garskof, David Graeber, Tom Hayden, Gerald Horne, Mike James, Robin D G Kelley, Mike Klonsky, Ethelbert Miller, Charlene Mitchell, Michael Rossman, Mark Rudd, Howard Zinn.
In November 8-11 2007, Movement for a Democratic Society held a "Convergence" in Chicago[7];
Speakers included Manning Marable, Mark Rudd, Marilyn Katz, Mike James, Paul Buhle, Al Haber, Franklin Rosemont, Thomas Good and Muhammad Ahmad-formerly Max Stanford;
Carl Davidson, Mike Klonsky and Bill Ayers were also present.
On February 17, 2007, the Movement for a Democratic Society held a well attended conferenceat New York City's New School University[8].
The event was held in the Graduate Center, 65 Fifth Avenue, and about 100 participants were in attendance. The meeting featured several speakers who are well known figures on the U.S. Left and an agenda that centered around electing a board of directors for MDS, Incorporated – the non-profit arm of MDS that was founded last August in Chicago, at the national Students for a Democratic Society convention.
Manning Marable was elected as Chair of the new Board.
The new board, elected by acclamation, included: Mark Rudd, David Graeber, Judith Malina, Jesse Zearle, Kate Khatib, Roderick Long, Al Haber, Manning Marable, Muhammed Ahmad, Charlene Mitchell, Starhawk, John O'Brien, Barbara Ehrenreich, Gideon Oliver, Jeff Jones and Bert Garskof.
Elected as officers, in addition to Marable as Chair, were three Vice Chairs: Paul Buhle, Judith Malina and Jesse Zearle[9].
Statement of Solidarity with Pace SDS
Five Students for a Democratic Society New York members were arrested at Pace University, New York, on Wednesday, November 15, 2006, during a "free expression" protest.
Movement for a Democratic Society issued a support statement;
We the undersigned officers and members of Movement for a Democratic Society (MDS), denounce the actions of Pace University in regards to the planned arrest of several SDS first amendment activists on November 15, 2006 at the downtown campus. The targeting of these activists for their efforts to organize an SDS chapter at Pace is reprehensible. President David A. Caputo and the Pace administration have violated the civil rights of the student population and we join with SDS Pace in calling for David Caputo to step down now.
Endorsers of the statement included Mark Rudd of Movement for a Democratic Society New Mexico.[10]
Free Mumia Abu-Jamal
In 2008 Mark Rudd, Albuquerque, NM signed a statement circulated by the Partisan Defense Committee calling for the release of convicted "cop-killer" Mumia Abu-Jamal.[11]
Progressives for Obama
In 2009 Mark Rudd was listed as a signer of the Progressives for Obama website.[12]
The Rag Blog
In 2010 Mark Rudd was listed as a contributor to the Movement for a Democratic Society linked, Austin Texas based, The Rag Blog website.[13]
"Rethinking the New Left"
The Platypus Affiliated Society "got its start down around the University of Chicago some years back. Since then, it's expanded to a small, North American group, still slightly wacky but often interesting". On November 9, 2010, Platypus hosted the public forum, "Rethinking the New Left," moderated by Spencer A. Leonard. The panel consisted of Osha Neumann, a former member of the New York anarchist group in the 1960s, Up Against the Wall Motherfuckers; Mark Rudd, former member and national secretary of Students for a Democratic Society, and later a member of the Weather Underground; Tim Wohlforth, founder and national secretary of the Young Socialist Alliance in 1959; and Alan Spector, a full-time organizer for SDS for more than five years in the 1960s.
According to Chicago Democratic Socialists of America's New Ground, No 133 Nov./Dec. 2010, "Wohlforth is a DSA member these days, and Mark Rudd ought to be if he isn't."
References