Marilyn Albert
From KeyWiki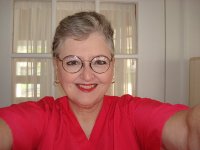 Marilyn Albert is a New York activist.
9to5
In 1973 Karen Nussbaum and some around 9 friends including Ellen Cassedy, Marilyn Albert and Penny Kurland, founded 9to5, an organization for women clerical workers, initially in Boston.
We put out the newsletter 9to5. Again, for about a year, and it was during this time that we were talking with each other, but it was a very popularly based newsletter. And in fact, the very first issue, the headline in the first article in the first issue is "Every Day" and then it goes into kind of what do we confront every day on the job and then we started getting letters in from women who felt the same way we did.[1]
CoC National Conference endorser
In 1992 Marilyn Albert, New York Nurses Association, endorsed the Committees of Correspondence national conference Conference on Perspectives for Democracy and Socialism in the 90s held at Berkeley California July 17-19.[2]
Conference on Perspectives for Democracy and Socialism in the 90s
The Conference on Perspectives for Democracy and Socialism in the 90s was the Committees of Correspondence's first national conference held in Berkeley, California July 17-19, 1992.[3]
Workshops that were held at the conference on Saturday, July 18 included:[4]
Health The challenge to our health. What next in the struggle for national health care? The fight against aids and infant mortality and for a rational system of preventative medicine for all
Marilyn Albert, R.N., New York State Nurses Association
David Cohen, Intl. Rep., UE, Springfield, MA
Mildred Williamson, AIDS health worker, Chicago
Dr. Peter Orris, Governing Council, American Public Health Association, Chicago
Committees of Correspondence 2002 Conference
At the Committees of Correspondence National Conference and Convention, July 25-28, 2002 San Francisco State University.
Disarmament and the Military Budget. Panelists included: Kenneth Riley, David Bacon,, Marilyn Albert, Renee Saucedo, Angela Sambrano, Cathi Tactaquin, Marty Price, Patrice Sewell, Joan Cohen, Claire Carsman, James Campbell, Peter Orris, Thelma Correll, Edith Pollach, Amaha Kassa, Harry Targ, Steve Williams, Karen Talbot, Mort Frank, David Cohen.[5]
CCDS meeting
A Midwest Regional Meeting, of the Committees of Correspondence For Democracy and Socialism, was convened at Wesley Foundation, Indiana, November 13 2004.
Agenda:Reports and Discussion on CCDS activities and our role in 2004 election
New forms of struggle and organization were created in the movement to defeat Bush--how can we sustain them?
What are the most urgent foreign policy questions to be addressed now?
What are the strategic roles of the labor movement, youth movements, and racially and nationally oppressed communities?
What is effective organizing and what is not?
Speakers included:
Norm Childress,Indiana labor leader Mildred Williamson, Illinois Health Care Professional Ira Grupper, Kentucky Middle East Solidarity activist Carl Davidson, Illinois Peace and Justice Voter 2004 Marilyn Albert, Socialist Education Project (CCDS) Attieno Davis, CCDS National Office.[6]
Committees of Correspondence NCC
In 2006 members of the Committees of Correspondence for Democracy and Socialism National Coordinating Committee were[7];
Marilyn Albert, Mael Apollon, Carl Bloice, Barbara Blong, Barry Cohen, David Cohen, Otis Cunningham, Carl Davidson, Mort Frank, Todd Freeberg, Pat Fry, Marian Gordon, Ira Grupper, June Hemmingson, Ed Hemmingson, Fred Hicks, Duncan McFarland, Anne Mitchell, Maxine Orris, Ted Pearson, Gina Pesulima-Palencar, Edith Pollach, Marty Price, Merle Ratner, Jay Schaffner, Jae Scharlin, Mike Stein, Harry Targ, Walter Teague, Meta Van Sickle, Steve Willett and Mildred Williamson.
July 25 2009 Marilyn Albert, Ohio-was a candidate[8]for the Committees of Correspondence National Co-ordinating Committee at CCDS national conference in San Francisco-elected.
Center for Labor Renewal
In 2009 Marilyn Albert was listed as an endorser of the Center for Labor Renewal [9].
References