Maria Svart
From KeyWiki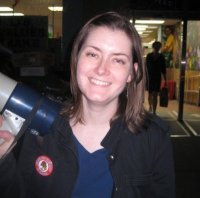 Maria L. Svart was appointed by the National Political Committee of Democratic Socialists of America to be DSA's next National Director in June 2011. She succeeded Frank Llewellyn who announced earlier that year that he was stepping down after ten years. Maria Svart was scheduled to start on July 5, 2011. Llewellyn would stay on for a brief period to assist in the transition.
Maria Svart had been a member of DSA since 2004. She first joined as a member of the University of Chicago Young Democratic Socialists chapter and quickly became active at the national level, serving as the feminist issues coordinator on the YDS Coordinating Committee and then co-chair for several terms. Her campus activism, through YDS and other student organizations, focused on feminist, environmental, immigrant rights, anti-war and labor solidarity work.
"I grew up in a family that in one generation went from working class to middle class, and our combined experiences inform my political analysis." Maria said. "My grandparents and parents achieved upward mobility by using the kind of government programs that DSA fights to protect and expand -- like the GI Bill and other federal student loans. My immediate and extended family members are in unions (Mineworkers, Firefighters, Postal Workers, Teachers and other public employees) - in fact my grandmother went out on strike for over a year during the Great Depression. My mother is a first generation U.S. citizen with parents who walked across the border from Mexico during the revolution. And, my first protest was in a stroller at an anti-nuke rally in the 1980s, so I understand the importance of grassroots pressure!"
After college, Svart became a campus organizer with the Massachusetts Public Interest Research Group (MASSPIRG), while simultaneously helping successive YDS organizers and leaders begin to bridge the generational gap between YDS and DSA. After MASSPIRG, Maria worked seven years for the labor movement, with the Service Employees International Union and the Committee of Interns and Residents/SEIU Healthcare. At CIR, she organized resident physicians to speak out in support of Medicaid and funding for safety-net hospitals.
In recent years she served as chair of the New York City DSA local and was elected to the National Political Committee at the 2009 DSA convention. On the NPC, Maria has chaired the Program Committee, which has provided materials and guidance that have helped DSA locals and YDS chapters participate in the fight against state and federal budget cuts and to defend the rights of public employees. Throughout involvement in DSA, Maria has stressed the importance of understanding how patriarchy, racism, and other structures of oppression intersect with capitalism; the need to train more activists in the skills necessary to intervene effectively in politics; and the "crucial role of both public and internal socialist education in the building of our movement".[1]
SEIU
Maria Svart was, in 2006,[2] a Service Employees International Union organizer and co-chair of the Young Democratic Socialists-youth wing of Democratic Socialists of America.
Atlanta DSA convention
Young Democratic Socialists members Maria Svart, Nicole Iaquinto, Flavio Hickel, Jr., Chris Hicks and Alyssa Cundari (University of Miami) attended the Democratic Socialists of America National Convention in Atlanta, Georgia in November 2007;[3]
DSA contact
In 2009 Maria Svart was New York City contact for Democratic Socialists of America[4].
NYC DSA steering committee
In 2009 New York City Democratic Socialists of America elected a new steering committee, with Maria Svart as chair, Chris Maisano as secretary, Kenny Schaeffer as treasurer, David Yap as membership coordinator, and Jason Schulman as at large member.[5]
DSA NPC member
At the Democratic Socialists of America 2009 National Convention Evanston, Illinois November 13-15, 2009, a new National Political Committee was elected;[6]
"Ithaca Democratic Socialists of America Presents #485"
"Tax, Then Spend in New York State" Ithaca Democratic Socialists of America member Charles Dunaway draws on information presented in 2010 by James Parrott of the Fiscal Policy Institute, DSAers Michael Hirsch, Maria Svart and Assemblywoman Barbara Lifton to show that New York State could easily afford to pay for what it needs, if only people would demand a return to earlier income tax rates on top incomes or a return to the stock sales tax that the state once had. Recorded Feb. 16, 2010, March 20, 2010, and February 7, 2011.[7]
Equality and Jobs for the 99%:Economic Justice for All
A public event sponsored by Democratic Socialists of America, "Equality and Jobs for the 99%:Economic Justice for All", was held November 11, 2011; 7:00 p.m. at St. Stephen and Incarnation Church, 1525 Newton NW, Washington, D.C.
Speakers were;
DSA, the principal U.S. affiliate of the Socialist International, is the largest socialist political organization in the country, with more than 6,000 members and active locals in more 40 U.S. cities and college campuses. DSA Locals in New York, Boston, Philadelphia, Chicago, and Wichita, among others, have taken an active role in the Occupy Wall Street, Occupy Freedom Plaza, and other Occupy protests in support of jobs and economic justice.
This meeting was organized in conjunction with the 15th National Convention of Democratic Socialists of America, which is being held at the Sheraton Premiere at Tysons Corner November 11-13, 2011.[8]
2011 11th Annual Douglass-Debs Dinner
Over 200 people attended the 12th annual Frederick Douglass-Eugene V. Debs Dinner on October 1st at UAW Local 600 in Dearborn. The dinner honored Reverend Ed Rowe, senior pastor at Central United Methodist Church, and the Restaurant Opportunities Center of Michigan (ROC-Michigan). Reverend Rowe was honored for his lifetime commitment to social justice, civil rights, and workers' rights. The event honored ROC-Michigan for its recent successful campaign to improve wages and working conditions at Andiamo Restaurant. Congressman Hansen Clarke presented congressional citations to both awardees.
The dinner co-chairs were Metropolitan Detroit AFL-CIO President Saundra Williams and UAW Vice-President James Settles, Jr. The Bill Meyer Group provided entertainment and led the audience in singing "Solidarity Forever" and "The Internationale." Keynote speaker was William Greider, national affairs correspondent at The Nation.
DSA National Director Maria Svart also addressed the Douglass-Debs Dinner.[9]
References