Maria Chappelle-Nadal
From KeyWiki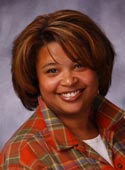 Maria Chapelle-Nadal is a Democrat from University City, Missouri, who represents District 14 in the Missouri State Senate. She is also a former member of the Missouri House of Representatives from District 72, a position which she held from 2005 to 2011. In 2010, Chappelle-Nadal was elected to the Senate to succeed fellow Democrat Rita Heard Days of St. Louis.
Education
She was educated in University City public schools and is a graduate of Georgia State University.[1]
Private Career
Chappelle-Nadal began working for Lt. Governor Joe Maxwell in 2000, as the director of communications. With her skills proven, she chose to serve as Missouri's Senior Advocate. There she successfully shepherded legislation such as the Senior Care and Protection Act of 2003 and the Missouri Senior Rx Generic Drug Rebate.[1]
Organization Affiliations
She is involved in organizations such as the Missouri Community Service Commission and the University City Community Forum. She was an active member of the Democratic National Committee and Missourians Against Handgun Violence. In 2002, Maria was one of sixteen national fellows chosen by the National Organization for Black Elected Legislative Women (NOBEL/Women) and the Center for American Women in Politics (CAWP) at Rutgers University.[1]
UMS Town hall meeting
On July 11, 2005, Congressman William Lacy Clay, Jr. held a town hall meeting at the Millennium Student Center on the UM-St. Louis campus. The discussion on social security was moderated by Julius Hunter, vice president of community relations at St. Louis University and former news anchor for KMOV Channel 4. Panel members included Rep. Maria Chappelle-Nadal (D-University City); Rev. James Morris, of St. Louis Interfaith Partnership; Thomas Helton, executive board member of ASUM; and Margarida Jorge, director of Missourians United to Protect Social Services. Several hundred community members attended the meeting, which was followed by a reception with Clay.[2]
Supported student hunger strike
In April 2005, Washington University in St. Louis, Missouri, commited at least $1 million over the next two years toward higher salaries and better benefits for low-paid contract employees as a result of a 19-day sit-in by students demanding a living wage for service workers. Wash U's Student Worker Alliance reached a groundbreaking agreement with campus officials April 22. "We won more in the last 19 days than we won in the last 18 months put together," said SWA member Ojiugo Uzoma.
The new agreement is a significant step towards a living wage for campus service workers, who were making an average of $7.50 an hour. The university agreed to continue working towards a living wage and to form a joint student-university committee, with SWA representation, to improve university policy of freedom of association for all workers directly or indirectly employed by the university. Also, the university will join the Workers' Rights Consortium, which ensures that factories producing university clothing and other goods respect workers' rights.
At the April 22 victory rally, Rep. William Lacy Clay (D-Mo.) told SWA members, "You students risked a lot. But it was a worthwhile victory."
Missouri state Rep. Maria Chappelle-Nadal told the Communist Party USA's Peoples World, "These courageous students fought their butts off. Never, for one moment, did they think about giving up." During the last weekend of the sit-in, Chappelle-Nadal joined the students on the hunger strike and slept in the admissions office with the students.
Throughout the sit-in, community and labor support was strong. On April 7, Missouri AFL-CIO President Hugh McVey led a rally at Washington U in support of the students. John Sweeney, president of the AFL-CIO, sent a letter of support. Every day during the sit-in, labor and community groups, including the Missouri-Kansas Communist Party, brought the students lunch and dinner, and helped organize noon and 5 p.m. rallies. Throughout the hunger strike, religious leaders kept a 24-hour vigil outside of the admissions office.
"Nineteen days is a long time," said Joan Suarez, a member of Democratic Socialists of America, the Workers Rights Board and Jobs with Justice "Everyone talks about the courage of these students." Suarez said that as the students were leaving the admissions office, workers walked up to them and told them, "Thank you." Many had tears in their eyes, she said.
The Washington U victory came just weeks after students at Georgetown University in Washington, D.C., went on a hunger strike and won living wages for campus employees there. "SWA learned from like-minded groups across the country," said Danielle Christmas, an SWA member. "We saw other students take power into their own hands. We knew that if things were going to change here, we had to take power into our hands,"[3]
Obama supporter
Chappelle-Nadal was one of Missouri's superdelegates to the 2008 Democratic National Convention in Denver, Colorado. Uncommitted at first, she declared her support for Democratic candidate Barack Obama on the same day that the commonwealth of Puerto Rico held its Democratic presidential primary. Chappelle-Nadal's mother is Puerto Rican. [4]
Communist affiliated legislative assistant
Communist Party USA affiliate, Julie Terbrock officially started her involvement in "the movement for progressive change" as a practicum student and eventually the St. Louis Regional Organizer for Missouri Progressive Vote Coalition. There she worked on numerous candidate, ballot and issue campaigns. She also has had the opportunity to see state government work from the inside as a Legislative Assistant to Representative Maria Chappelle-Nadal. [5]
Communist affiliated campaigner
Communist Party USA affiliate John L. Bowman ran Robin Wright-Jones' successful Missouri State Senate campaign and was rewarded with her chief of staff job.
That isn't enough action for Bowman, however, who was once being positioned for a statewide run of his own as a candidate before the Legislative Black Caucus imploded around his chairmanship and he was nailed by the feds for credit card fraud.
In 2010, Bowman left to run another campaign by a state rep. trying to move up to the state Senate: Maria Chappelle-Nadal. Three of the four candidates in that race are in the position of trying to move up from state rep: Ted Hoskins, who is termed out; Chappelle-Nadal, who has served six years of a possible eight; and Don Calloway, who has only one term under his belt. [6]
Communist Party Herschel Walker award event
The Missouri Communist Party USA's Friends of the People's World hosted their 18th annual 'Hershel Walker Peace and Justice Awards Breakfast' Saturday, May 8, 2010, at the CWA Local 6300 Union Hall, 2258 Grissom Drive (in the Westport area), St. Louis.
Newspaper Guild International President Bernie Lunzer was the main speaker for the event.
The honorees were:
The awards honor the memory of late Communist Party USA member Hershel Walker, a Missouri labor and civil rights activist, who died in 1990 at the age of 81. Walker's life – which spanned 60 years of activism – ended tragically when hit by a car on his way to deliver petitions to save 4,000 jobs at the Chrysler Plant.[7]
Known attendees included Communist Party USA affiliates, Tony Pecinovsky, Jim Wilkerson, Zenobia Thompson, Lew Moye, Glenn Burleigh, Julie Terbrock, John Bowman, Joe Thomas, Jeanette Mott Oxford, Democratic Socialists of America member Joan Suarez, plus Mahrya Monson, Don Giljum, Jessica Pace, Jason Kennedy, Jennifer Rafanan, Solveig Paulson, Dr. Greg Miday, Roosevelt Stewart, Michael Vossler, Maria Chappelle-Nadal, Richard Von Glahn, Shannon Duffy and State Rep. James Morris. [8]
Staff
The following have worked as staffers for Maria Chappelle-Nadal:[9]
References