Marcy Kaptur
From KeyWiki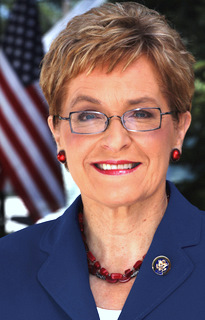 Marcy Kaptur is a Democratic member of the United States House of Representatives, representing the 9th district of Ohio.
Background
Congresswoman Kaptur, of Polish-American heritage with humble, working class roots, mirrors the bootstrap nature of her district. Her family operated a small grocery where her mother worked after serving on the original organizing committee of an auto trade union at the Champion Spark Plug Company.
Congresswoman Kaptur became the first member of her family to attend college, receiving a scholarship for her undergraduate work. Trained as a city and regional planner, she practiced 15 years in Toledo and throughout the country. Appointed as an urban advisor to the Carter White House, she helped maneuver 17 housing and neighborhood revitalization bills through the Congress during those years.
Kaptur is a native of Toledo, Ohio, a member of Little Flower Roman Catholic Church, and a graduate of St. Ursula Academy. She earned a Bachelor of Arts in history from the University of Wisconsin (1968) and a master's in urban planning from the University of Michigan.[1]
Congress
While pursuing a doctorate in urban planning and development finance at the Massachusetts Institute of Technology, the local Democratic Party recruited her to run for the U.S. House seat in 1982. Kaptur had been a well-known party activist and volunteer since age 13. Although she was outspent by a 3-to-1 margin, she parlayed her deep roots in the blue-collar neighborhoods of Toledo and the rural areas of the district to pull the national upset of 1982.
Congresswoman Kaptur fought vigorously to win a seat on the House Appropriations Committee . She has risen in seniority and now serves as the senior Democratic woman on the committee.
She has secured appointments to three important subcommittees: Defense, Agriculture, the leading industry in her state; and Transportation/Housing and Urban Development (HUD).
Congresswoman Kaptur was also appointed by party leadership to serve on the prestigious House Budget Committee for the 112th Congress.
Kaptur is the first Democratic woman to serve on the Defense subcommittee. During her legislative career, she has also served on the Banking and Veterans Affairs Committees. [2]
DSA connections
Endorsed by DSA
Marcy Kaptur was endorsed by Toledo Ohio's Black Swamp Democratic Socialists of America, during her successful 1984 run for Congress.[3]
Jobs With Peace
Marcy Kaptur told the Toledo Blade of June 11 1983 (page 3), that she had been a consistent supporter of the Jobs With Peace movement, when confronted by about 60 Toledo Jobs With Peace Coalition outside a defense procurement conference she had organised.
The group was led by Black Swamp Democratic Socialists of America activist Glen Boatman. Jobs With Peace was a Democratic Socialists of America project.
El Salvador connection
When El Salvadorean union leader Pedro Cruz, North American representative of the National Federation of El Salvadorean Workers, visited Toledo in May 1990, the vist was sponsored by the Toledo Area Committee on Central America, and City Council member Mike Ferner. Cruz met with an aide to Marcy Kaptur, and prevailed upon local unions to get her to vote for the proposed 50%a cut in military aid to El Salvador, then before Congress. [4]
Congressional Progressive Caucus
In 1998 Marcy Kaptur Democrat was listed as a member of the Congressional Progressive Caucus.[5]
As of February 20 2009 Marcy Kaptur was listed as a member of the Congressional Progressive Caucus.[6]
Populist Caucus
The Populist Caucus was founded on February 11, 2009 in the United States House of Representatives by Democrat Bruce Braley of Iowa. The caucus originally included 26 other Democrats in the House, including Marcy Kaptur.
Anti NAFTA rally
In November 1993 Jobs with Justice and Cleveland Women Against NAFTA organized an anti NAFTA rally in the Sheet Metal Workers Local 13 Hall in Cleveland. Congresswoman Marcy Kaptur gave a "ringing indictment" of NAFTA, and called for intense last minute lobbying to ensure its defeat. "Keep the pressure on" she said "we can win this one".
Reps Sherrod Brown and Eric Fingerhut were also present, and added their voices for the defeat of NAFTA.
Other speakers included Susan Spat from the Canadian Auto Workers, Berta Lujon, president of Mexico's Authentic Federation of Workers and Virginia Aveni of the Ohio Environmental Council.[7]
Anti NAFTA Bill
In 1995 Marcy Kaptur, Peter DeFazio, Nydia Velasquez, Gene Taylor and Bernie Sanders co-sponsored a Bill, to force the US to withdraw from NAFTA within 90 days. The bill was unsuccessful. [8]
"NAFTA at seven"
The Democratic Socialists of America dominated Economic Policy Institute, convened a conference — May 23, 2001, Cannon House Office Building, U. S. Congress, Washington, D.C. " Read NAFTA at Seven"
Panelists:
Anti US-South Korea FTA briefing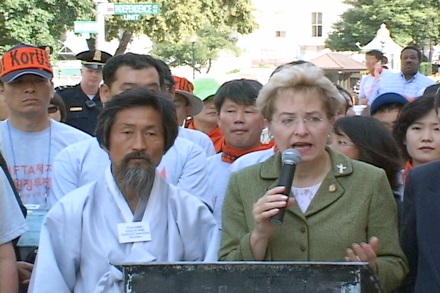 On Wednesday, June 7, 2006, the Institute for Policy Studies allied Korea Policy Institute co-organized, with the Oakland Institute, a press briefing in Congress, sponsored by Congressman Dennis Kucinich. Speakers included Congressman Kucinich, Congresswoman Marcy Kaptur, Assemblymember Kang Ki Kap of Korea's Democratic Labor Party, Kim Tae Il, the General Secretary of the Korean Confederation of Trade Unions, Lee Heung Se of the Korean Advanced Farmers Federation, Lee Kang Sil of the Korean Hospital and Medical Workers Union, Chris Townsend of United Electrical Workers, and Kathy Ozer of the National Family Farm Coalition. All spoke of their deep misgivings over the proposed Korea-US FTA.[10]
Osama statement
Before launching a military strike against Iraq, Americans should consider their own history to remember how powerful the mix of religion and politics can be, U.S. Rep. Marcy Kaptur (D., Toledo) said.
"If you think back to our founding as a country, we are a country of revolution," Miss Kaptur said in an interview March 2003.
She and the Rev. Jim Bacik, pastor of Toledo's Corpus Christi University Parish, spoke at a workshop for local Catholic leaders titled "Preaching and Teaching Peace in the Face of War."
When America "cast off monarchical Britain" in 1776, it involved the help of many religious people who had fled repression in other countries, the 11-term Toledo congressman said. Among the nontraditional American revolutionaries were the Green Mountain Boys, a patriot militia organized in 1770 in Bennington, Vt., to confront British forces, she said.
"One could say that Osama bin Laden and these non-nation-state fighters with religious purpose are very similar to those kind of atypical revolutionaries that helped to cast off the British crown," Miss Kaptur said.[11]
Controversial Cuba trip
Rep. Charles Rangel, a frequent critic of the U.S. embargo against Cuba, met with Fidel Castro on a trip to the island in 2002, but only acknowledged that the Cuban government picked up part of the tab when a watchdog group began making recent inquiries.
The New York Democrat changed his travel disclosure form for the April 2002 trip and reimbursed the Cuban government and a New York grocery store owner $1,922 for his son's expenses after the Center for Public Integrity, a nonpartisan group that focuses on open records, raised questions about the trip. House ethics rules permit private sponsors of lawmakers' trips to cover the cost of the member of Congress and one relative -- in Rangel's case, his wife Alma, who also went on the trip.
The government watchdog group, which released an extensive review of congressional travel, noted that congressional travel disclosure forms "are supposed to make the sponsor and purpose of privately funded trips transparent to the public.
But according to the group, Rangel initially listed a group that was conducting a bird study in Cuba at the time, the Minneapolis-based Sian Ka'an Conservation Foundation, as the sponsor of the trip. On an amended form -- filed in April -- Rangel added the Cuban government and grocery owner John Catsimatidis as sponsors.
Rangel's chief of staff, George Dalley, told the center that Rangel and his staff did not know the Cuban government had paid for part of the trip until they were contacted by the group.
The most important thing is that Rangel corrected the mistake he made, Dalley told the group. Calls to the congressman's office were not returned.
Rep. Marcy Kaptur, an Ohio Democrat who was also on the trip, said at the time that she and Rangel met with Castro and discussed the case of an American who fought in the Cuban Revolution but was later executed.
Kaptur said at the time that top Cuban officials assured her they would consider returning Yanqui Comandante William Morgan's remains.
His body has not been returned.[12]
"Progressive" Cabinet "nominee"
In September 2008, Chicago based socialist journal In These Times asked its editors and writers to suggest their top progressive choices for a potential Obama Cabinet.[13]
We asked that contributors weigh ideological and political considerations, with an eye toward recommending people who have both progressive credentials and at least an arguable chance at being appointed in an Obama White House.
This group of people would represent at once the most progressive, aggressive and practical Cabinet in contemporary history. Of course, it is by no means a definitive list. It is merely one proposal aimed at starting a longer discussion about the very concept of a progressive Cabinet—and why it will be important to a new administration, especially if that administration is serious about change.
David Sirota suggested Marcy Kaptur for US Trade Representative:
Polls show the public overwhelmingly opposes America's NAFTA-style trade policies, and Obama has committed to reforming those policies as president. Part of doing that means naming a fair-trade voice as his lead trade negotiator — and no voice for trade reform has been more dogged than Rep. Marcy Kaptur's (D-Ohio).
A 13-term House member, Kaptur serves on the Appropriations Committee — one of Congress' most powerful panels. As Toledo's representative, she has seen firsthand the devastation that comes with unfair trade pacts, and has led the fight against every major lobbyist-written deal that has come through Congress — from NAFTA to China PNTR to CAFTA.
That personal connection to the trade issue would serve Kaptur well in international negotiations where compromise too often means selling out the American worker. Similarly, Kaptur's longtime experience in the House would be critical in powering fair-trade deals through what remains a corporate-dominated Congress.
Presidents of both parties have treated the trade representative position as an ambassadorship to a banana republic, appointing go-along-to-get-along hacks — such as former Clinton campaign chairman Mickey Kantor — who use the department as a taxpayer-funded training program for their post-government career in the corporate whorehouse.
Kaptur would be far different.
"A Critical Look at NAFTA Past, Present and Future"
March 5, 2008 12:00 pm to 8:00 pm, Co-sponsoring organizations: Global Exchange, Institute for Agriculture and Trade Policy, Washington Office on Latin America, Heinrich Böll Foundation, Alliance for Responsible Trade, National Alliance of Latin American and Caribbean Communities, Labor Council for Latin American Advancement, Institute for Policy Studies, convened "A Critical Look at NAFTA Past, Present and Future"conference at The Carnegie Endowment for International Peace, 1779 Massachusetts Ave. NW, Washington, DC.
Keynote: From NAFTA then and now toward a U.S. trade agenda that works for people, at home and abroad
Introduction: Tom Loudon, Alliance for Responsible Trade
The Honorable Marcy Kaptur, U.S. House of Representatives
The Honorable Victor Quintana, Deputy of the State of Chihuahua, Mexico
The Honorable Peter Julian, Member of Parliament, Canada[14]
Socialist financial plan
Sept. 30, 2008, the day after the original bailout compromise went down in flames. The progressive Democrats placed a new plan—the "No BAILOUTS Act" (Bringing Accountability, Increased Liquidity, Oversight, and Upholding Taxpayer Security)—on the table that John Nichols of The Nation says "would impose a securities tax equivalent to one quarter of one percent of profits and empower the Federal Deposit Insurance Corporation to deal more effectively with bank failures."
The bill—sponsored by US Reps. Peter DeFazio(D-Ore.), Marcy Kaptur (D-Ohio), Robert Scott (D-Va.), Elijah Cummings and Donna Edwards (both D-Md.), Lloyd Doggett (D-Texas), Mazie Hirono (D-Hawaii) and Rush Holt, Jr.,(D NJ) —would change the way securities are valued, applying "an economic value standard to measure the capital of financial institutions," as opposed to a market standard, an increase in the federal deposit insurance maximum and other accounting measures designed to create breathing room. It also would require the Federal Deposit Insurance Corporation to purchase certificates that would be repaid.
"What I'm proposing is to use both market discipline and regulatory functions at virtually no cost to taxpayers to unclog the arteries of commerce so banks can begin lending again,'' DeFazio said, according to The Oregonian.
In a letter introducing the plan, he said that Congress needed to "take swift, uncomplicated steps to ensure the financial markets return to working order. After that, we can work to resolve the housing crisis and pass effective job stimulus."
Andy Stern, president of the Service Employees International Union, said the plan would "restore confidence in the financial markets without writing a blank check to the same Wall Street banks and CEOs who got us into this mess."
"This is an important, short-term solution that protects taxpayers and their savings accounts," he added. "To revive the economy over the long-term, we must address rising unemployment, stagnant wages, the healthcare crisis, and a tax system that is tilted in favor of the wealthy."
DeFazio and the SEIU acknowledge that this is just the first step toward fixing the economy. Once a progressive rescue plan is in place, the Democrats create a rescue plan for homeowners facing foreclosure, enact a public works and green energy stimulus to get people working, fix the nation's infrastructure and refocus the nation's economy on sustainable principles. [15]
Capitalism: A Love Story
In 2009, Marcy Kaptur appeared in Michael Moore's film Capitalism: A Love Story.[16]
Supported Lifting the Gaza Blockade
On Jan. 27, 2010, U.S. Representatives Keith Ellison and Jim McDermott led 52 other members of Congress in signing a letter addressed to President Barack Obama, calling for him to use diplomatic pressure to resolve the blockade affecting Gaza. Marcy Kaptur was one of the signatories of the letter. [17] The entire letter together with a complete list of signatories can be read by clicking here.
Detroit rally
Over 10,000 Detroiters marched down Washington Boulevard from the UAW-Ford National Programs Center to Grand Circus Park on Saturday, August 28th 2010, to demand "jobs, peace, and justice". The march was organized by United Auto Workers (UAW) President Bob King and Operation PUSH founder and director Reverend Jesse Jackson. It commemorated the 47th anniversary of Dr. Martin Luther King's March on Washington.
The dais at Grand Circus Park was "teeming with dignitaries—politicians, clergy of every denomination, and union leaders". Among the elected officials present were Representatives John Conyers, Jr., John Dingell, Maxine Waters, Marcy Kaptur and Senator Debbie Stabenow. Michigan Democratic Party gubernatorial nominee Virg Bernero briefly addressed the audience and committed himself to placing the interests of Main Street over those of Wall Street. Among the union leaders who spoke were UAW President Bob King, newly-elected President of the Service Employees International Union Mary Kay Henry, Farm Laborers Organizing Committee President Baldemar Velasquez, and American Federation of State, County, and Municipal Employees Council 25 President Al Garrett.[18]
"Kill the Bill" rally
In Mid March 2011, at the bandstand in Tappan Square, over 100 members of Oberlin College and the Lorain County community gathered outside in the rain to rally against Senate Bill 5, which would "eliminate all of Ohio public employees' right to collectively bargain for adequate benefits, fair wages and safe working conditions" . Governor John Kasich and Republicans in the Ohio House and Senate had introduced the bill.
Beginning at 5 p.m. and moderated by Professor of Politics and East Asian Studies Marc Blecher, the rally featured speakers from the College and the Lorain County community, including statements by Senator Sherrod Brown and Lorain County Representative Marcy Kaptur.
"This is a bigger issue than just unions versus governors — it's a fight for the middle class and a way of life," Senator Sherrod Brown said in a statement read by Beth Thames, Brown's deputy state director. "You can blame bad trade deals, irresponsible fiscal policies for Ohio's financial crisis, but you can not blame public workers for the mess we're in."
Kaptur echoed Brown's sentiments in a statement read by University of Toledo Professor Emeritus and Kendall Resident Michael Kay.
Kaptur concluded, "Any nation that loses labor rights loses democracy. What's at stake in our nation is more than wages. What's at stake is liberty."
Reverend David Hill of First Church in Oberlin began his speech by listing all of the public school teachers he had had, and asked, "What kind of society turns against its school teachers? I'll tell you what kind of society: One that has lost all sense of the common good, a society more concerned with competition than cooperation."
Oberlin College Office and Professional Employees Vice President Jackie Fortino addressed the historical importance of collective bargaining.
Other speakers included Oberlin College faculty member Chris Howell, Executive Board of the Oberlin Ohio Education Association member Janet Garrett, Sub-District Director Pat Gallagher of the United Steelworkers of America, Vice President Ron Rimbert of the Oberlin NAACP, President Angie Martinez of United Auto Workers, Reverend Steve Hammond of Peace Community Church in Oberlin, and Bruce Bostick of the United Steelworkers of America Retirees organization.[19]
CPC "Good jobs" tour
On June 27, 2011, Detroit was the second stop of the Congressional Progressive Caucus's "Good Jobs" tour. Reps. Hansen Clarke and John Conyers, D-Mich., joined with Keith Ellison, D-Minn., Marcy Kaptur, D-Ohio, and the Rev. Jesse Jackson listening to the "stories and thinking of the people".
In their brief remarks, the leaders issued a call to redirect money from wars, Wall Street and the rich to a rebuilding of America.
Jackson said war spending is "breaking our cities." He was seconded by Clarke who said the money we're spending in Afghanistan is ours, "it should come back to us."
Kaptor said we need to tax the financial giants asking, "Why can't we tax hedge funds like we do the corner bakery?"
Ellison emphasized that unity is required to win, saying being angry will not bring jobs but banding together, speaking together, and fighting together can. "We will use our strength in numbers to fight corporate greed," he said.
Conyers said we are "getting ready" to re-elect President Obama but we need the President to get behind job creating legislation like the Humphrey Hawkins jobs bill he has introduced.
"We are going to Washington to tell him we want him to lead in the fight for jobs. We will tell him we are ready to help," said Conyers.[20]
Council of Canadians connection
In late June 2011, Stuart Trew, Trade campaigner for the radical Council of Canadians spent two days in Washington, D.C. for meetings with U.S. allies and other organizations on the Beyond the Border perimeter deal. He was there with John Foster representing Common Frontiers. Together they met with the Institute for Policy Studies, Center for Economic Policy Research, Hudson Institute, AFL-CIO, a staffer in Congresswoman Marcy Kaptur's office, Friends of the Earth (U.S.), the Robert F. Kennedy Center for Justice and Human Rights, and the Global Trade Watch team at Public Citizen. Separately, John Foster met with the Can-Am Business Council, Canadian embassy staff and a staffer in Senator Sherrod Brown's office. Trew met with the American Civil Liberties Union and Privacy International - U.S.[21]
The Institute for Food and Development Policy/Food First
Marcy Kaptur is on the list of Congressional Representatives who have participated in hearings/briefings since 1998, with the very radical Institute for Food and Development Policy/Food First, founded by Frances Moore Lappe (Democratic Socialists of America, Institute for Policy Studies) and Joseph Collins (Institute for Policy Studies), authors of the book "Food First".[22]
Lifting travel ban on Cuba
A May 03, 2013 Press release from the radical controlled and Institute for Policy Studies affiliated Latin America Working Group's Cuba Team stated:
Due to your action/emails/phone calls we have 59 signatures from House representatives urging President Obama to support travel to Cuba by granting general licenses for ALL current categories of travel.
By eliminating the laborious license application process, especially for people-to-people groups, that is managed by the Office of Foreign Assets Control (OFAC), the majority of the bureaucratic red tape that holds up licensable travel to Cuba would disappear and actually facilitate what the President wanted to see in 2011, liberalized travel regulations.
Signatories included Rep. Kaptur.[23]
Congressional Letter for Neutrality, 2014 Salvadoran Elections
On Monday December 16, 2014 Reps. Juan Vargas (D-CA), Mike Honda (D-CA) and Mark Pocan (D-WI) sent a letter to Sec. of State John Kerry – signed by 51 Members of Congress – calling for a public statement of neutrality by the State Department before the first round of El Salvador's presidential elections on February 2, 2014.
The letter, , highlighted several "important steps" that the current government has taken to "strengthen its democratic system and expand the right to vote to all citizens," including those living outside of the country, who will be voting by absentee ballot for the first time in February. Since the election of Mauricio Funes, the first President from the Marxist Farabundo Martí National Liberation Front (FMLN) party, the government has increased the number of polling places four-fold to increase accessibility, especially in rural areas.
"We're glad to see so many Members of Congress expressing respect for the right of the Salvadoran people to determine their own future. That's an attitude that's sorely lacking in much of the US' policy in Central America, especially with regard to economic policy," said Alexis Stoumbelis, Executive Director for the pro-communist Committee in Solidarity with the People of El Salvador (CISPES), in Washington, DC, which has observed every post-war election in El Salvador, starting in 1994.
Signatories included Rep. Marcy Kaptur.[24].
Staff
The following are past and present staff:[25]
External links
References