Main Page
From KeyWiki
Unlocking the covert side of U.S. and Global politics.

KeyWiki

has

64,126

articles and counting.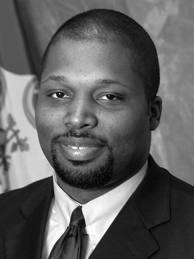 Gary Holder-Winfield is a Communist Party USA affiliated State Senator from Connecticut.
Born in 1974, spent several years in the United States Navy's Nuclear Power Program, before leaving to work for Alstom Power Inc.
Gary Holder-Winfield currently works as a Labor strategist, CSU-American Association of University Professors, where he is tasked with creating legislative strategy. He had become the chair of the Connecticut Federation of Black Democratic Clubs by the end of 2006.
Holder-Winfield has been a longtime supporter of Gov. Dan Malloy, supporting Malloy in his failed gubernatorial bid in 2006 and in the race for the Democratic nomination in 2010.
He was named vice chairman of the Connecticut House Judiciary Committee beginning in the 2011 session.
Holder-Winfield is a regular at Connecticut Communist Party events in New Haven,
He presented the citations to award winners on the occasion of the 90th anniversary of the Communist Party USA, Dec. 2009. The theme of the event was "Keep the Ball Rolling....to win jobs with union rights, health care, peace and equality!"
Holder Winfield was a panelist on the Communist Party's People's World 37th Annual African American History Month Celebration held at the New Haven People's Center Sunday, February 27 2011.
He is is also closely connected to Connecticut Communist Party leader Joelle Fishman.
The March 2012, the Host Committee, in honor of Connecticut Communist Party USA member Alfred Marder's 90th Birthday Celebration, held at the New Haven People's Center included Rep. Rosa DeLauro, current New Haven mayor Toni Harp, State Senator Martin Looney, and State Reps. Juan Candelaria, Patricia Dillon, Toni Edmonds Walker,and Gary Holder-Winfield.
When New Haven Mayor Toni Harp declared Feb. 23, 2014 as "Craig Gauthier day in the City of New Haven," the "overflow crowd at the Peoples Center burst into cheers".
Before presenting his life story, Communist Party member Craig Gauthier received additional citations from Rep. Gary Holder-Winfield, elected two days later to fill the State Senate seat vacated by Toni Harp;
.(
more...
)
Browse the knowledge base
Learn more about highly influential left organizations and people...
KeyWiki Research
Please suggest people, groups or other subjects on which research would be beneficial.
The Team
at KeyWiki are also available to engage in commissioned research. Please
contact us
for more information.
Recent Posts from the New Zeal Blog
Provide information, documents, inside knowledge...
We welcome tip-offs from ex-socialists as well as those still working inside the system. This inside knowledge is valuable in exposing the covert side of politics.
To anonymously provide information or share knowledge, please
click here
.
Connect with KeyWiki
You can follow us on
Twitter
, join us on
Facebook
, watch videos on our
Youtube page
and read our
blog
. You can also connect with the Keywiki community at the
Forum
.
Suggest corrections: If you believe information on a page is incorrect, you can suggest a correction by clicking the discussion tab at the top of that page, or contacting the Editor.
KeyWiki relies on your support for our ongoing research efforts.
Please contribute
to our valuable research.