Loretta Sanchez
From KeyWiki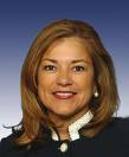 Loretta Sanchez is a leftist Democratic member of the United States House of Representatives, representing the 47th district of California.
She is a board member of the Western Hemisphere Institute for Security Cooperation and the U.S. Air Force Board of Visitors. The Blue Dog Coalition appointed Rep. Sanchez to the Task Force on Oversight and Regulatory Review and she is also a member of the New Democratic Coalition's Task Forces on Innovation, Competitiveness and Tax Reform and Education. Leader Nancy Pelosi appointed Rep. Sanchez to serve on the Vietnam Education Board.[1]
Loretta Sanchez is the sister of Linda Sanchez.
Background
A product of public schools and Head Start, Sanchez is a graduate of Chapman University and American University's MBA program. Prior to serving in Congress, she was a financial manager at the Orange County Transportation Authority, an assistant vice president at Fieldman, Rollap and Associates, and an associate at Booz, Allen, and Hamilton.[2]
Security committees
Rep. Sanchez is the third highest ranking Democrat and the most senior female member on the Armed Services Committee. She currently serves as the Ranking Member of the Strategic Forces Subcommittee, where her top priority is preparing our Armed Forces for a new generation of security challenges. On the Strategic Forces subcommittee, the Congresswoman oversees our nation's strategic weapons, ballistic missile defense, space programs, and Department of Energy national security programs. Rep. Sanchez is also a senior member of the Subcommittees on Emerging Threats and Capabilities and Oversight and Investigations.
Rep. Sanchez is the most senior female member of the House Homeland Security Committee, where she has served since the committee's institution and has emerged as an expert on intelligence and counterterrorism issues.
As a member of the Subcommittee on Border and Maritime Security, Rep. Sanchez provides strict oversight on important security issues, including the Transportation Worker Identification Credential (TWIC) card program and the Visa Waiver Program. In overseeing the TWIC program, which screens and provides credentials for workers with access secure areas at ports, Rep. Sanchez has fought to ensure port workers can continue working during their application process. She also guided key maritime security provisions through Congress in the Security and Accountability for Every Port Act (SAFE PORT ACT) in 2006. She is also a member of the Subcommittee on Counterterrorism and Intelligence.[3]
Sponsored Communist Party "Jobs Bill"
H.R. 950, the Job Creation and Infrastructure Restoration Act of 1997 was introduced in the 105th Congress on March 5, 1997 by Congressman Matthew Martinez of California. It had 33 original co-sponsors, including Loretta Sanchez. The primary purpose of this emergency federal jobs legislation was to provide much needed jobs at union wages to crisis ridden cities by putting the unemployed to work rebuilding our nation's infrastructure (schools, housing, hospitals, libraries, public transportation, highways, parks, environmental improvements, etc. $250 billion is authorized for emergency public works jobs over a five year period.
Congressman Martinez had previously introduced this bill in the last Congress (as HR 1591) at the the request of over 50 prominent Labor leaders who formed the Los Angeles Labor Coalition for Public Works Jobs, which is why it is often referred to as the "Martinez Public Works Jobs Bill."[4]
This is the most significant jobs legislation introduced in Congress since Franklin Delano Roosevelt's New Deal established the Works Progress Administration (WPA). This bill is the WPA-type program for today. It has strong provisions which will put hundreds of thousands of unemployed building trades workers to work as well as provide jobs for victims of plant closures, welfare recipients who are parents, youth, and the long term unemployed. The public works projects which will be established under this bill will be built in communities with the highest levels of unemployment and with the greatest needs.
The goal of the New York Coalition for Public Works Jobs is to build the movement to pass the Martinez Jobs bill as part of the National Labor Coalition for Public Works Jobs. You can help by asking your union, community organization, or local government body to to join those who have already passed resolutions to endorse the bill. Such a resolution has been introduced in the New York City Council. Calling on additional Congressional Representatives to co-sponsor the bill is very important. We will be organizing petition campaigns, visits to elected officials, and demonstrations and other actions for a public works jobs program.
The leaders of the Los Angeles Labor Coalition for Public Works Jobs and its only affiliate New York Coalition for Public Works Jobs, were all known supporters or members of the Communist Party USA.
Los Angeles , National Labor Coalition For Public Works Jobs
A New York affiliate, New York Coalition for Public Works Jobs, c/o Utility Workers Union of America Local 1-2.
Cuba trips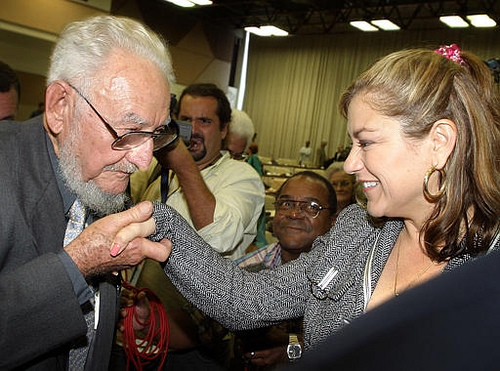 From May 25-May 31, 2002 Loretta Sanchez was in Havana Cuba for "fact-finding and meetings". The trip was funded by the William C. Velasquez Institute, with a total cost of $4,020.00.[5]
From the 9th to the 16th of April 2004, Sanchez was in Havana, Cuba for "fact-finding". The trip was funded by the William C. Velasquez Institute, with a total cost of $2,550.00. She was there at the same time as Linda Sanchez
Supported by Council for a Livable World
The Council for a Livable World, founded in 1962 by long-time socialist activist and alleged Soviet agent, Leo Szilard, is a non-profit advocacy organization that seeks to "reduce the danger of nuclear weapons and increase national security", primarily through supporting progressive, congressional candidates who support their policies. The Council supported Loretta Sanchez in his successful House of Representatives run as candidate for California.[6]
EMILY's List
Sanchez has been supported by EMILY's List during her campaigning.
Woolsey/Sheinbaum fund raiser
Congresswoman Lynn Woolsey, the first Member of Congress to call on the President to bring our troops home, was be in Los Angeles on Saturday February 4th 2006, for a 'very exciting but critical fundraiser against the most well-known, well-financed challenger she's ever faced". woolsey was facing a primary challenge from a termed-out Assemblyman Joe Nation, a moderate Democrat who has been critical of her stand on the war and on bringing home our troops. He is raising money from people who have given money to Tom DeLay and Bush-Cheney and his legislative district covers 60+% of Congresswoman Woolsey's district. Congresswoman Woolsey is a "champion of equal rights, civil liberties, protecting the environment and fighting for single payer healthcare. Congresswoman Woolsey must be re-elected by the same victory margin she has had in the past to send a message to progressives everywhere that's it IS OK to be courageous, and to not back down on issues that matter."
The Host Committee for this fundraiser includes:
Ben Affleck; Ed Asner; Warren Beatty; Jodie Evans; James Cromwell; Matt Damon; Tom Hayden; Wendy Herzog; Mimi Kennedy; Norman Lear; Stephen Rohde; Susie Shannon; Stanley Sheinbaum & Betty Sheinbaum; Lorraine Sheinberg; Kathy Spillar; Gloria A. Totten; Peg Yorkin; Senator Barbara Boxer; Congressman Joe Baca; Congressman Xavier Becerra; Congresswoman Lois Capps; Congresswoman Jane Harman; Congresswoman Juanita Millender-McDonald; Congresswoman Grace Napolitano; Congresswoman; Lucille Roybal-Allard; Congresswoman Linda Sanchez; Congresswoman Loretta Sanchez; Congressman Adam Schiff; Congresswoman Hilda Solis; Congresswoman Maxine Waters; Congresswoman Diane Watson; Senator Sheila Kuehl and Assemblywoman Karen Bass.
The fundraiser was at the Stanley & Betty Sheinbaum residence in Brentwood. Both Sheinbaums have been members of Democratic Socialists of America.[7]
Calling on Israeli Govt. to lift Gaza Travel Ban
On Dec. 22, 2009, thirty-three U.S. Representatives wrote to Secretary of State Hillary Clinton, calling on her to request that the Israeli Government end the ban on student travel from Gaza to the West Bank. Loretta Sanchez was one of the signatories of the letter.[8] The entire letter together with a complete list of signatories can be read by clicking here.
Supported Lifting the Gaza Blockade
On Jan. 27, 2010, U.S. Representatives Keith Ellison and Jim McDermott led 52 other members of Congress in signing a letter addressed to President Barack Obama, calling for him to use diplomatic pressure to resolve the blockade affecting Gaza. Loretta Sanchez was one of the signatories of the letter. [9] The entire letter together with a complete list of signatories can be read by clicking here.
Staff
The following are past and present staff:[10]
External links
References