Lorenzo Torrez
Jump to navigation
Jump to search
Lorenzo Torrez was the long time organizer of the Arizona Communist Party USA. He was married to Anita Torrez. He died New Years Day, 2012 in Tucson. He was 84.
Lorenzo Torrez is survived by his wife, Anita, and their three children Yolanda Torrez, Roberto Torrez , and Sally Torrez.[1]
Early life
Torrez was born in Gila, N.M., May 18, 1927. He went to work in the underground copper and zinc mines at age 16 and toiled there for 25 years with a break during World War II when he served in the U.S. Army in Europe. After the war, he returned to the non-ferrous mines in New Mexico enduring with his fellow miners brutal exploitation and racist discrimination.[2]
Copper mine strike
In the 1950-52 Torrez was heavily involved in a New Mexico copper mine strike, later featured in the 1954 film, Salt of the Earth. At the end of the strike, Lorenzo Torrez and his wife Anita Torrez, both joined the Communist Party USA.[3]
In 1950, Torrez's unit of the Mine, Mill and Smelter Workers Union went on strike for better wages and working conditions from the Empire Zinc Corporation. The strike ended successfully in February 1952.
Torrez and his wife Anita, and scores of other miner families starred in "Salt of the Earth," a film about a bitter 1950 strike at the Empire Zinc Corporation mine in Bayard, N.M. led by the Mine, Mill, and Smelter Workers Union (MMSWU).
The miners played themselves. Lorenzo had a speaking role in the film, and Anita and their children also appeared on-screen.
That strike battle-and the making of "Salt of the Earth" --were turning points in Torrez' life. He and Anita were married and both joined the Communist Party USA. Juan Chacon, a copper miner who played the leading role in the film, also joined the CPUSA. He served as president of that local of the MMSWU for many years. Chacon and his wife Virginia were lifelong friends of Lorenzo and Anita Torrez.
The film was banned from movie theaters during the years of the Cold War witchhunt. The actors were blacklisted and the MMSWU was expelled from the CIO. The union later merged with the United Steelworkers of America.[4]
Mineworker
Torrez toiled for 23 years in a zinc mine in Hanover, New Mexico, expecting to retire with a pension from the New Jersey Zinc Company. At the height of his career he earned $3.50 an hour, excluding overtime-the highest salary level in the plant. And yet, more times than he cares to count, he has been told that he is not entitled to a pension because he had not reached age 45 when his plant closed.
The shutdown came in 1969, after New Jersey Zinc became part of Gulf + Western Corporation. G+W sold the plant to another mining company, and massive layoffs followed, Torrez recalls. About 180 workers lost their jobs. Assets and liabilities of the New Jersey Zinc pension plan remained with G+W, which ultimately was acquired by Paramount Communications. Later, Viacom acquired Paramount. Pension eligibility was dictated by the old New Jersey Zinc plan, however.
So Torrez, at 42, found himself jobless, with a family to help support and no retirement benefit in sight. Other mines refused to hire him, which he says was because of his strong ties to the labor movement. An active union member, he had chaired the Hanover mine's grievance committee for a decade. In fact, Torrez says he first learned to make do with very little during an epic 15-month strike in the 1950s-the subject of the movie Salt of the Earth-when the Mine and Mill Workers gave him $12.50 a week to feed his family.[5]
Full time communist
Unemployed, hounded and harassed by the FBI, Torrez moved from job to job struggling to support his family. He landed a permanent job as a Communist Party organizer in California, organizing in Los Angeles' Latino community. He stayed with the party over 20 years, until he reached 65, chairing the Party's a national commission for Mexican-American Equality.[6]
As at March 1994, Lorenzo Torrez served on the National Board for the Communist Party USA.[7]
Party role
According to a pre- conference discussion paper "Special Convention Discussion: Mexican American Equality" written for the Communist Party USA, May 2010 Convention in New York, by Rosalio Munoz;[8]
The Communist Party has made historic contributions to the Mexican American people and to their struggles for social justice. It was the first and most persistent and helpful in seeing and working on integrating Mexican Americans into all aspects of US society and in particular class and democratic struggles. It has been foremost in seeing the need for recognizing the plight and need for special steps to be taken in the struggles for equality for Mexican Americans. The more that it has contributed to, and participated, the more the Party has grown among Mexican Americans.
With the national support of the Party, Comrades Lorenzo and Anita Torres have played historic roles in this work in ideological, economic, and political struggles in the Party and in mass work, in educational and organizational efforts. With their retirement, there is a clear need to carry on their work.
In the early seventies, Lorenzo and Anita were called on to focus their work in the key population, economic and political area for Mexican Americans. They spoke the language of the people both in English and Spanish. They worked along with other Black and white comrades like Bill Taylor and Rose Chernin, especially among the young Chicano workers and community, and got active in the mass work and struggle. They then built their work in another key area, Arizona, and dealt with the work on a national basis. They helped Mexican Americans see their future in building coalitions, and fighting for peace. This type of concentration work, in line with our size and organizational capability, is what is needed for continued work.
In 1974, Torrez moved with his family to Tucson where he served as chair of the Arizona CP for more than 30 years. He also led the party's Chicano Equality Commission and was a member of the CPUSA National Committee.
He built the Arizona CP into an influential organization in all the progressive movements of Arizona. He also wrote and raised money for People's World and its predecessors.
Torrez helped establish the Salt of the Earth Labor College in Tucson, which continues today.
Steve Valencia, president of the labor college told the World, "Lorenzo changed the political landscape of Arizona. For him, the liberation of the working class and equality for the Mexican American people were inherently tied together."
In 1981, Valencia was a copper miner, recording secretary of United Steelworkers Local 6912. "Lorenzo suggested that I write a letter to AFL-CIO President Lane Kirkland urging him to host Solidarity Day, which I did," Valencia said.
Other local labor leaders also urged the federation to act. More than 250,000 marched in Washington Solidarity Day, Sept. 19, 1981 to protest President Reagan's smashing of PATCO.
Valencia continued, "Lorenzo taught me how to work in the labor movement and work in coalitions. He told us to forget about our feelings of inadequacy and address problems that are shared by all workers."[9]
Soviet connection?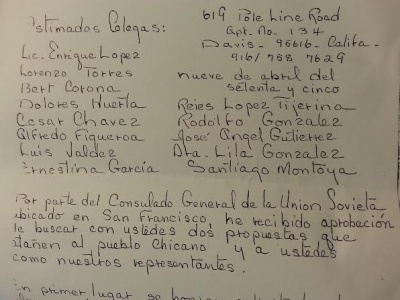 On April 9, 1975, Jorge Acevedo wrote a letter in Spanish to several well known Chicano activists including Enrique Lopez, Lorenzo Torrez, Bert Corona, Dolores Huerta, Cesar Chavez, Alfredo Figueroa, Luis Valdez, Ernestina Garcia, Reies Lopez Tijerina, Rodolfo Gonzales, Jose Angel Gutierrez, Lila Gonzalez, and Santiago Montoya.
The letter referred to the Soviet Consulate in San Francisco, Chicano participation in the Patrice Lumumba University in Moscow, Chicano self-determination, the "socialist system" and the Soviet front World Peace Council. The letter spoke of two proposals received from the Soviet Consul in San Francisco.
The first proposal was to invite students of both sexes to enrol in the Patrice Lumumba University in Moscow, for the academic year beginning in September 1975.
"Professional and personal expenses" would benefit the socialist system, which "seeks to support the Chicano self-determination movement."[10]
Progressive salute
In May 1992, the Communist Party USA newspaper, Peoples Weekly World published a May Day supplement. This included a signed greeting from "Southern Arizona's progressive community", most of who were known Communist Party USA members.
One of the signatories was Lorenzo Torrez.[11].
"Special May Day Greetings, 1989"
From the "Special May Day Greetings, 1989" issue of the "People's Daily World" (PDW), Section B, we read the following: "Tucson's progressive community congratulates the PDW on its anniversary and sends May Day greetings to all our friends across the country. The need to struggle against nuclear holocaust, to preserve a liveable and pleasant environment on our planet, and to bring peace, justice and economic well-being to all humanity is now more apparent than ever. Join us to make a better world."
Most signatories were members of the Arizona District Communist Party USA.Signatories included Lorenzo Torrez.
Communist Party Labor Day call
The Communist Party USA paper People's Weekly World issued a statement to mark Labor Day 1995, entitled "We honor the dead and fight like hell for the living."
Of the more than 100 endorsers listed, almost all were identified members of the Communist Party USA.
Lorenzo Torrez, SOAR Tucson, was on the list.[12]
Endorsed Communist Party Call
On March 30 2002 the Communist Party USA paper People's Weekly World called for a national holiday in honor of late Farm Workers Union leader Cesar Chavez. The article was followed by a long list of endorsers including Lorenzo Torrez. Almost all endorsers were confirmed members of the Communist Party USA.[13]
Getting out the Latino vote
Rosalio Munoz and his comrade Lorenzo Torrez are entrusted by the Communist Party USA with swinging the Latino vote in the Southern States behind the Democratic Party[14];
TUCSON, Ariz. – Communist Party leaders and activists met here to discuss plans to bring out the broadest possible Mexican American and Latino vote to defeat the ultra right in the November elections and to strengthen the CPUSA's work among this section of the population. The participants at the meeting, held in the Salt of the Earth Labor College on May 15-16, came chiefly from the Southwest and the West Coast.
Lorenzo Torrez, chair of the Party's Mexican American Equality Commission, reviewed the Commission's work in the recent period. He proposed the organizing of a left-center Latino coalition to mobilize the progressive sentiments of U.S. Latinos. Rosalío Muñoz, CPUSA organizer in Southern California, reported on Latinos and the elections. He noted that the presidential race will be decided in key "battleground states." A number of these, such as Arizona, New Mexico, and Colorado, are states where Mexican Americans are concentrated, he said.
Muñoz proposed that the CPUSA put out literature in both Spanish and English explaining what is at stake for Latinos in the upcoming elections.
José A. Cruz, editor of Nuestro Mundo, the Spanish-language section of the People's Weekly World, discussed ways of improving the paper's coverage of critical issues in the Mexican American and Latino communities.
Arizona "progressive" community
On May 1 2009, this statement appeared in the Communist Party USA paper Peoples World:[15]
Arizona's progressive community extends May Day and Cinco de Mayo greetings to all our friends across the country. We commit ourselves to join the struggle for jobs, equality, national health care, a fair immigration policy, and for peace and justice in the Middle East. Let's make this planet a good place to live for all its inhabitants.
Arizona Peace Council, AZ4NORML, Campaign for Labor Rights, The Einstein Academy, Casa Maria/Catholic Worker East Valley Club Communist Party USA, Law Office of Payson & Gattone, The Latino Doctrine (TV show) Revolutionary Grounds Books and Coffee, Salt of the Earth Labor College Tucson Club CPUSA , Tucson Peace Action Coalition
Clyde Appleton, Mary Elinor Adams, Rolande Baker, Anne Brenner, Joe Bernick and Cat Stelman, Nancy Bissell, Jack Blawis, Don Buchanan, Richard Boren, Susan Clark, Rebeca Cartes, Eugenia Chilton,Jack DeWeese, Howard Druan, & DD Sande,Gregory Feesl, Ray Figueroa, Brian Flagg, Michael Flower, Sean Fowlkes, Nancy Gallen, Maggie Gerring, Michael Gray, Nancy Graham, James Hannley, Beverly Halkias, Jeff Imig, Mansur Johnson, James Jordan & Raquel Mogollon, Frank Jents, Marilyn Kramer, John Kromko, Jim Kincaid, Brandy Lintencum, Rob McElwain, Mary MacEwan, John Mackoviak, Jane Martin & Bob Vint, Jon Miles, Nancy Myers, Kathy Norgard, Richard Osburn, Ismael Parra, Nancy Pontius , Alice Ritter, Carlos Salaz, Sr., Mazda Shirazi, Rosemary Solarez, James Stewart, Brian Stevens, Olga Strickland, Donald Tewels, Dennis Tallent & Laura Tallent, Anita Torrez & Lorenzo Torrez, Carolyn Trowbridge & Keith Bagwell, Susan Thorpe, Steve Valencia & Janet Valencia, Edward Vargas, Steve Wheaton, Michael Wheeler,Susan Willis , Wendell Wilson, Deb Wilmer.
Anti-anti illegal immigration laws
Torrez called on the labor movement to organize undocumented immigrant workers. Even as his health declined, "Lorenzo urged us to join every action against SB-1070 and struggle to repeal that racist law," Valencia said.
Voters last November recalled Arizona Senate President Russell Pearce, the author of the anti-immigrant racial-profiling law.[16]
Mexican American political representation
Torrez was also a pioneer in the struggle for Mexican American political representation, Valencia added. "I always say: Before Ed Pastor and Raul Grijalva, there was Lorenzo Torrez."
Pastor and Grijalva are Arizona's first two Mexican Americans members of the U.S. Congress. But Torrez ran for Congress before they ran, and also boldly ran against Republican Senator Barry Goldwater.
"Lorenzo told us it is time for these majority Latino districts to be represented by a Mexican American," said Valencia. "He wanted voters to see a Latino name on the ballot."
When Pastor declared his candidacy, Torrez rallied the Tucson CP club to join in the effort. Pastor's victory in 1991 set the stage for Grijalva's election in 2002. Ed Pastor and Raul Grijalva are members of the far left Congressional Progressive Caucus.[17]
Honored
In 2004, the 50th anniversary of the release of "Salt of the Earth," Lorenzo and Anita Torrez spoke at public meetings across the nation about the film. They were hailed as working class heroes. The Library of Congress in 1992 selected "Salt of the Earth" for inclusion in the National Film Registry as one of the greatest films produced in the United States.[18]
Latter days
Lorenzo Torrez and his wife, Anita Torrez , were able to raise three children. Today they live in a modest home in Tucson, Arizona, largely on Social Security payments. Torrez receives a $750 check each month, and Anita $400. Anita, who logged 18 years at a ladies' undergarment factory in Tucson, also draws a small pension of about $65 a month from the International Ladies' Garment Workers Union.
Hardship has never broken Torrez, however, nor weakened his faith in the labor movement. Not only is he still active with the CPUSA, but on alternate Saturdays, Torrez and Anita run the Salt of the Earth Labor College.[19]
References