Lois Capps
From KeyWiki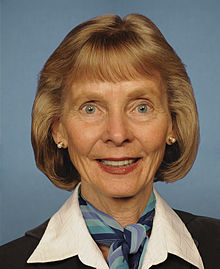 Lois Capps is a Democratic member of the United States House of Representatives, representing the 23rd district of California.
Congresswoman Lois Capps was sworn in as a Freshman Member of the 105th Congress on March 17, 1998, succeeding her late husband, Congressman Walter Capps. She was the Representative of California's 22nd District from 1998 to 2002.
Since January, 2003, Capps has served as the Representative of the 23rd District. Her district includes portions of San Luis Obispo, Santa Barbara, and Ventura Counties.[1]
Background
Capps was born in Ladysmith, Wisconsin. After graduating with honors from Pacific Lutheran University in Tacoma, Washington with a Bachelor of Science degree in Nursing, she worked as a nursing instructor in Portland, Oregon. Capps earned a Master of Arts degree in Religion from Yale University while working as Head Nurse at Yale New Haven Hospital. In addition, she earned a Master of Arts degree in Education from the University of California, Santa Barbara and received honorary doctorates from Pacific Lutheran University and Pacific Lutheran Theological Seminary. The daughter of a Lutheran minister, Capps has been an active member of Grace Lutheran Church since 1964.
Capps was married to Walter Capps for 37 years.[2]
Supported by Council for a Livable World
The Council for a Livable World, founded in 1962 by long-time socialist activist and alleged Soviet agent, Leo Szilard, is a non-profit advocacy organization that seeks to "reduce the danger of nuclear weapons and increase national security", primarily through supporting progressive, congressional candidates who support their policies. The Council supported Lois Capps in her successful House of Representatives run as candidate for California.[3]
2012 CLW Senate victories
2012 Council for a Livable World House Victories were;
Ron Barber (D-AZ), Ami Bera (D-CA), Tim Bishop (D-NY) Suzanne Bonamici (D-OR), Bruce Braley (D-IA), Cheri Bustos (D-IL), Lois Capps (D-CA), Suzan DelBene (D-WA), Lois Frankel (D-FL), John Garamendi (D-CA), Joe Garcia (D-FL), Raul Grijalva (D-AZ), Colleen Hanabusa (D-HI), Denny Heck (D-WA), Steven Horsford (D-NV), Derek Kilmer (D-WA), Ann McLane Kuster (D-NH), Dave Loebsack (D-IA), Patrick Murphy (D-FL), Rick Nolan (D-MN), Raul Ruiz (D-CA), Brad Schneider(D-IL), Carol Shea-Porter(D–NH), Kyrsten Sinema (D-AZ), Mark Takano(D-CA) and John Tierney(D-MA)..[4]
EMILY's List
Capps has been supported by EMILY's List during her campaigning.
Woolsey/Sheinbaum fund raiser
Congresswoman Lynn Woolsey, the first Member of Congress to call on the President to bring our troops home, was be in Los Angeles on Saturday February 4th 2006, for a 'very exciting but critical fundraiser against the most well-known, well-financed challenger she's ever faced". woolsey was facing a primary challenge from a termed-out Assemblyman Joe Nation, a moderate Democrat who has been critical of her stand on the war and on bringing home our troops. He is raising money from people who have given money to Tom DeLay and Bush-Cheney and his legislative district covers 60+% of Congresswoman Woolsey's district. Congresswoman Woolsey is a "champion of equal rights, civil liberties, protecting the environment and fighting for single payer healthcare. Congresswoman Woolsey must be re-elected by the same victory margin she has had in the past to send a message to progressives everywhere that's it IS OK to be courageous, and to not back down on issues that matter."
The Host Committee for this fundraiser includes:
Ben Affleck; Ed Asner; Warren Beatty; Jodie Evans; James Cromwell; Matt Damon; Tom Hayden; Wendy Herzog; Mimi Kennedy; Norman Lear; Stephen Rohde; Susie Shannon; Stanley Sheinbaum & Betty Sheinbaum; Lorraine Sheinberg; Kathy Spillar; Gloria A. Totten; Peg Yorkin; Senator Barbara Boxer; Congressman Joe Baca; Congressman Xavier Becerra; Congresswoman Lois Capps; Congresswoman Jane Harman; Congresswoman Juanita Millender-McDonald; Congresswoman Grace Napolitano; Congresswoman; Lucille Roybal-Allard; Congresswoman Linda Sanchez; Congresswoman Loretta Sanchez; Congressman Adam Schiff; Congresswoman Hilda Solis; Congresswoman Maxine Waters; Congresswoman Diane Watson; Senator Sheila Kuehl and Assemblywoman Karen Bass.
The fundraiser was at the Stanley & Betty Sheinbaum residence in Brentwood. Both Sheinbaums have been members of Democratic Socialists of America.[5]
Calling on Israeli Govt. to lift Gaza Travel Ban
On Dec. 22, 2009, thirty-three U.S. Representatives wrote to Secretary of State Hillary Clinton, calling on her to request that the Israeli Government end the ban on student travel from Gaza to the West Bank. Lois Capps was one of the signatories of the letter.[6] The entire letter together with a complete list of signatories can be read by clicking here.
Supported Lifting the Gaza Blockade
On Jan. 27, 2010, U.S. Representatives Keith Ellison and Jim McDermott led 52 other members of Congress in signing a letter addressed to President Barack Obama, calling for him to use diplomatic pressure to resolve the blockade affecting Gaza. Lois Capps was one of the signatories of the letter. [7] The entire letter together with a complete list of signatories can be read by clicking here.
Mideast Congressional Mission
In February 2010, the first JStreet-sponsored congressional mission toured Israel, Jordan and Palestinian-controlled areas. Five members of Congress participated in the tour; Lois Capps, Bill Delahunt, Bob Filner, Mary Jo Kilroy, and Donald Payne.
It was stated that the mission "will meet with Israeli government and opposition leaders as well as key regional leaders, including Jordanian King Abdullah II and Palestinian National Authority Prime Minister Salam Fayyad. The delegation will travel widely in Israel, the Palestinian Territories, and Jordan taking a close look at the situation on the ground through the eyes of policy makers and civil society leaders."[8]
JStreet is a Jewish organization that, according to its website, "was founded to change the dynamics of American politics and policy on Israel and the Middle East".[9]
Supporting Obama's birth control plan
Rep. Jan Schakowsky, D-Ill., and three other congresswomen attended a special news conference Feb. 8, 2012, reacting to Republican Speaker John Boehner's attack on the Obama administration's birth control policy.
Boehner vowed to overturn the policy, complaining that it was a violation of religious freedom because its coverage includes schools and hospitals with religious affiliation. Other Republicans saw this as a political opening, and argued that this was a sensitive issue of "religious liberty."
Schakowsky, along with Reps. Rosa DeLauro, D-Conn., Lois Capps, D-Calif., and Gwen Moore, D-Wis., said at the press conference they supported the president's policy, explaining that it strikes a balance between religious and individual freedom.
Schakowsky said the policy exempts churches from providing birth control benefits for their workers.
As for religiously-connected hospitals and schools, she explained, "If they want to be part of the business world, then they have to follow the same rules as other businesses."
Capps and DeLauro outlined some of the benefits of the birth control decision, noting that it was based on scientific evidence, decreased infant mortality and unintended pregnancy, and would reduce the long-standing gender discrimination issues that women in health care face.
"The idea that birth control could be controversial in 2012 is outrageous," Schakowsky remarked. "Women's health care should not depend on who the boss is." Furthermore, she predicts a backlash among women if Republicans continue to attack this policy.
"It would be at their peril if they try to undo this," she concluded.[10]
Leading with Love
Leading with Love was an event to celebrate 5 years of the Marxist led National Domestic Workers Alliance. It was held in Washington DC, DC, November 14, 2012.
Members of the Host Committee included Lois Capps.[11]
External links
References