Lois Capps
Jump to navigation
Jump to search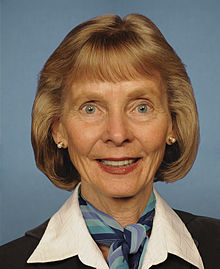 Template:TOCnestleft Lois Capps was a Democratic member of the United States House of Representatives, representing the 23rd district of California.
Congresswoman Lois Capps was sworn in as a Freshman Member of the 105th Congress on March 17, 1998, succeeding her late husband, Congressman Walter Capps. She was the Representative of California's 22nd District from 1998 to 2002.
Since January, 2003, Capps has served as the Representative of the 23rd District. Her district includes portions of San Luis Obispo, Santa Barbara, and Ventura Counties.[1]
In April 2015, Rep. Lois Capps, D-Santa Barbara, announced early this month that she would not seek re-election after nine terms in Congress.
Background
Capps was born in Ladysmith, Wisconsin. After graduating with honors from Pacific Lutheran University in Tacoma, Washington with a Bachelor of Science degree in Nursing, she worked as a nursing instructor in Portland, Oregon. Capps earned a Master of Arts degree in Religion from Yale University while working as Head Nurse at Yale New Haven Hospital. In addition, she earned a Master of Arts degree in Education from the University of California, Santa Barbara and received honorary doctorates from Pacific Lutheran University and Pacific Lutheran Theological Seminary. The daughter of a Lutheran minister, Capps has been an active member of Grace Lutheran Church since 1964.
Capps was married to Walter Capps for 37 years.[2]
2006 letter to Condoleezza Rice on Colombia
Alleged Colombian Army killings prompted Fellowship of Reconciliation to work with Representative Sam Farr to forge a response that would impact the 17th Brigade, the unit allegedly responsible for the violence against San José de Apartadó and communities throughout northwestern Colombia.
As a result, Reps. Sam Farr and Jim McGovern, wrote a letter to their colleagues in Congress urging them to join in calling on Secretary Condoleezza Rice to cut funding for the Colombian military.
Letter to Secretary of State Condoleezza Rice
(Deadline for Congressional representatives to sign: February 22)
We applaud the decision, noted in your certification letter of August 2005, that the US "will not consider providing assistance to the 17th Brigade until all significant human rights allegations involving the unit have been credibly addressed." Because the Brigade is a component of the Colombian Armed Forces' command structure and has been implicated in the above referenced human rights violations, we implore you to abide by both the letter of the law and the spirit of the law by withholding human rights certification for Colombia until the following conditions are met:
Signatories included Lois Capps.[3]
Supported by Council for a Livable World
The Council for a Livable World, founded in 1962 by long-time socialist activist and alleged Soviet agent, Leo Szilard, is a non-profit advocacy organization that seeks to "reduce the danger of nuclear weapons and increase national security", primarily through supporting progressive, congressional candidates who support their policies. The Council supported Lois Capps in her successful House of Representatives run as candidate for California.[4]
2012 CLW House victories
2012 Council for a Livable World House Victories were;
Ron Barber (D-AZ), Ami Bera (D-CA), Tim Bishop (D-NY) Suzanne Bonamici (D-OR), Bruce Braley (D-IA), Cheri Bustos (D-IL), Lois Capps (D-CA), Suzan DelBene (D-WA), Lois Frankel (D-FL), John Garamendi (D-CA), Joe Garcia (D-FL), Raul Grijalva (D-AZ), Colleen Hanabusa (D-HI), Denny Heck (D-WA), Steven Horsford (D-NV), Derek Kilmer (D-WA), Ann McLane Kuster (D-NH), Dave Loebsack (D-IA), Patrick Murphy (D-FL), Rick Nolan (D-MN), Raul Ruiz (D-CA), Brad Schneider(D-IL), Carol Shea-Porter(D–NH), Kyrsten Sinema (D-AZ),Mark Takano(D-CA) and John Tierney(D-MA)..[5]
The Council said of Capps;
Rep. Lois Capps is fighting for her seat in California's 23rd Congressional District. Due to California's new redistricting, this seat is a battleground and Capps has a fight ahead of her. Council for a Livable World is confident that this progressive candidates who, has earned100% on Council's voting scorecard for the last eight years, will fight through the battleground and come out on top once again. [6]
SBCAN Action Fund Announces Endorsements
Board supports Salud Carbajal, Doreen Farr, Das Williams and Lois Capps, among other candidates
By Richard Flacks for the Santa Barbara County Action Network Action Fund, April 26, 2012.
The board of the Santa Barbara County Action Network Action Fund has voted for a number of endorsements in local races to be decided in the June 5 election.
The board is particularly proud to endorse Joyce Howerton, candidate for the Board of Supervisors in the Fourth District.
"Joyce was a founder of SBCAN (our sister organization) and has served as its director for the past 18 months," Action Fund board chair Dick Flacks said. "Her record as a staunch advocate for the environment, for working families and for transparent government extends over decades as a leader and mayor of Lompoc. Her election to the board would be a transformative event in the history of this county."
The board urges the election of Hannah-Beth Jackson for State Senate.
SBCANAF endorses the following candidates for re-election to the county Board of Supervisors: Salud Carbajal for the First District and Doreen Farr for the Third District.
The Action Fund endorses Das Williams for re-election to the Assembly and Rep. Lois Capps, D-Santa Barbara, for Congress.
The SBCAN Action Fund will be urging its hundreds of supporters to contribute their time, energy and dollars to these campaigns.[7]
2015 "Looking Forward" Awards Dinner
Lawanda Lyons-Pruitt, on left, accepts the Social Justice Award from Santa Barbara County Action Network during the North County "Looking Forward" Awards Dinner in Santa Maria on June 7, 2015, while dignitaries wait to present their own awards.
From left, they are Joyce Howerton representing State Sen. Hannah-Beth Jackson, Congresswoman Lois Capps, former SBCAN president Joann Marmolejo, Cory Bantilan representing County Supervisor Steve Lavagnino and County Supervisor Salud Carbajal. (Photo credit: Jeanne Sparks)[8]
EMILY's List
Capps has been supported by EMILY's List during her campaigning.
Woolsey/Sheinbaum fund raiser
Congresswoman Lynn Woolsey, the first Member of Congress to call on the President to bring our troops home, was be in Los Angeles on Saturday February 4th 2006, for a 'very exciting but critical fundraiser against the most well-known, well-financed challenger she's ever faced". woolsey was facing a primary challenge from a termed-out Assemblyman Joe Nation, a moderate Democrat who has been critical of her stand on the war and on bringing home our troops. He is raising money from people who have given money to Tom DeLay and Bush-Cheney and his legislative district covers 60+% of Congresswoman Woolsey's district. Congresswoman Woolsey is a "champion of equal rights, civil liberties, protecting the environment and fighting for single payer healthcare. Congresswoman Woolsey must be re-elected by the same victory margin she has had in the past to send a message to progressives everywhere that's it IS OK to be courageous, and to not back down on issues that matter."
The Host Committee for this fundraiser includes:
Ben Affleck; Ed Asner; Warren Beatty; Jodie Evans; James Cromwell; Matt Damon; Tom Hayden; Wendy Herzog; Mimi Kennedy; Norman Lear; Stephen Rohde; Susie Shannon; Stanley Sheinbaum & Betty Sheinbaum; Lorraine Sheinberg; Kathy Spillar; Gloria A. Totten; Peg Yorkin; Senator Barbara Boxer; Congressman Joe Baca; Congressman Xavier Becerra; Congresswoman Lois Capps; Congresswoman Jane Harman; Congresswoman Juanita Millender-McDonald; Congresswoman Grace Napolitano; Congresswoman; Lucille Roybal-Allard; Congresswoman Linda Sanchez; Congresswoman Loretta Sanchez; Congressman Adam Schiff; Congresswoman Hilda Solis; Congresswoman Maxine Waters; Congresswoman Diane Watson; Senator Sheila Kuehl and Assemblywoman Karen Bass.
The fundraiser was at the Stanley & Betty Sheinbaum residence in Brentwood. Both Sheinbaums have been members of Democratic Socialists of America.[9]
J Sreet endorsements
In 2008 Capps was endorsed by JStreet PAC.[10]
In 2012, "JStreetPAC's proven track record of success speaks to the wellspring of support that exists for candidates who stand up for pro-Israel, pro-peace policies. Candidates like Sherrod Brown, Tammy Baldwin, and Lois Capps who took our endorsement and share our positions did come under attack and still won convincingly," sad Jeremy Ben-Ami.[11]
The socialist infiltrated, anti-Israel "two state solution" JStreet PAC endorsed Lois Capps in her 2014 Congressional race. [12]
Peace Pledge Coalition
In 2007 90 Members of Congress, pledged in an open letter delivered to President Bush: "We will only support appropriating funds for U.S. military operations in Iraq during Fiscal Year 2008 and beyond for the protection and safe redeployment of all our troops out of Iraq before you leave office." The letter was initiated by the Peace Pledge Coalition. The Coalition was led by Tim Carpenter, Progressive Democrats of America, Bob Fertik, Democrats.com Medea Benjamin, CodePink, Bill Fletcher, co-founder of Center for Labor Renewal David Swanson, AfterDowningStreet.org, Democrats.com, Progressive Democrats of America, Kevin Zeese, Voters for Peace, Democracy Rising, Brad Friedman, co-founder of Velvet Revolution, Bill Moyer, Backbone Campaign.
Lois Capps signed the letter.[13][14]
Calling on Israeli Govt. to lift Gaza Travel Ban
On Dec. 22, 2009, thirty-three U.S. Representatives wrote to Secretary of State Hillary Clinton, calling on her to request that the Israeli Government end the ban on student travel from Gaza to the West Bank. Lois Capps was one of the signatories of the letter.[15] The entire letter together with a complete list of signatories can be read by clicking here.
Supported Lifting the Gaza Blockade
On Jan. 27, 2010, U.S. Representatives Keith Ellison and Jim McDermott led 52 other members of Congress in signing a letter addressed to President Barack Obama, calling for him to use diplomatic pressure to resolve the blockade affecting Gaza. Lois Capps was one of the signatories of the letter. [16] The entire letter together with a complete list of signatories can be read by clicking here.
Mideast Congressional Mission
In February 2010, the first JStreet-sponsored congressional mission toured Israel, Jordan and Palestinian-controlled areas. Five members of Congress participated in the tour; Lois Capps, Bill Delahunt, Bob Filner, Mary Jo Kilroy, and Donald Payne.
It was stated that the mission "will meet with Israeli government and opposition leaders as well as key regional leaders, including Jordanian King Abdullah II and Palestinian National Authority Prime Minister Salam Fayyad. The delegation will travel widely in Israel, the Palestinian Territories, and Jordan taking a close look at the situation on the ground through the eyes of policy makers and civil society leaders."[17]
JStreet is a Jewish organization that, according to its website, "was founded to change the dynamics of American politics and policy on Israel and the Middle East".[18]
Supporting Obama's birth control plan
Rep. Jan Schakowsky, D-Ill., and three other congresswomen attended a special news conference Feb. 8, 2012, reacting to Republican Speaker John Boehner's attack on the Obama administration's birth control policy.
Boehner vowed to overturn the policy, complaining that it was a violation of religious freedom because its coverage includes schools and hospitals with religious affiliation. Other Republicans saw this as a political opening, and argued that this was a sensitive issue of "religious liberty."
Schakowsky, along with Reps. Rosa DeLauro, D-Conn., Lois Capps, D-Calif., and Gwen Moore, D-Wis., said at the press conference they supported the president's policy, explaining that it strikes a balance between religious and individual freedom.
Schakowsky said the policy exempts churches from providing birth control benefits for their workers.
As for religiously-connected hospitals and schools, she explained, "If they want to be part of the business world, then they have to follow the same rules as other businesses."
Capps and DeLauro outlined some of the benefits of the birth control decision, noting that it was based on scientific evidence, decreased infant mortality and unintended pregnancy, and would reduce the long-standing gender discrimination issues that women in health care face.
"The idea that birth control could be controversial in 2012 is outrageous," Schakowsky remarked. "Women's health care should not depend on who the boss is." Furthermore, she predicts a backlash among women if Republicans continue to attack this policy.
"It would be at their peril if they try to undo this," she concluded.[19]
Leading with Love
Leading with Love was an event to celebrate 5 years of the Marxist led National Domestic Workers Alliance. It was held in Washington DC, DC, November 14, 2012.
Members of the Host Committee included Lois Capps.[20]
Lifting travel ban on Cuba
A May 03, 2013 Press release from the radical controlled and Institute for Policy Studies affiliated Latin America Working Group's Cuba Team stated:
Due to your action/emails/phone calls we have 59 signatures from House representatives urging President Obama to support travel to Cuba by granting general licenses for ALL current categories of travel.
By eliminating the laborious license application process, especially for people-to-people groups, that is managed by the Office of Foreign Assets Control (OFAC), the majority of the bureaucratic red tape that holds up licensable travel to Cuba would disappear and actually facilitate what the President wanted to see in 2011, liberalized travel regulations.
Signatories included Rep. Lois Capps.[21]
PDA contact
In 2013 Progressive Democrats of America assigned activists to deliver their material to almost every US Congressman and Senator, Lois Hamilton was assigned as the contact for Rep. Capps.[22]
CDA connection
Reps Sam Farr, Loretta Sanchez, and Lois Capps attended the Center for Democracy in the Americas' 7th Anniversary Event July 10, 2013.[23]
ARA endorsements
The Alliance for Retired Americans Political Action Fund endorsed Lois Capps in 2012, 2014.[24]
New Democrat Coalition, 113th Congress
In the 113th Congress, 50 members of the House of Representatives belonged to the New Democrat Coalition, including:[25]
Condemning Criticism of Islam legislation
On December 17, 2015, Rep. Don Beyer, Jr. introduced legislation condemning "violence, bigotry, and hateful rhetoric towards Muslims in the United States." The legislation is based on unsourced claims that there is a "rise of hateful and anti-Muslim speech, violence, and cultural ignorance," and a "disproportionate targeting" of "Muslim women who wear hijabs, headscarves, or other religious articles of clothing...because of their religious clothing, articles, or observances." The resolution, H.Res.569 - Condemning violence, bigotry, and hateful rhetoric towards Muslims in the United States [26]
The legislation was cosponsored by Rep. Michael Honda, Rep. Keith Ellison, Rep. Joseph Crowley, Rep. Andre Carson, Rep. Eleanor Holmes Norton, Rep. Betty McCollum, Rep. Marcy Kaptur, Rep. Carolyn Maloney, Rep. Dan Kildee, Rep. Loretta Sanchez, Rep. Charles Rangel, Rep. Scott Peters, Rep. Brad Ashford, Rep. Alan Grayson, Rep. Mark Takai, Rep. Brian Higgins, Rep. William Keating, Rep. Raul Grijalva, Rep. Debbie Wasserman Schultz, Rep. G.K. Butterfield, Rep. Gerry Connolly, Rep. Ruben Gallego, Rep. Cheri Bustos, Rep. John Delaney, Rep. Kathy Castor, Rep. Luis Gutierrez, Rep. Michael Quigley, Rep. Elizabeth Esty, Rep. Joseph Kennedy III, Rep. Robin Kelly, Rep. Eddie Bernice Johnson, Rep. Gregory Meeks, Rep. Grace Meng, Rep. Al Green, Rep. Katherine Clark, Rep. Adam Schiff, Rep. Alcee Hastings, Rep. Sam Farr, Rep. Frank Pallone, Rep. Jim McDermott, Rep. Barbara Lee, Rep. Donna Edwards, Rep. Robert Brady, Rep. Frederica Wilson, Rep. Michael Doyle, Rep. Albio Sires, Rep. Suzan DelBene, Rep. Judy Chu, Rep. Jared Polis, Rep. David Loebsack, Rep. Bill Pascrell, Rep. Debbie Dingell, Rep. Jan Schakowsky, Rep. Steve Cohen, Rep. Ruben Hinojosa, Rep. John Yarmuth, Rep. Niki Tsongas, Rep. Jim Langevin, Rep. Mark Pocan, Rep. John Conyers, Jr., Rep. Mark Takano, Rep. Timothy J. Ryan, Rep. Jose Serrano, Rep. Hank Johnson, Rep. Paul Tonko, Rep. Zoe Lofgren, Rep. Chris Van Hollen, Rep. Lois Capps, Rep. David Price, Rep. Doris Matsui, Rep. Gwen Moore, Rep. Denny Heck, Rep. Sheila Jackson Lee, Rep. John Carney, Rep. Xavier Becerra, Rep. Eric Swalwell, Rep. John B. Larson, Rep. Dina Titus, Rep. Peter Welch, Rep. Lloyd Doggett, Rep. Jim Himes, Rep. Matt Cartwright.
Praising CAIR
"CAIR is the national forefront of fostering a positive understanding of American Muslims and works tirelessly to foster interfaith understanding through education and dialogue."- Rep. Lois Capps (D-Calif.) (September 2014).[27]
Carrizo Plan
Heidi Harmon is at Mission Plaza. June 30, 2017 ·
Join me, Congressman Salud Carbajal, former Congresswoman Lois Capps and others as we join together to show our support for the Carrizo Plan. Mary Alina, Ethan Buckner, Dale Stoker, Grant Helete.
External links
References