Letitia James
Jump to navigation
Jump to search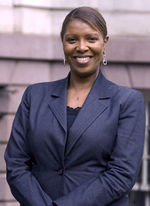 Letitia "Tish" James is New York City Public Advocate.
Background
As Counsel and Chief of Staff to state assembly members, James saw up close that government could be made to work in the public's interest. In Albany, she worked with the Black, Puerto Rican and Hispanic Caucus, as well as other progressive Democrats.
During her law career, James served as a public defender for the Legal Aid Society . In the administration of former NYS Attorney General Eliot Spitzer, she was appointed the first Assistant Attorney General in Charge of the Brooklyn Regional Office. She assisted the Civil Rights Bureau in their investigation of the NYPD's stop-and-frisk policy and cracked down on firms engaged in deceptive business practices including violations of human rights, environmental laws, and immigration scams.
James is a graduate of New York City public schools and CUNY's Lehman College in addition to law school. She looks forward to completing her Master's in Public Administration at Columbia University's Graduate School of International and Public Affairs.[1]
Council
As a member of the New York City Council, James introduced the Safe Housing Act, which became City law in 2007.
During her tenure as Chair of the Council's Contracts Committee, James' overall goal was to strengthen the power of small businesses to do business and contract with the City.
Council Member James is well-known for her activity in development issues in Brooklyn. Foremost among these issues is the "Atlantic Yards" project. James has been a long-time and vocal opponent of the development, and participated in numerous organizing and community forums.
Council Member James continues to apply the same fervor to social justice as she has to housing preservation and advocacy, sponsoring a law that addressed the Department of Corrections reporting to the Council violent incidents involving adolescents in 2009. She has been a strong advocate for restoring childcare vouchers, and fought to avoid the closure of childcare centers Citywide.
James has become a strong proponent of environmental justice and green job development since serving as Chair of the Council's Sanitation Committee.
Council Member James served as the co-chair of the Brooklyn Delegation of the New York City Council, along with Council Member Erik Martin-Dilan. Her ongoing interests include housing advocacy, social justice, women's rights, job development, environmental issues, and healthcare access; creating more City contracting opportunities for minority-and-women businesspersons, and investigating administrative stances like "stop-and-frisk" are major goals. In 2011, James led a successful movement to remove a culturally offensive, anti-choice poster that read "The Most Dangerous Place for an African American Is The Womb". The same year, she joined with women's advocacy organizations to hold a press conference in support of a fair trial for Nafissatou Diallo, the Guinean housekeeper who accused former IMF head Dominique Strauss-Kahn of sexual assault.[2]
Council Member Letitia James can be seen in the Atlantic Yards documentary, "Battle for Brooklyn", and was a contributor to the documentary "The Untold Story of Emmett Louis Till" following her introduction of a City Council resolution to reopen Till's murder case.
Working Families Party
In 2003, Letitia James won election to the New York City Council on the Working Families Party line alone, beating the Democratic candidate in the race and becoming the council's first minor-party representative in 30 years. That planted the seeds of the WFP's plan to take over the council. [3]
After operating mostly on the fringes of left-leaning politics, the Working Families Party saw nearly two-thirds of its 1,036 endorsed candidates win state and local offices in 2017. Buoyed by a renewed interest in alternative candidates, as evidenced in the success of Bernie Sanders on the left and Donald Trump on the right, Maurice Mitchell led a midterm cycle with some notable wins — defeating conservative Democratic incumbents in New Mexico, Rhode Island and Maryland and contributing to candidates who ended Republican control of the Colorado Senate. Under his leadership, the WFP joined other progressive groups in helping flip the U.S. House of Representatives while supporting insurgent Democrats such as Antonio Delgado in New York and Jahana Hayes in Connecticut.
While other organizations receive flashy accolades for endorsing ascendant Democrats such as, say, Georgia gubernatorial hopeful Stacey Abrams (which, to be fair, the WFP also did), the party is much more focused on the quiet, down-ballot races that lead to change down the line. It helped build the early political careers of New York Attorney General Letitia James (the first African-American and first woman to hold the post) and 32-year-old Wisconsin Lt. Gov. Mandela Barnes. In June, the party sprang an upset with another rising star, when WFP-endorsed public defender Tiffany Caban, 31, won the Democratic primary for Queens district attorney.[4]
WWP Rosa Parks rally
On Oct. 27, 2005 New York City Council member Charles Barron and the Troops Out Now Coalition sponsored a news conference on the steps of City Hall in Manhattan. Scores of community activists joined a dozen members of the City Council to announce the introduction of a resolution to commemorate the 50th anniversary of Rosa Parks' 1955 arrest with a day of absence against war, poverty and racism on Dec. 1.
The news conference took place three days after Rosa Parks' death at the age of 92.
Barron began the press conference by saying, "When Rosa Parks sat down, that is when Black people stood up." Barron spoke of the significance of the resolution, which urges all businesses and schools to close down on Dec. 1 to allow workers and students to attend events in honor of Rosa Parks.
Barron also spoke about the "immoral and illegal" Iraq war, which has caused the deaths of more than 100,000 Iraqis and 2,000 U.S. soldiers, along with $300 billion wasted on this criminal war. "If you can impeach Clinton for Monica [Lewin sky], then you can impeach Bush," Barron said.
Workers World Party leader Larry Holmes from the Troops Out Now Coalition spoke about a day-long teach-in scheduled during a march and rally on Wall Street on Dec. 1. "We need to renew the civil rights movement.... We have to say no to the racism, injustice and poverty that creates a situation like New Orleans.... We won't allow social justice, economic justice and the struggle against war to go to the back of the bus," he said.
WWP affiliate Brenda Stokely, a co-convener of New York City Labor Against the War, said that "honoring Rosa Parks is honoring a legacy of struggle." Stokely described the struggle of Katrina survivors to return home to New Orleans and other Gulf Coast areas after the hurricane and explained how activists in a number of cities, including New York, are organizing solidarity committees to support this right.
WWP member LeiLani Dowell and Mia Cruz, organizers for the WWP youth wing Fight Imperialism-Stand Together, encouraged student walkouts on Dec. 1 and supported the on-going campaign against military recruiters in the high schools and colleges.
Other speakers at the press conference included three Black women on the City Council: Letitia James, Helen Foster and Yvette Clarke; State Sen. Jose Rivera; Nellie Bailey of the Harlem Tenants Council; Jasmine of Campus Anti-War Network; Ron Daniels of Center for Constitutional Rights; Jericho Movement leaders Herman Ferguson and Iyaluua Ferguson; Black Waxx recording artist Nana Soul; Gloria Jackson, a daycare worker and mother of a GI who was in Iraq; Zul of the Green Party's National Peace Action Committee, and others.[5]
Founding member New York City Council Progressive Caucus
Founding members of the New York City Council Progressive Caucus, March 2010.[6]
Backing Meng
Senator Kirsten Gillibrand seems to have a preferred candidate in the race to succeed Gary Ackerman.
After an event on equal pay at N.Y.U. Law April 16, 2012, , Gillibrand posed for photos with Assemblywoman Grace Meng, who said she was absorbing positive energy from the senator and Councilwoman Letitia James.
"We're making sure you win," Gillibrand told Meng.[8]
Better World Awards
The New York Communist Party USA hosts an annual Better World Awards banquet.
Past honorees and speakers include : former NY State Assemblyman Frank Barbaro; Marvel Cooke; Domino sugar workers, ILA Local 1814; Ernesto Jofre (UNITE); Julie Margolin; NY State Senator Bill Perkins; Chris Silvera, Teamsters local 808; NY City Councilwoman Letitia James; Rev. Lucius Walker, Pastors for Peace; former US Congressman Major Owens; Betty Smith, International Publishers; NY City Councilman Robert Jackson; Adolfo Fana; Make the Road by Walking; TWU Local 100, NY Taxi Workers Alliance; Brooklyn for Peace; Estelle Katz etc. [9]
2011 Better World Awards banquet
Local People's World readers and contributors held their annual Better World Awards banquet May 29, focusing on the fight for quality public education.
Pioneering civil rights activist Dorothy Burnham was warmly received with a standing ovation after she received her award. At 96 years old, the program was not long enough to mention all her life's work, which began in the 1930s with the American Student Union and continued in the 1940s with the Southern Negro Youth Congress in Birmingham. She has long been active in women's and peace organizations, and is currently she is president of the Louis Burnham Awards Fund.
State Senator Velmanette Montgomery, another of the honorees, stayed to talk with Dorothy and took several pictures for their local paper. State Sen. Bill Perkins appeared to show his appreciation and respect for his colleague, Sen. Montgomery, who fought a hedge fund-backed opponent over the issue of public education in the recent election.
City Council Member Letitia James sent a tribute to the People's World, printed in the program's ad book. She praised the work of the World in making New York - and beyond - a better place in many ways. And she praised her "mentor" Velmanette Montgomery.[10]
Trayvon Martin case
A majority of New York City Council members, dressed in hoodies and holding Skittles candies and bottles of iced tea, held a press conference in front of City Hall March 29, 2012, to express their solidarity with the family of Trayvon Martin and to express their outrage at the fact that his murderer, George Zimmerman, has still not been arrested.
A resolution expressing the council's outrage was initiated by council members Letitia James, D-Brooklyn, and Melissa Mark-Viverito, D-Manhattan.
Council Speaker Christine Quinn, D-Manhattan, announced that she would be introducing the resolution with Mark-Viverito and James, and that it "will condemn the killing, the weaknesses in its investigation and the lack of an arrest."
"Our resolution," said Quinn, "Will also call for an examination of 'Stand Your Ground' laws nationwide, including their impact on increasing the flow of illegal guns to New York City."
Quinn continued, "Trayvon Martin was killed for his gender and his race. By releasing George Zimmerman, the Sanford police was saying it doesn't matter."
Councilwoman James declared, "The demonization of black men has got to stop."[[11]
New York "progressives"
According to Communist Party USA member Danny Rubin, writing in the People's World;[12]
The possibility for a turn in direction also depends on the outcome of the city council elections, where there is a substantial Progressive Caucus led by Melissa Mark-Viverito and Brad Lander. Viverito will seek election to the powerful post of speaker and has a real shot at it. There are also progressives running with serious shots at victory, such as Letisha James for public advocate and Ken Thompson for Brooklyn district attorney. Robert Jackson is running for Manhattan Borough president. All three are African American.
Brooklyn power players
Letitia James, the newly elected public advocate and the first black woman elected to a citywide office; Ken Thompson, who'll be Brooklyn's first black district attorney, and Eric Adams, who'll be Brooklyn's first black borough president, all hail from central Brooklyn.
By 2013, power players in Brooklyn's black political establishment include Rep. Hakeem Jeffries; Assemblyman Karim Camara, chairman of the powerful Black, Puerto Rican, Hispanic and Asian Legislative Caucus, and City Councilman Jumaane D. Williams of Flatbush, who recently threw his hat in the ring for Council speaker.
All are Democrats and all are relative newcomers, elected for the first time between 2003 and 2006.
However this group doesn't want to be viewed as a bloc. In fact, some of them don't even like each other.
"I think it's coincidental that Ken Thompson happens to be my neighbor," Letitia James said. "I think it's coincidental that Eric Adams happens to live in my district, as well as Hakeem Jeffries."
Instead, James said she wanted to align herself with a different group. "I owe my victory to women," she said.
The politicians are united more by ideology than racial identity, said Adams spokesman Evan Thies. "Even more so than race, each of those candidates represent progressive values that have become mainstream in Brooklyn," he said.
The rising Brooklyn stars have sided against each other more often than they have leaned on each other for support. Neither James nor Adams supported Thompson's bid for DA. Instead, they endorsed his rival, longtime incumbent Charles Hynes.
James also worked for Jeffries' rival, Roger Green, in Assembly races in 2000 and 2002. Both times, Jeffries lost.
Jeffries and Thompson, who are close friends, appear to be the only true allies in the group.
"I'm proud to have worked closely with Councilwoman James throughout the years and supported her campaign for public advocate, as well as supported the campaign of Ken Thompson," Jeffries said.
"We've acquired significant political power in Brooklyn," said Jeffries. "We can build upon the house that Harlem created in terms of black political empowerment and take it to the next level."[13]
Public advocate
In November 2013, NYC Public Advocate-elect, Letitia James, vowed to "talk about issues of income inequality and the feminization of poverty in the city of New York."[14]
MUNA Civic Engagement Banquet 2013
The importance of the community involvement was mentioned by American Congressmen, State Senators and City Councils at the Civic Engagement Banquet Program arranged by MUNA ( Muslim Ummah of North America) held on Friday night, October 27th The purpose of this event was to strengthen the relationship between Muslim community and the American Politicians by increasing the representatives among the policy level of this country.
This event was led by the community leader Dr. Sayeed Chowdhury which was a successful event with many speakers deliberate their valuable speech. The Speakers were Congressmen Yvette Clarke and Hakeem Jeffries, New York State Senator Jose Peralta, James Senders, Jr., Nominated President for Queens Borough Melinda Kurtz, Brooklyn Borough Attorney Charles Heinz and Councilman Robert Jackson, CAIR NY president Ryan Mahni, Nominated Comptroller of NY City Hisham Al Melighy , Letitia James.[15]
Muslims Supporting Letitia James
Muslim Democratic Club of New York October 1, 2013:
Today is the runoff election for public advocate! Are you ready to help elect a fighter for all New Yorkers? Vote for Letitia James and encourage your friends and family to do the same! Every vote counts! — with Nermeen Arastu, Zeba Iqbal, Linda Sarsour, Faiza N. Ali, Aliya Latif and Sussie Lozada.
WFP pre-election gathering
Many high-power politicians–United States Senator Charles Schumer, Mayor Bill de Blasio, Council Speaker Melissa Mark-Viverito, Public Advocate Letitia James and State Senator James Sanders–fired up a hundreds-strong crowd of supporters of the labor-backed Working Families Party 9/9/2014 with speeches vowing to keep Republicans from controlling the State Senate, to raise the minimum wage, to create a public financing system for state elections and to organize low-paid fast food and airport workers.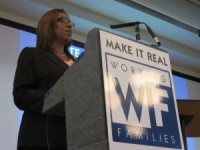 The crowd, a mix of union members and activist groups like Vocal-NY and New York Communities for Change, crammed into the basement of Manhattan's Saint Vartan's Armenian Cathedral for the event, entitled "Justice for Workers." The evening started with a reading by poet Maria "Mariposa" Fernandez, who read a piece detailing the difficult life of a Hispanic service worker that simultaneously railed against pollution, an America "ruled by warmongering men," "U.S. colonialism and imperialism" and the Atlantic slave trade.
"Make no mistake–the optimists in the WFP Party here in this room are the driving force behind the historic moment, a state government that can pass a people's agenda, an agenda that Gov. Cuomo signed at the convention in June," said Ms. James, who first won her Brooklyn Council seat against a Democratic candidate on the Working Families Party line. "To win justice for workers, and women, and tenants, to change the power dynamics in Albany, to put the body politic of Albany on its head, we need to have a strong, powerful showing on the Working Families line on Election Day." [16]
New York City honors Medicare's 50th Birthday
July 30, 2015 marked the 50th anniversary of Medicare and Medicaid which were enacted in 1965 during the Lyndon Johnson administration. Various activities around the country celebrated these remarkable programs and called for defending, improving and expanding them and Social Security
In New York City an uplifting celebration at the Professional Staff Congress (City University staff) union hall started off the day's activities that included Metro NY Committees of Correspondence for Democracy and Socialism members.
Several elected officials spoke, including Rep. Nydia Velazquez (NY-7th CD), NY State Assembly Health Committee Chair Richard Gottfried, NYC Public Advocate Letitia James and a representative of Congressman Joseph Crowley. They were joined by speakers from several unions (SEIU 1199, Doctors Council SEIU, Committee of Interns and Residents/SEIU, Professional Staff Congress, NY State Nurses Association, etc.), and advocacy organizations including Children's Defense Fund, Medicare Rights Center, Physicians for a National Health Program, Metro Health Care for All, AARP and NY Statewide Senior Action Council.[17]
Endorsed AAFE 2016 Banquet
Rally for DACA
New York City: October 5, 2017, the Asian American Federation held a rally at Trump Tower with our member agencies and leading immigrant advocacy groups to speak out in support of Asian American Deferred Action for Childhood Arrivals (DACA) recipients, who are being impacted by the dissolution of the DACA program under the Trump administration. Twenty-three organizations and nearly 200 New Yorkers, including Congresswoman Jo-Ann Yoo, executive director of the Asian American Federation, Grace Meng, Council Member Margaret Chin, Assemblymember Yuh-line Niou, Manhattan Borough President Gale Brewer, and Comptroller Scott Stringer, Senator Kirsten Gillibrand, Rep. Nydia Velazquez, Mayor Bill de Blasio Assemblymember Deborah Glick, Assemblyman Ron Kim, Assemblywoman Nily Rozic, Public Advocate Letitia James, Council Member Daniel Dromm, Council Member Rory Lancman, Steven Choi, executive director of the New York Immigration Coalition, Margaret Fung, executive director of the Asian American Legal Defense and Education Fund, Christopher Kui, executive director of Asian Americans for Equality, Annetta Seecharran, executive director of Chhaya Community Development Corporation, Mae Lee, executive director of the Chinese Progressive Association (New York), Wayne Ho, executive director of the Chinese-American Planning Council, Kavita Mehra, executive director of Sakhi for South Asian Women, Robina Niaz, executive director of Turning Point for Women and Families, joined hands with the Federation to defend the future of our DREAMers.
Rally Co-Sponsors: Adhikaar, Alliance of South Asian American Labor, Arab American Association of New York, Asian American Arts Alliance, Asian American Bar Association of New York, Asian American Legal Defense and Education Fund, Asian Americans for Equality, Chhaya Community Development Corporation, Chinese-American Planning Council, Chinese Progressive Association (New York), Council of People's Organization, Desis Rising Up and Moving, Japanese American Association of New York, Japanese American Social Services, Inc., Korean American Family Service Center, Korean Community Services of Metropolitan New York, MinKwon Center for Community Action, National Queer Asian Pacific Islander Alliance, New York Immigration Coalition, OCA-NY, Sakhi for South Asian Women, Turning Point for Women and Families, University Settlement.[18]
Public advocate race
According to Danny Rubin of the People's World, in the NYC 2013 race race for public advocate, progressive Letitia James has many endorsements from labor, including one of the major unions, 32BJ, from a number of Black ministers, the Working Families Party, and from the Latina city council members, but she cannot match State Senator Daniel Squadron in money. In addition, there are two additional African American women running for the position, neither of whom has a chance to win but can take votes away from James, helping Squadron, whether they wish to or not. Robert Jackson, another Black progressive, has a good shot at Manhattan Borough president. .[19]
Unity March for Puerto Rico
In a tremendous show of unity, under a sea of Puerto Rican flags being waved high, thousands of Puerto Ricans and their supporters joined in the Unity March for Puerto Rico in the nation's capital November 19 2017, to demand justice for Puerto Rico. Demonstrators from across the northeast, Ohio, and as far as Chicago raised their voices in unison to demand the U.S. fully fund the relief efforts in the aftermath of Hurricane Maria.
Due to Trump's "failure to plan, to act, and lack of leadership," said New York State Public Advocate Letitia James, "millions of Puerto Ricans are still struggling and countless are facing death, children drinking dirty water, schools suspended, housing and infrastructure need to be rebuilt."[20]
People's Climate March endorsements
According to their website:[21]
"Here are some of the leading artists, athletes and influencers helping to spread the word about the People's Climate March, including Letitia James."
Citizen Action/Working Families Party Endorsement
2018 Citizen Action of New York/Working Families Party endorsement.
References