LeiLani Dowell
Jump to navigation
Jump to search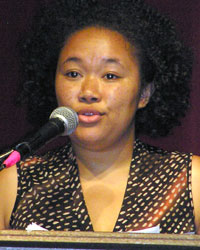 Leilani Dowell is originally from L.A., LeiLani Dowell is a long time organizer and activist who ran for Congress in San Francisco in 2004. She recently completed a PhD in English from the Graduate Center at CUNY and intends to go into publishing.
Education
In 2016 LeiLani Dowell was a Ph.D. student at the City University of New York Graduate Center.
Cuba
LeiLani Dowell, a member of Workers World Party, is running for Congress on the Peace and Freedom Party ticket in San Francisco (8th District). She recently visited Cuba with the Venceremos Brigade, and participated in the 35th annual travel challenge, returning to the U.S. from Canada on July 19.[1]
"Katrina: A Challenge for the Movement"
On Oct. 22 2005 in New York, the Workers World newspaper staff hosted an important forum called "Katrina: A Challenge for the Movement: Forging a united front between the Black liberation, workers' and anti-imperialist struggles." The forum attracted an overflowing multinational crowd of progressives and activists from New York, Philadelphia, Washington, D.C., Boston and other areas.
The panel featured prominent African-American representatives based in New York, Raleigh and New Orleans. These leaders talked about the issues of the day from anti-racist, pro-labor, pro-community and anti-war perspectives.
Panelists were;
Workers World Party
In 2006 LeiLani Dowell was FIST national coordinator and managing editor of Workers World newspaper the Workers World Party[3].
WIDF
In May 2007, under the theme "Women of the World: a vital force against neoliberal globalization, terrorism and imperialist wars; for equality, social and economic justice and for peace," more than 1,000 women representing organizations from five continents met in Caracas, Venezuela, from April 9 through 14. They were joined by thousands of Venezuelan women who hosted the 14th Congress of the Women's International Democratic Federation.
Many women went from the U.S. The largest delegation was organized by African-American artist Vinie Burrows, who is also the WDIF representative to the U.N., and the National Women's Fightback Network of the International Action Center, an affiliate of the WIDF.
The Burrows delegation included representatives of the Granny Peace Brigade and the Women's International League for Peace & Freedom. The NWFN delegation included Susan Abulhawa, Palestinian writer and director of Playgrounds for Palestine; Brenda Stokely and Anna Wilson from the labor sector; Patricia Dahl, who works in solidarity with Colombia; Nellie Hester Bailey, co-founder and director of the Harlem Tenants Council; Sara Ann Mokuria, LeiLani Dowell, Liza Green, Jill Hill, Kris Hamel, Minnie Bruce Pratt and this writer, all from the NWFN.
Haiti delegation
On May 18th 2004 , a 21-year-old truck driver was on a shopping trip for his mother, when the bus he was on wasstopped at a police checkpoint in Portail St. Joseph in Haiti. Police let all the women off the bus and arrestedall the men, without warrant and without charge.The next day this man, who asked that his name not be revealed, saw a judge, who sent him to see aprosecutor. The prosecutor told him he would send his case to another judge to decide whether to hold trial orrelease him. He has not heard from anyone since, and as of Sept. 4 was still locked up in the National Penitentiary at Port-au-Prince. He says he still doesn't know why he's in prison.
This is just one of countless stories delegates on a four-day fact-finding delegation in Haiti heard about thedeteriorating human rights situation in that country.From Sept. 3-6, delegates from both coasts of the United States met with political prisoners, internal exiles, women's groups and labor leaders, who all told of a worsening of conditions since the Feb. 29 U.S. "coup-knapping" of democratically-elected President Jean-Bertrand Aristide.The Caribbean nation is now occupied by a United Nations "peacekeeping" force dominated by the U.S. and France. Josue Renaud of the New England Coalition for Human Rights in Haiti, a member of the delegation, told Workers World: "We are very concerned about the situation of these political prisoners, including Sò Anne, Neptune and Evert, arrested without warrants, under false charges. The government needs to release themimmediately.
"Kim Ives of Haiti Progres and the Haiti Support Network said, "Our visit helped reveal the depth and breadthof repression in Haiti today. The mainstream press, if they mention Haiti's political prisoners at all, focus juston two: constitutional Prime Minister Yvon Neptune and Lavalas activist So Anne. Our delegation revealed thatthere are scores of prisoners in the National Penitentiary alone, not to mention the other prisons around thecountry."We also uncovered that the problem of internal exile is much more prevalent than generally known. We learned that violence ranging from targeted killings to government-incited gang wars is driving thousandsfrom their homes.
"Also participating in the delegation were Haitian journalist Robert Benjamin, Catholic activist Kathy Boylan,radio program hosts Karine Jean-Pierre and Joseph Chery, former U.S. Attorney General Ramsey Clark, SteelWorkers Local 8751 President Steve Gillis, filmmaker Katherine Kean, Haitian unionist Ray LaForest, former U.S. Army Capt. Lawrence Rockwood and LeiLani Dowell, who represented the International Action Center.
The delegation met with approximately 35 political prisoners, including Annette "SÒ Anne" Auguste, well-known Haitian singer and Lavalas activist; Prime Minister Yvon Neptune; and Minister of the Interior Jocelerme Evert.[4]
References