LeRoy Wolins
Jump to navigation
Jump to search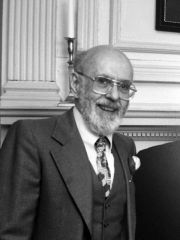 Template:TOCnestleft LeRoy Wolins ( 1929- 2005) was a prominent Chicago Communist Party USA member and "peace" activist. He is survived by partner of 25 years Dorothy Kemp and a son Tye Wolins[1]. He lived his last years in South Haven, Michigan.
LeRoy was a Korean War Veteran and earned a Master's Degree in Urban Planning from the University of Chicago, prior to his military service. He ran "Russian Language Specialties," dealing in Russian and Slavic language publications until 2002.[2]
Early life/education
As a child growing up in Chicago, LeRoy Wolins was an early student of politics.
Wolins finished high school in Chicago, then spent two years at UCLA, eventually earning a master's degree in city planning from the University of Chicago[3].
Chicago Maroon
While at the University of Chicago, Wolins worked on the student newspaper, the Chicago Maroon.
Soviet friendship
During the 1950s Wolins served as secretary of Chicago chapter of the National Council of Soviet-American Friendship[4].
Communist Party
Wolins was identified as a Communist Party USA member in 1968 FBI testimony and 1970 House Internal Security Committee testimony[5].
Soviet propagandist
For much of his life, Mr. Wolins ran a business selling Russian- language books to colleges and universities. His interest in all things Russian and his politics drew the attention of the U.S. government. The FBI kept a file on him, and he was called to testify before the House Committee on Un-American Activities[6].
Soviet "black" propagandist
By 1960 LeRoy Wolins had teamed up with fellow Chicago Communist Party USA member, David Canter.
The pair owned a company called Translation World Publishers, which specialized in publications from and about the Soviet Union. The company soon attracted the attention of the House Un-American Activities Committee, which suspected Canter and Wolins of being conduits for Soviet propaganda.











In a report prepared by the House Committee on Un-American Activities, May and July 1962 entitled "Communist Outlets for the Distribution of Soviet propaganda in the United States" David Canter was heavily quizzed about payments his company received from the Soviet Union.
After the U.S. Government demanded that Translation World Publishers register as the agent of a foreign power, Canter de-registerd the company.
The Committee went on to find that;
Translation World Publishers was an outlet for the distribution of Soviet propaganda...this publishing house was subsidized by Soviet funds and was created by known Communists to serve the propaganda interests of the U.S.S.R.
Peace activism
Wolins founded Veterans for Peace in Vietnam (VFP) in January 1966[7]. He was also a founder of the Chicago Area Veterans for Peace, Vietnam Veterans against the War and the Chicago Peace Council[8].
GI Civil Liberties Defense Committee
Circa 1969, Leroy Wolins, Veterans for Peace in Vietnam, Chicago , was listed as a sponsor of the Socialist Workers Party led GI Civil Liberties Defense Committee .[9]
Michigan
For a time in 1980s Wolins was a book salesman in Pullman, Michigan. He was a member of the South Haven Diversity Coalition and a member of the WMU based anti-apartheid student group South African Solidarity Organization[10].
Caribbean cruises
Wolins and Dorothy Kemp often took cruises in the Caribbean[11].
On one such trip, Mr. Wolins filled an entire suitcase with books and pamphlets so he wouldn't fall behind on his political reading.
Paul Robeson 100th Birthday Committee
In 1998 LeRoy Wolins was listed as a volunteer and intern of Paul Robeson 100th Birthday Committee.[12]
References