Lawrence Ware
Jump to navigation
Jump to search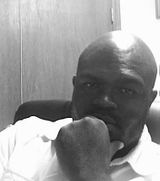 Template:TOCnestleft Lawrence Ware is a professor and lecturer in philosophy at Oklahoma State University; pastor of Christian education at the Prospect Missionary Baptist Church in Oklahoma City; a member of the Choctaw Nation, and a member of Democratic Socialists of America.[1]
He is Assoc. Pastor/MinisterProspect Missionary Baptist Church, Oklahoma City. In 2007, Reverend Michael Walker and Reverend Lawrence Ware were licensed to preach and Reverend Lawrence Ware was appointed as Christian Education Director.[2]
Black History Month
Affirmative action forum
"It's hard to start a race when you start behind." That how Marilyn Luper-Hildreth, a civil rights activist and daughter of Clara Luper, who led lunch counter sit-ins in Oklahoma City in 1958, summed up the theme of a public forum on the anti-affirmative action State Question (SQ) 759.
The measure--a proposed amendment to the state constitution that seeks to eliminate affirmative action programs in the state and prohibit "preferred treatment based on race, color or gender"--is up for a vote on Oklahoma's November 6 ballot.
The September 20 meeting, hosted by the Oklahoma City Peace House and the Oklahoma City chapter of the NAACP, brought out about 80 people and featured a panel of six professors, activists and church leaders representing African American, Native American, Latino and women's groups.
In addition to Luper-Hildreth, Rev. Dr. Lawrence Ware, a professor of philosophy at Oklahoma State University, spoke fiercely about the issue of racism in the U.S.
"They [the authors of the bill] assume that race is no longer a problem in society," said Ware. "One out of every two Black children is born in poverty. Thirteen percent of the U.S. population is Black, but they make up 40 percent of the prison population. There is still injustice in America!"[3]
On Thanksgiving
Writing in Democratic Left;[4]
It's Thanksgiving once again: the day every year when we all engage in gluttony to celebrate the fact that White People were saved by Native Americans — at least that is how it has been framed historically...
Let's be honest: every year on the last Thursday of November, we celebrate the beginning of a European invasion that ends with the death or relocation of millions of native people. While many have tried to redefine the meaning of Thanksgiving into a time when we cultivate a sense of gratitude, the undeniable truth is that the blood of native people stains the genesis of the holiday...
No longer should we allow Thanksgiving to be about the Pilgrims who survived. It should be about the Wampanoag who gave selflessly; it is not about the beginning of Manifest Destiny, it is a day clothed in melancholy — remembering what was lost. Take back the holiday from colonial hands. Let us make the holiday about the voices that were silenced instead of the cultural forces that silenced them.
Let us be mindful of all oppressed people during this holiday — especially those who are economically marginalized. In the same way that Thanksgiving Day has been coopted by powerful colonial forces, powerful economic forces have commoditized the night.
Let us honor those who were marginalized by colonization by standing in solidarity with those who are marginalized by capitalism. Across this country, workers who do not make a living, saving wage will stand up for their rights on Black Friday. Let's stand with them.
We shall make Thanksgiving about the oppressed, not the oppressor.
Religious Socialism
In 2015, Democratic Socialists of America founded a new version of Religious Socialism.
We invite you to join us in making it useful both to people of faith within DSA and to the wider religious left.
Contributing editors were;
Rev. Lawrence Ware is an ordained minister and serves the Prospect Church as the Pastor of Christian Education. He is a frequent contributor to the publications The Democratic Left, The Huffington Post, and Tikkun. He has also been a commentator on race for the Huffington Post Live, CNN, and NPR's Talk of the Nation. He has taught and lectured across the country on issues ranging from race to economic policy. The recipient of a number of teaching awards, he is a professor of Philosophy at Oklahoma State University and Diversity Coordinator of its Ethics Center.[5]
Robeson book
In 2018, Paul Buhle was, with fellow Democratic Socialists of America member Lawrence Ware, coeditor of a forthcoming comic art biography of Paul Robeson, drawn by artist Sharon Rudahl.[6]
References